Hello, it's Julia here from Dinner with Julia. Today, I'm excited to share with you one of my favorite dishes – Chicken Bouillabaisse. This dish is a delightful twist on the traditional Provençal fish soup, bouillabaisse, which is known for its rich tomato base and an array of seafood. But today, we're swapping out the seafood for chicken, creating a hearty, comforting stew that's perfect for any time of the year.
Chicken Bouillabaisse Recipe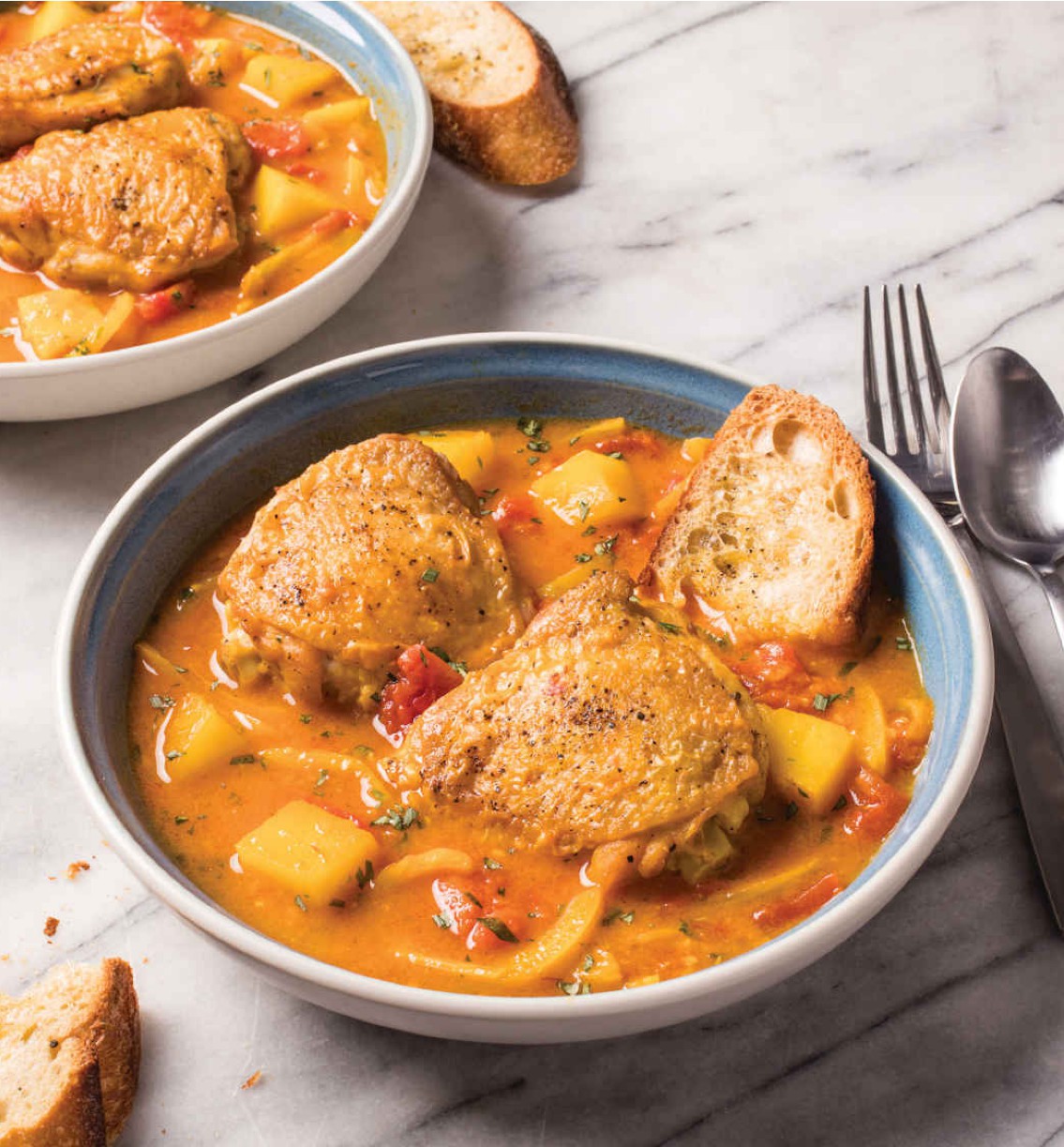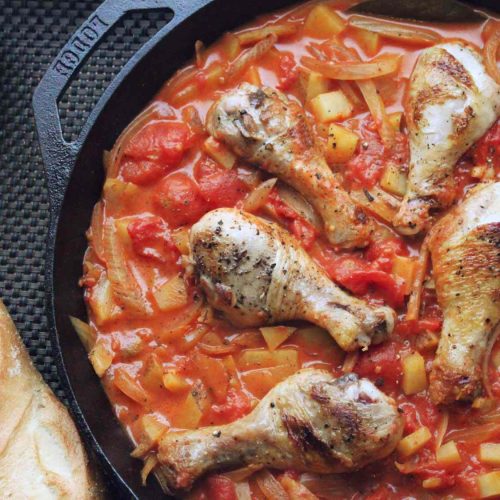 Chicken Bouillabaisse
I love the Provençal flavors of saffron, garlic and fennel and didn't see the need to re-master much in this recipe. I used a bit more garlic and added fresh fennel to the vegetables, as I'm sure Julia would have if it had been readily available in the States in 1970. I also decided to throw a sweet, juicy orange into the poaching broth - it adds fragrant acidity and a touch of sweetness.
Ingredients
2

tablespoons

extra-virgin olive oil

1

small onion

sliced

1

fennel bulb

trimmed and sliced

4

finely chopped garlic cloves

2

teaspoons

chopped fresh thyme

½

teaspoon

ground fennel seed

½

teaspoon

saffron threads

crushed lightly with back of a spoon

¼

teaspoon

cayenne pepper

1

cup

dry white wine

1 ½

cups

canned diced or crushed tomatoes

3

bone-in

skin-on chicken thighs

3

bone-in

skin-on chicken drumsticks

Fine sea or kosher salt and freshly ground black pepper

About 2 cups chicken stock

1

small orange or tangerine

halved
Instructions
Heat oven to 325 degrees.

In a large, deep skillet or in a Dutch oven, heat the oil over medium heat. Cook the onion and fennel slowly until tender – watch the heat so they don't brown. I like to cover the pot slightly to help them sweat it out.

Stir in the garlic, thyme, fennel seed, saffron and cayenne and cook for a minute or two, until the mixture is fragrant.

Turn up the heat to medium-high and add the wine to the pan; cook for one minute and add the tomatoes. Bring to a lively simmer and cook until the tomato juices are reduced by half, about 3 minutes.

Season the chicken generously on all sides with salt and pepper. Arrange the chicken in the pan, nestling the pieces among and under the vegetables. Pour in enough stock to just barley cover the chicken. Toss the orange halves in the pan and bring to a simmer. Cover the pan and transfer to the oven.

Check the chicken after 25 minutes – it should be very tender when poked with a fork. It not, return the pan to the oven for another 5 to 10 minutes. Check the seasoning and add more salt and pepper if needed.

Serve the chicken over buttery couscous with lots of the sauce spooned over. If you can make this a day ahead or save some leftovers, the chicken will soak in the aromatic sauce and it will taste even better!
Cooking Tips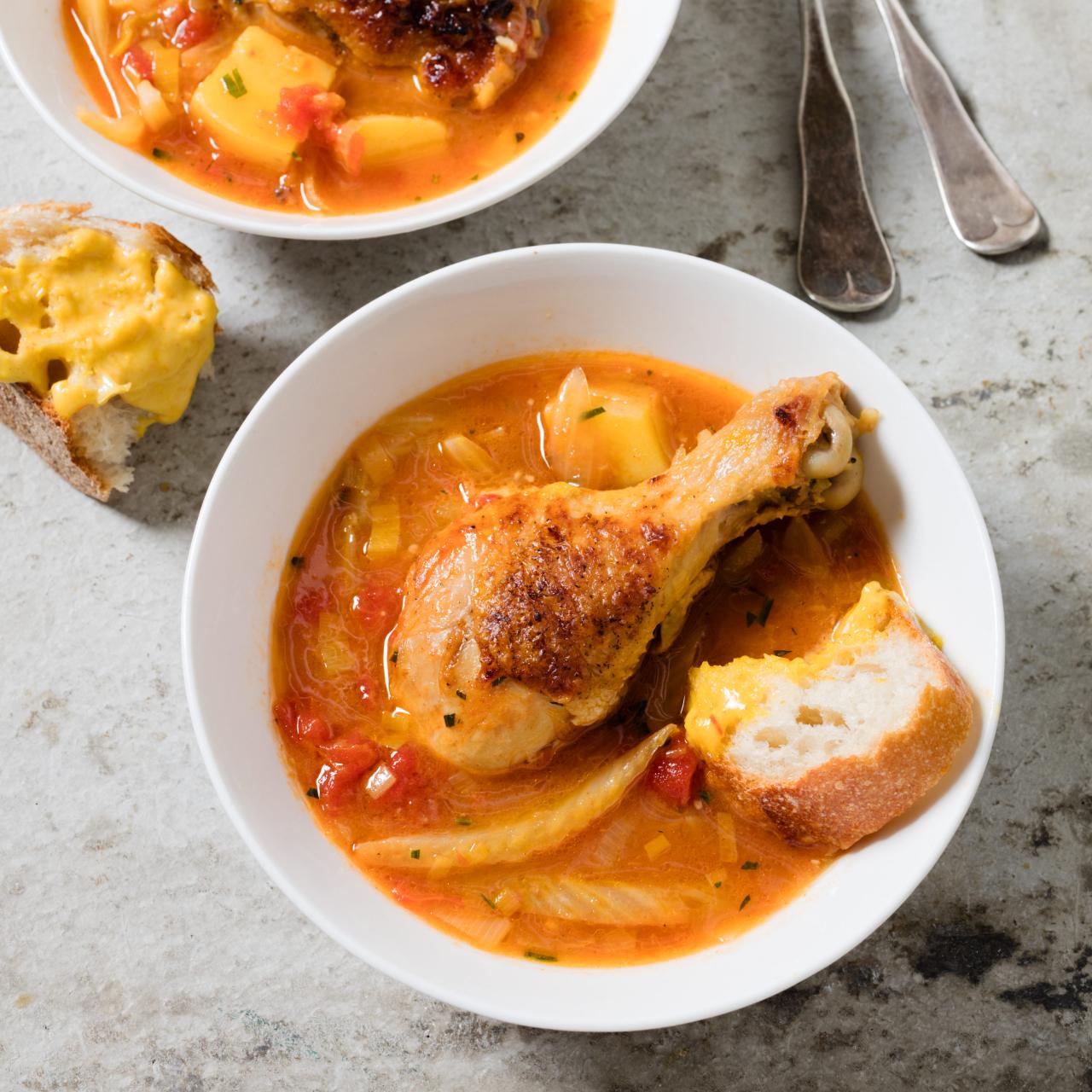 When preparing Chicken Bouillabaisse, there are a few tips that can help you achieve the best results:
Choose the right chicken: You can use any part of the chicken you prefer, but I find that skinless chicken thighs work best as they stay tender and juicy during the cooking process.
Don't rush the sautéing: Take your time to sauté the onions, garlic, and other vegetables until they are soft and fragrant. This step is crucial in building the flavor base of the soup.
Use quality ingredients: As with any dish, the quality of your ingredients will significantly impact the final result. Use fresh herbs, good quality olive oil, and a nice dry white wine for the best flavor.
Serving Suggestions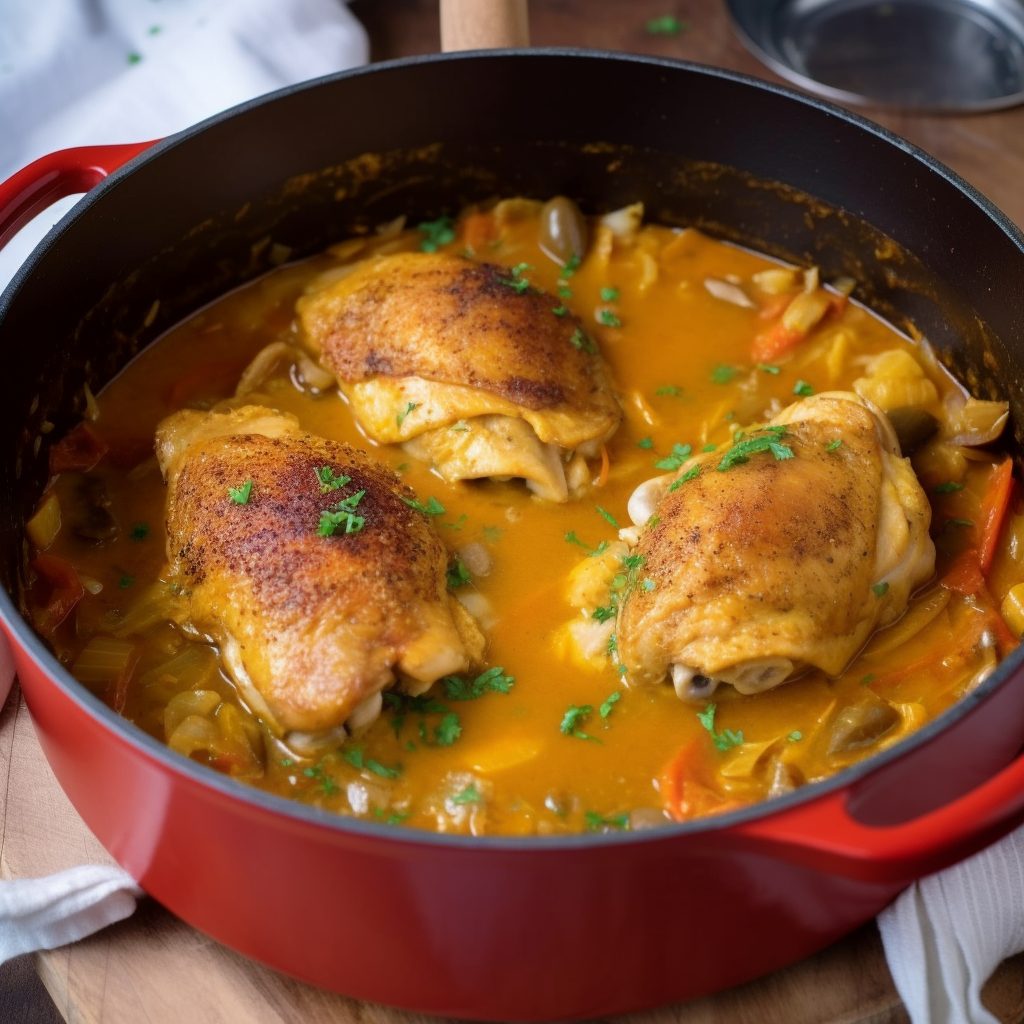 Traditionally, bouillabaisse is served in two courses. First, the flavorful broth is ladled into bowls, accompanied by slices of toasted homemade bread rubbed with garlic and topped with rouille, a spicy mayonnaise-like sauce. The chicken then comes separately on its own dish, along with potatoes.
For a more casual serving suggestion, you can also serve the Chicken Bouillabaisse all in one bowl, with the bread on the side for dipping. Either way, it's a hearty, satisfying meal that's sure to impress.
FAQs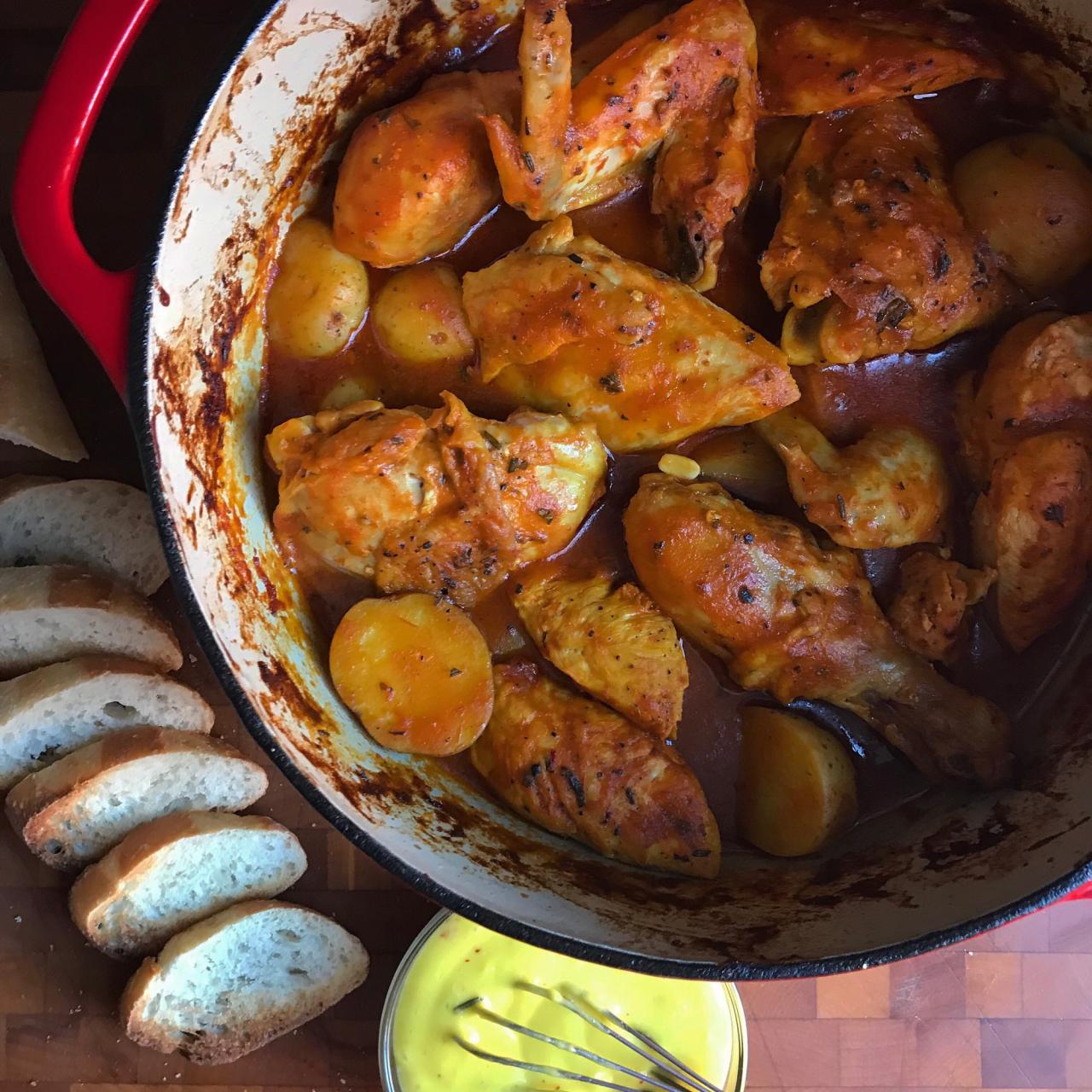 Can I use other types of meat for this recipe? Yes, you can substitute the chicken with other meats like pork or beef. However, the cooking time may vary depending on the type and cut of the meat.
Can I make this dish ahead of time? Absolutely! The flavors of the Chicken Bouillabaisse actually improve after a day or two, making it a great make-ahead dish.
What can I serve with Chicken Bouillabaisse? This dish is quite hearty on its own, but it pairs well with a simple green salad or some crusty French bread.
Can I freeze Chicken Bouillabaisse? Yes, this dish freezes well. Just be sure to cool it completely before transferring it to freezer-safe containers.
What wine pairs well with Chicken Bouillabaisse? A dry white wine or a Provençal rosé would pair beautifully with this dish.
Looking for a creative touch to add to your dinner table? Why not handcraft your own unique serving utensils or table decor? With polymer clay and a toaster oven, you can easily create stunning pieces that reflect your personal style. Learn how to make your own polymer clay creations with our step-by-step guide. Click here to get started with polymer clay toaster oven crafting now!
So there you have it – my take on Chicken Bouillabaisse. It's a comforting, flavorful dish that's perfect for a cozy dinner at home. I hope you enjoy making it as much as I do. Bon appétit!