Hi there, it's Julia from Dinner with Julia, and I'm thrilled to bring you on a culinary journey today. I have been experimenting in my kitchen, as usual, and I've come up with a dish that oozes comfort, warmth, and a little bit of that French je ne sais quoi. Yes, you guessed it; we're talking about my French One Pot French Onion Pasta Recipe. This dish is a twist on the classic French Onion Soup, an all-time favorite in my household. It's rich, savory, and everything you'd want on a chilly fall evening.
French One Pot French Onion Pasta Recipe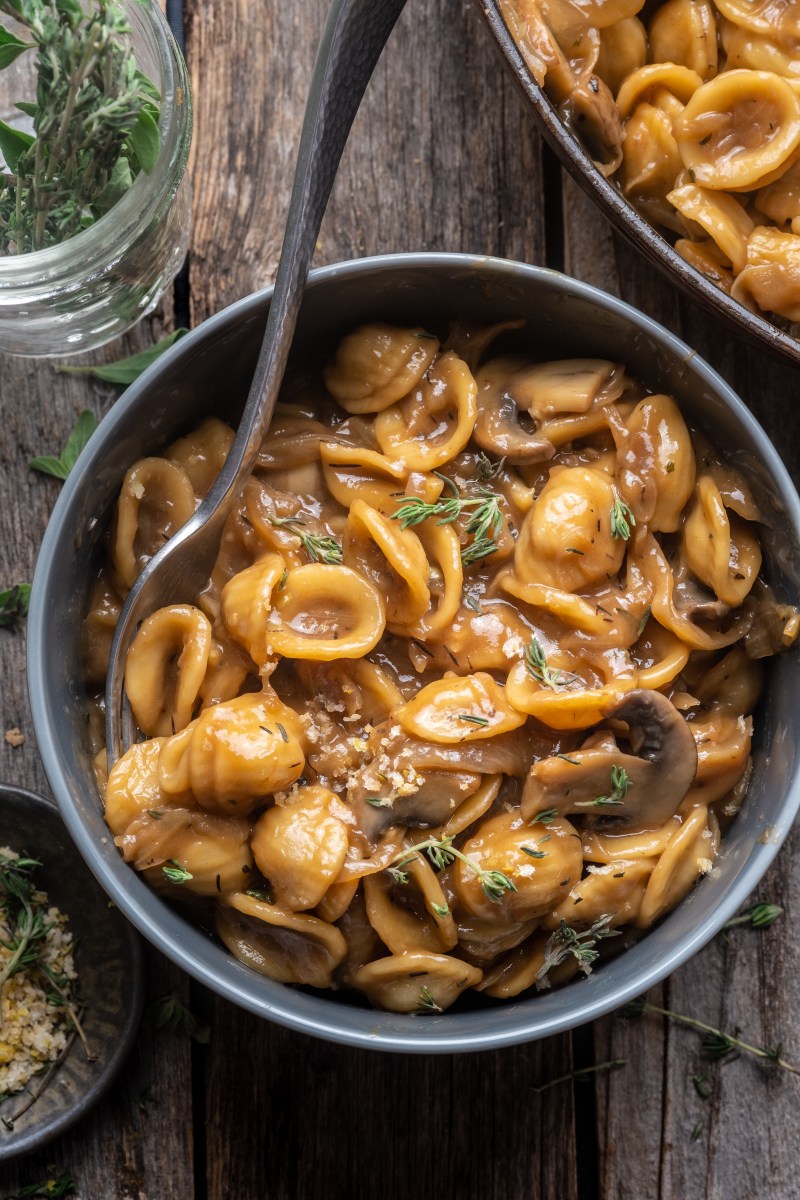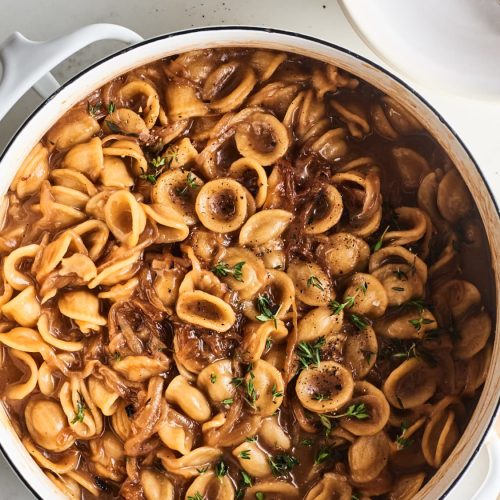 French One Pot French Onion Pasta Recipe
Ingredients
One cup of diced onion

Two tablespoon of olive oil

One cup of cherry tomatoes

One pack of pasta

One cup of vegetable broth

One teaspoon of thyme powder

One cup of shredded cheese

Half teaspoon of smoked paprika

One cup of water

Two tablespoon of minced garlic

Two tablespoon of minced ginger

Half cup of cilantro
Instructions
Take a pan.

Add in the oil and onions.

Cook the onions until they become soft and fragrant.

Add in the chopped garlic and ginger.

Cook the mixture well.

Add the spices.

Add in the broth.

Mix the ingredients carefully and cover your pan.

Boil the pasta according to the instructions on the package.

Add in the cherry tomatoes

Mix the pasta and shredded cheese into the mixture

Add the cilantro on top

Your dish is ready to be served
Cooking French One Pot French Onion Pasta in a Slow Cooker
If you're a fan of slow cooking like me, you'll be thrilled to know that my French One Pot French Onion Pasta Recipe can also be prepared using a slow cooker. The slow cooking process allows the flavors to meld together beautifully, resulting in a dish that's rich, savory, and absolutely delicious. Here's how you can do it:
Caramelize the onions: Start by caramelizing the onions on the stovetop as usual. This step is crucial for developing the deep, sweet flavor that's characteristic of French Onion Soup.
Transfer to the slow cooker: Once the onions are nicely caramelized, transfer them to your slow cooker. Add in the broth, thyme, bay leaf, and pasta.
Cook on low: Cover the slow cooker and cook on low for about 2-3 hours, or until the pasta is cooked to your liking.
Add the cheese: Just before serving, stir in the shredded cheese until it's fully melted and incorporated into the pasta.
Serve and enjoy: Ladle the pasta into bowls, top with more cheese if desired, and serve hot. Bon appétit!
Tips for making French One Pot French Onion Pasta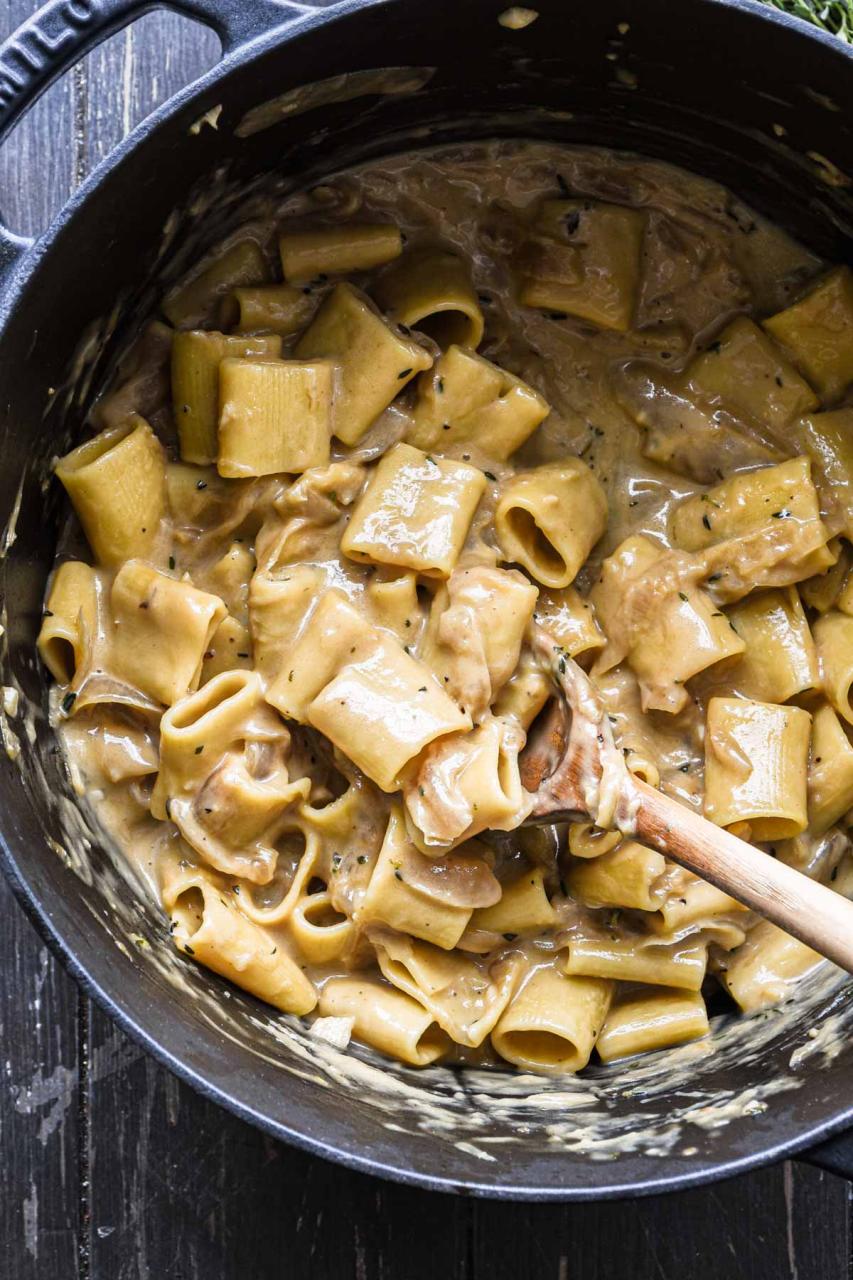 Cooking Tips
Before we dive into the recipe, here are some cooking tips to optimize your experience with this French Onion Pasta recipe:
Onion selection: The type of onion can significantly impact the overall flavor of the dish. I recommend using sweet onions for their mild flavor and great caramelization.
Patience is key: Take your time while caramelizing the onions. This step cannot be rushed, as it forms the backbone of our recipe.
Cheese choice: Traditional French Onion Soup uses Gruyère, but feel free to experiment! A good, melty mozzarella or robust cheddar could also work well.
Pasta selection: I prefer using fusilli for this recipe because it holds onto the sauce nicely. However, any pasta shape will work!
Serving Suggestion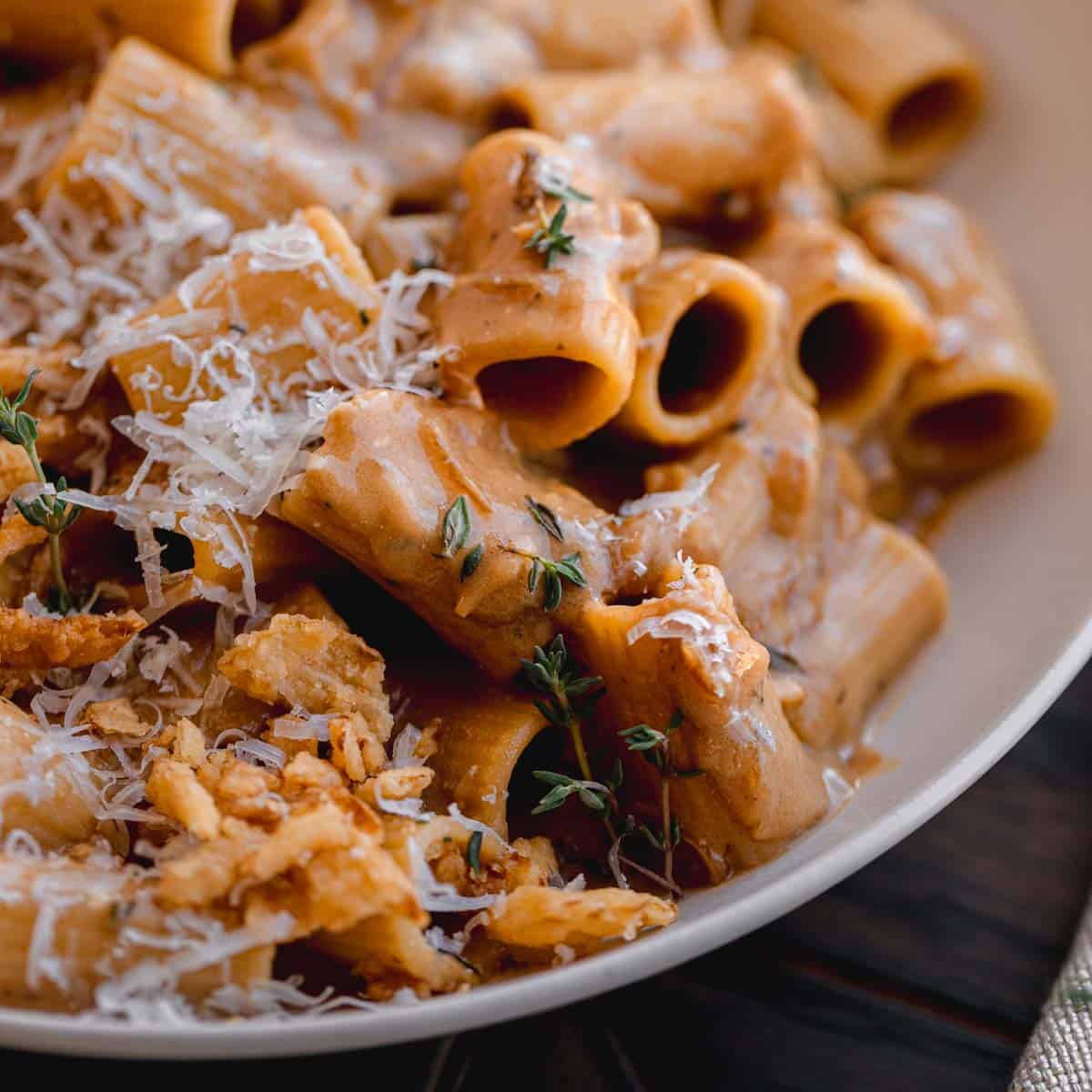 Now, let's talk about serving this delightful dish. My French One Pot French Onion Pasta is a complete meal in itself, thanks to the hearty onions and filling pasta. However, you might want to consider the following ideas to elevate your dining experience:
Garlic Bread: A side of warm, buttery garlic bread would complement the flavors of the pasta wonderfully.
Green Salad: A fresh green salad with a tangy vinaigrette can provide a refreshing contrast to the rich pasta.
Wine Pairing: A glass of your favorite white wine, perhaps a Chardonnay or a Sauvignon Blanc, would be the cherry on top!
FAQs
I've received some questions about this French Onion Pasta recipe, so I thought I'd answer a few common ones:
Can I make this recipe gluten-free? Absolutely! Just replace traditional pasta with your favorite gluten-free variety.
Can I use red onions instead of sweet onions? While you can, red onions have a stronger flavor and may alter the taste of the dish.
What other cheeses can I use? Feel free to experiment with different types of cheese; just ensure they melt well!
Can I make this dish vegan? Yes, by using vegan cheese and a plant-based broth.
Can I freeze leftovers? Definitely! This dish freezes well and can be reheated when you're ready to eat.
Until next time, happy cooking!