Hi friends! I'm Julia from Dinner with Julia and today I'm sharing my favorite French Roasted Chicken and Potatoes Recipe. This is a classic dish that I learned to make from my grandmother, who was an amazing French cook. Roasting a whole chicken with potatoes is such a comforting and delicious meal, perfect for a cozy Sunday dinner or to impress guests. The crispy, garlicky skin and tender, juicy meat with sides of golden roasted potatoes and veggies is just heavenly. I can't wait to share all my tips and tricks for making this recipe absolutely perfect every time.
French Roasted Chicken and Potatoes Recipe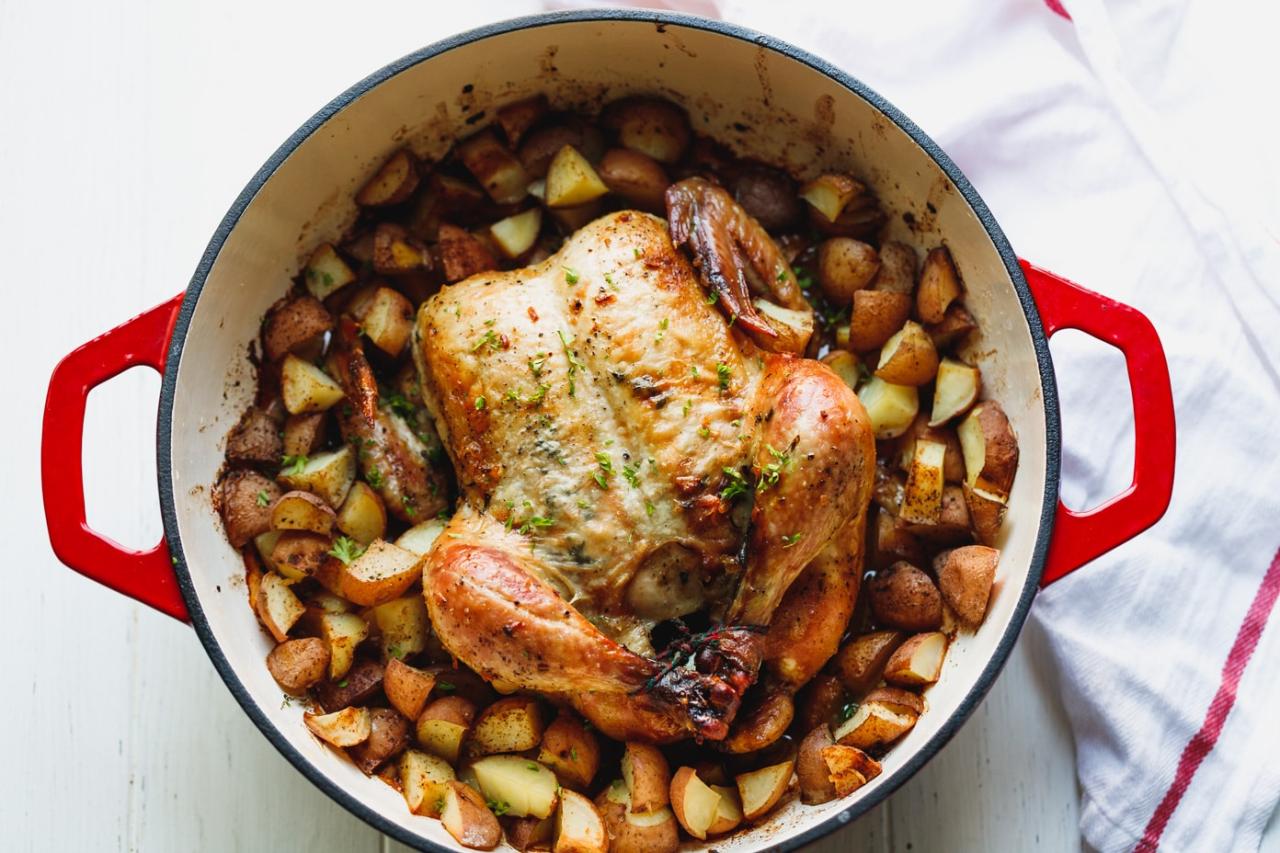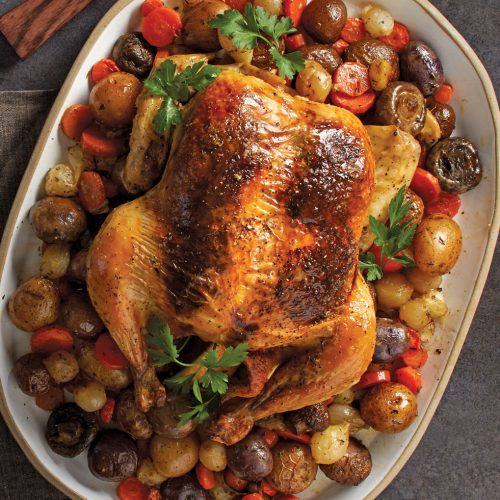 French Roasted Chicken and Potatoes Recipe
Ever since I was a little girl, I've adored spending time in the kitchen with my grandma, who grew up in the French countryside. She taught me so many classic French dishes, but roasting chicken was always one of my absolute favorites. I have such wonderful memories of her kitchen filled with the incredible aromas of chicken roasting away in the oven. It's one of those nostalgic smells that immediately transports me back to my childhood.
Equipment
1 large bowl

1 large baking pan

1 baking
Ingredients
Two cups of potato slices

One tablespoon of kosher salt

One tablespoon of black pepper

Two cups of red wine

One bay leaf

One teaspoon of sugar

One teaspoon of dried thyme

One cup of carrot

One onions

Two cups of chicken pieces

One teaspoon of garlic paste

Half cup of tomato paste

Half cup of unsalted butter

Two tablespoon of all-purpose flour

Chopped parsley
Instructions
1.Take a large bowl.

Add the potato slices and chicken into the bowl.

Season the ingredients with pepper and salt.

Combine the red wine, bay leaf and thyme.

Cover the potatoes and chicken in the marinate for thirty minutes.

Take a large baking pan.

Add the unsalted butter into the pan.

Add the marinated ingredients into it.

Add the rest of the ingredients into the mixture.

Roast the dish for thirty minutes and then dish out.

Your dish is ready to be served.
Notes
Now that I have my own kitchen, I love carrying on this French cooking tradition and making her delicious roast chicken and potatoes for my family. It's a recipe I've perfected over the years, and I can't wait to share it with all of you. The French really know how to roast a chicken - it turns out so moist, flavorful and beautifully browned.
French Roasted Chicken and Potatoes using other kitchen tools and appliances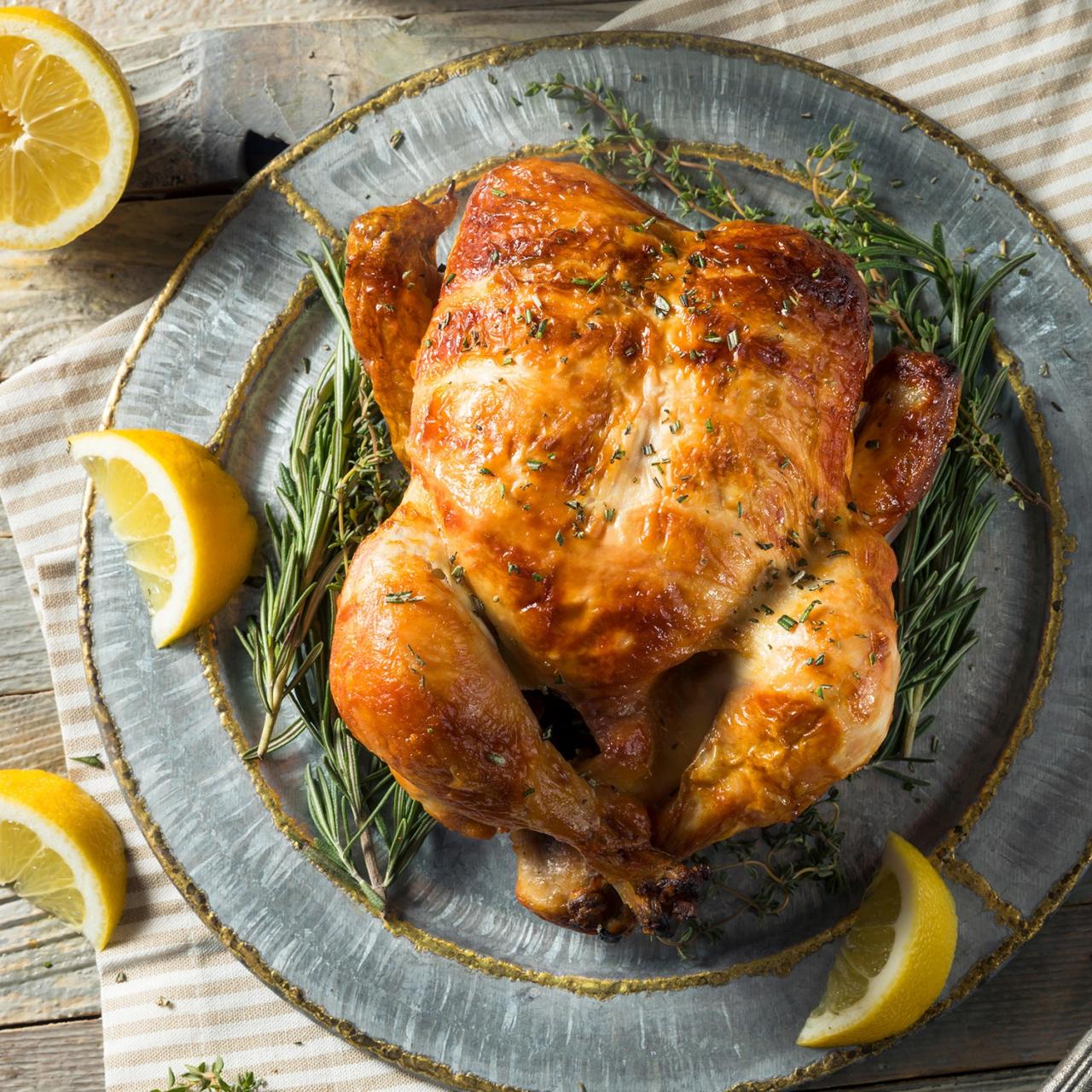 Grill It:
Prepare the chicken as directed, seasoning with herbs under the skin and trussing the legs.
Preheat a gas or charcoal grill to medium-high heat.
Grill the chicken over direct heat for about 10 minutes per side with the lid closed. This gets the skin nicely charred.
Move to indirect heat and continue grilling with lid closed until chicken is fully cooked, about 30-40 more minutes, flipping halfway.
Place seasoned chicken and potatoes in a slow cooker. Add 1 cup chicken broth.
Cook on low heat for 5-6 hours until chicken is very tender.
Pressure Cooker:
Add 1 cup liquid to pressure cooker pot. Place seasoned chicken and potatoes in a steamer basket.
Lock lid and cook at high pressure for 18-20 minutes. Use natural release method before opening lid.
Air Fryer:
Cut chicken into 8 pieces and pat dry. Toss in oil, salt, pepper and herbs.
Air fry at 400F for about 25-30 minutes, flipping halfway, until chicken is browned and crispy.
Toss potatoes in oil and air fry at 400F for 15-20 minutes, shaking basket occasionally.
Tips for making French Roasted Chicken and Potatoes Recipe
Cooking Tips
Here are some of my handy tips for easily roasting a perfect chicken every time:
Use a meat thermometer – This takes the guesswork out of knowing when the chicken is properly cooked through. Always check in a few places to ensure it's reached 165°F.
Baste frequently – Basting the chicken with the pan juices and butter ensures it stays incredibly moist and gets that delectable crispy skin.
Make sure your pan is oven-safe – You'll be moving from stovetop to oven so be sure to use an oven-safe roasting pan or skillet.
Give it a good sear first – I like to start the chicken on the stovetop over medium high heat to get a nice golden brown sear before transferring to the oven.
Use kitchen shears – Shears make easy work of cutting out the backbone and snipping the wing tips. Much easier than a knife!
Tie legs tightly – Really pull that string tight when trussing up the legs. This keeps everything held neatly together.
Dry brine a day ahead – Salting the chicken in advance is crucial for the most flavorful, seasoned meat. Just be sure to pat very dry before roasting.
Keep an eye on potatoes – Give those spuds a stir midway through roasting for even browning. You want crispy outsides and fluffy insides.
Serving Suggestions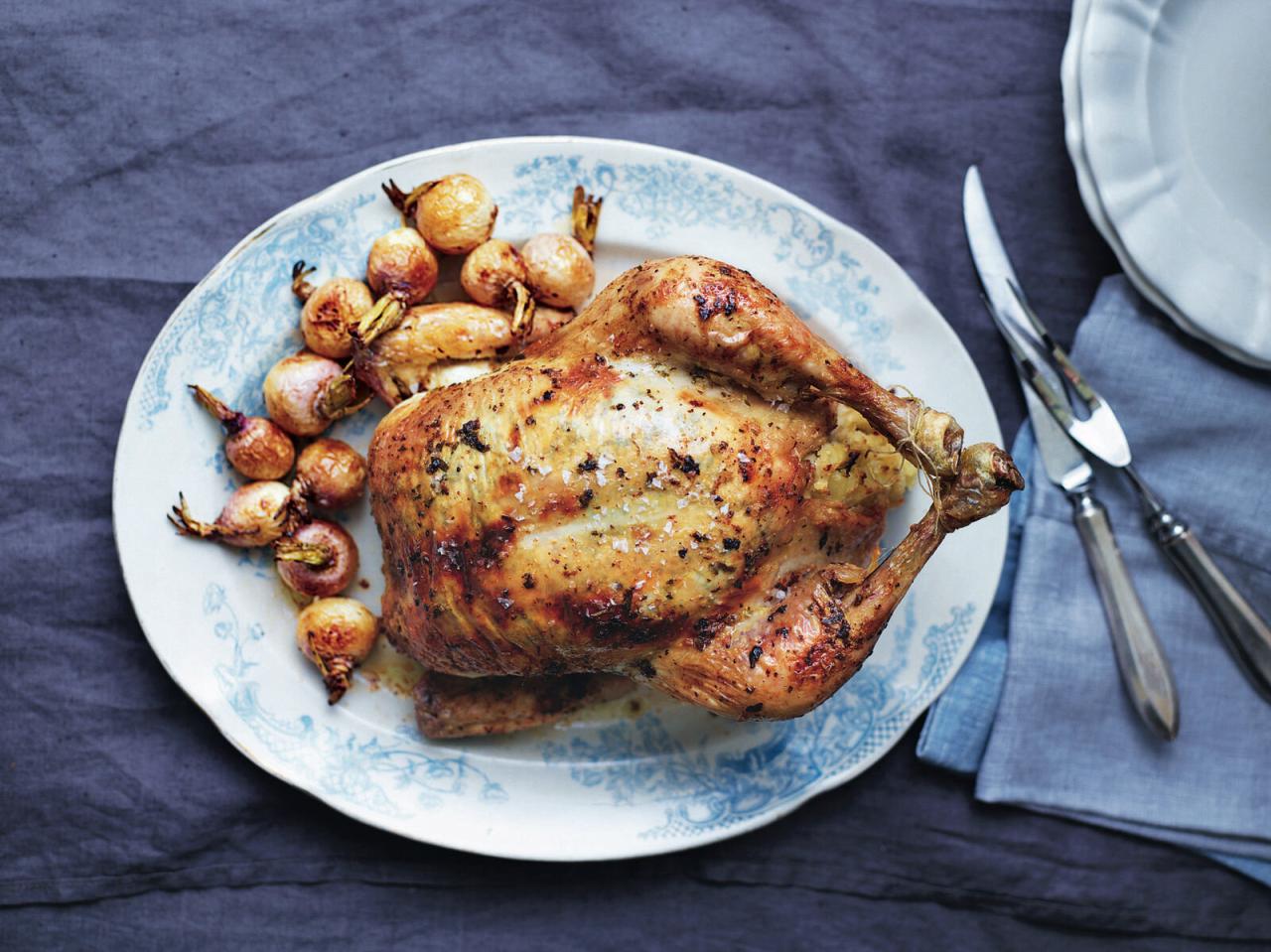 There are so many delicious ways to round out this French roast chicken dinner:
A simple green salad with a lemony Dijon vinaigrette is always a classic. I also love adding things like fennel, radish or apple.
Buttery roasted asparagus or green beans make for beautiful veggie sides. Toss them in olive oil, salt and pepper and roast alongside the chicken.
Creamy mashed potatoes or potato gratin are nice alternatives to roasted potatoes, and soak up all the yummy pan juices.
For a pop of color, quick-roasted cherry tomatoes or roasted beets are easy additions.
Crusty bread is essential for dipping in those pan drippings for makeshift gravy.
A crisp white wine, like a Sauvignon Blanc, or light red, like a Pinot Noir, pair nicely with this chicken.
FAQs
Here are some common questions I get about roasting chicken:
How long should I roast a 4 lb chicken? For a 4 lb chicken, I recommend roasting it for a total of 85-90 minutes. Roast at high heat (425°F) for the first 50 minutes to get the skin crispy and golden brown. Then reduce to 375°F and continue roasting for 35-40 more minutes until the thighs reach 165°F.
Can I stuff the chicken cavity? Stuffing the cavity is not recommended, as it can increase the roasting time. The stuffing may not get hot enough internally to kill bacteria. Instead, I suggest roasting aromatics like lemon, garlic and herbs inside the cavity to add flavor. Cook stuffing separately in a baking dish.
How do I get the skin extra crispy? To get the crispiest skin, it's important to thoroughly dry the chicken before roasting. Refrigerate uncovered overnight so the skin dries out. Pat very dry with paper towels before seasoning and roasting. Basting with butter midway through roasting helps fry the skin to a beautiful golden crisp.
What's the best way to carve the chicken? First, let the chicken rest at least 15 minutes before carving. Use a sharp knife or kitchen shears. Remove each breast half by slicing down along the breastbone. Then cut each breast crosswise into slices. For the legs, slice between the thigh and body to remove each leg quarter. Cut the joints to separate the drumstick from thigh.
Can I freeze and reheat leftovers? Absolutely! Leftover roasted chicken keeps well in the fridge for 3-4 days or in the freezer for up to 3 months. Reheat pieces in the oven or microwave until warmed through, adding a splash of stock or water to prevent drying out. The roasted chicken also makes amazing sandwiches, salads, soups and more.
I hope you enjoy this recipe for deliciously moist and tender French roast chicken with crispy garlicky potatoes. Let me know if you have any other questions! Now it's time to get roasting. Bon appetit!