Hello, everyone! It's Julia here from Dinner with Julia. Today, I'm thrilled to share with you one of my all-time favorite recipes – French Cheese Puffs (also known as Gougères). Now, I know you're eager to dive into the recipe, but hold on just a bit. We've got some cooking tips, serving suggestions, and FAQs to cover first. And trust me, these will make your cheese puff journey so much more enjoyable!
French Cheese Puffs Recipe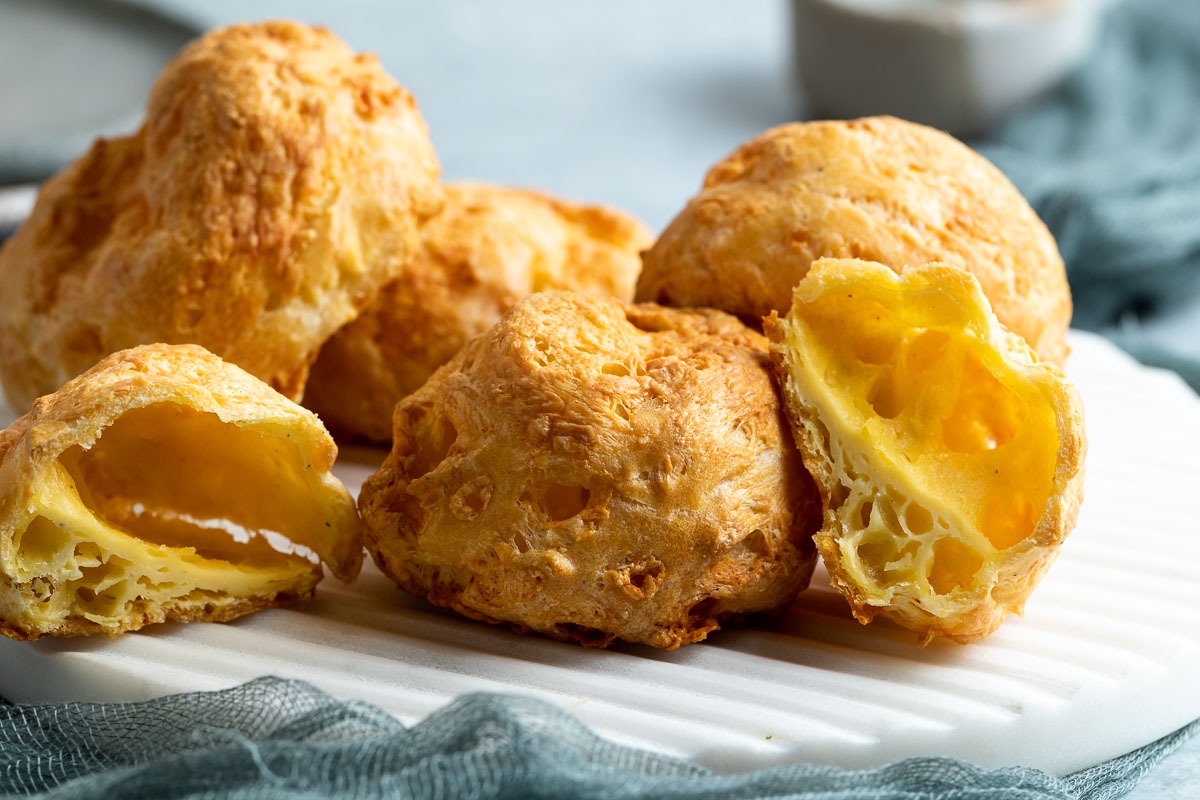 French Cheese Puffs Recipe
Ingredients
Half cup of whole milk

One tablespoon of sugar

One cup of all-purpose flour

Two eggs

Five tablespoon of butter

One cup of heavy cream

One teaspoon of vanilla extract

One cup of shredded cheese
Instructions
Take a saucepan and add the water in it.

Add the milk, butter, sugar, cream, vanilla extract and salt into it.

Boil the whole mixture.

Add the flour into it and mix well.

Cook the mixture for two minutes.

Remove it when the dough is formed.

Transfer the dough into a bowl.

Add the eggs into it.

Beat the mixture until dough becomes smooth.

Make the puffs of desired shape.

Add the shredded cheese in between the puffs.

Bake it for twenty minutes.

Your dish is ready to be served.
Cooking French Cheese Puffs in an Air Fryer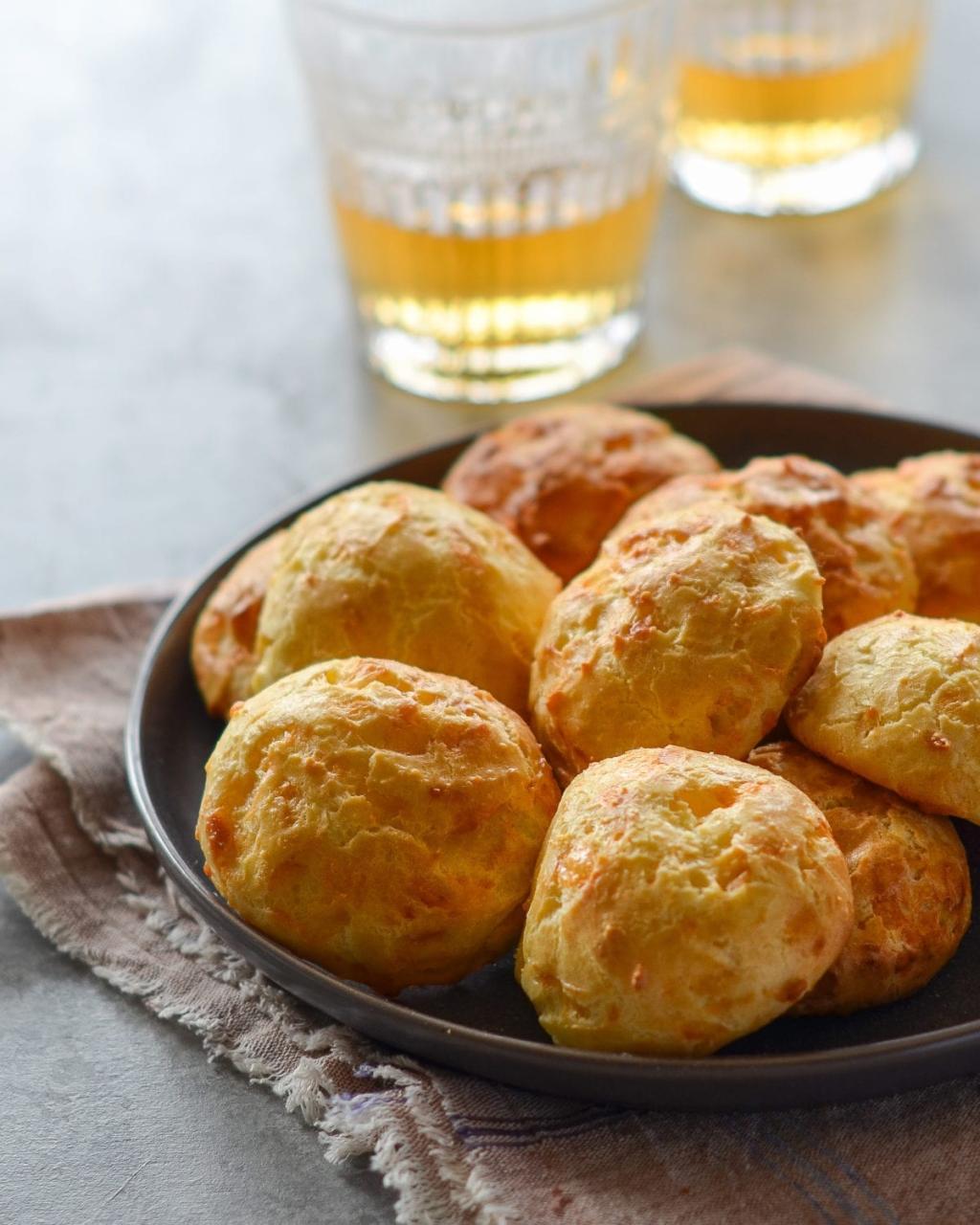 Preparation: Prepare your French Cheese Puffs dough as per the recipe. Instead of preheating your oven, preheat your air fryer at 375°F (190°C).
Shaping: Shape your dough into small balls or use a piping bag to create the traditional puff shape. Remember, they will expand during cooking, so don't make them too big!
Cooking: Arrange the puffs in the air fryer basket, ensuring they are not touching. Depending on the size of your air fryer, you may need to cook them in batches.
Baking: Cook the puffs at 375°F (190°C) for about 10 minutes, or until they are golden brown and puffed up. Every air fryer is different, so keep an eye on them to prevent overcooking.
Serving: Serve your air-fried French Cheese Puffs warm, just as you would with the oven-baked version. They are perfect as an appetizer or paired with a crisp salad and a glass of white wine.
Tips for making French Cheese Puffs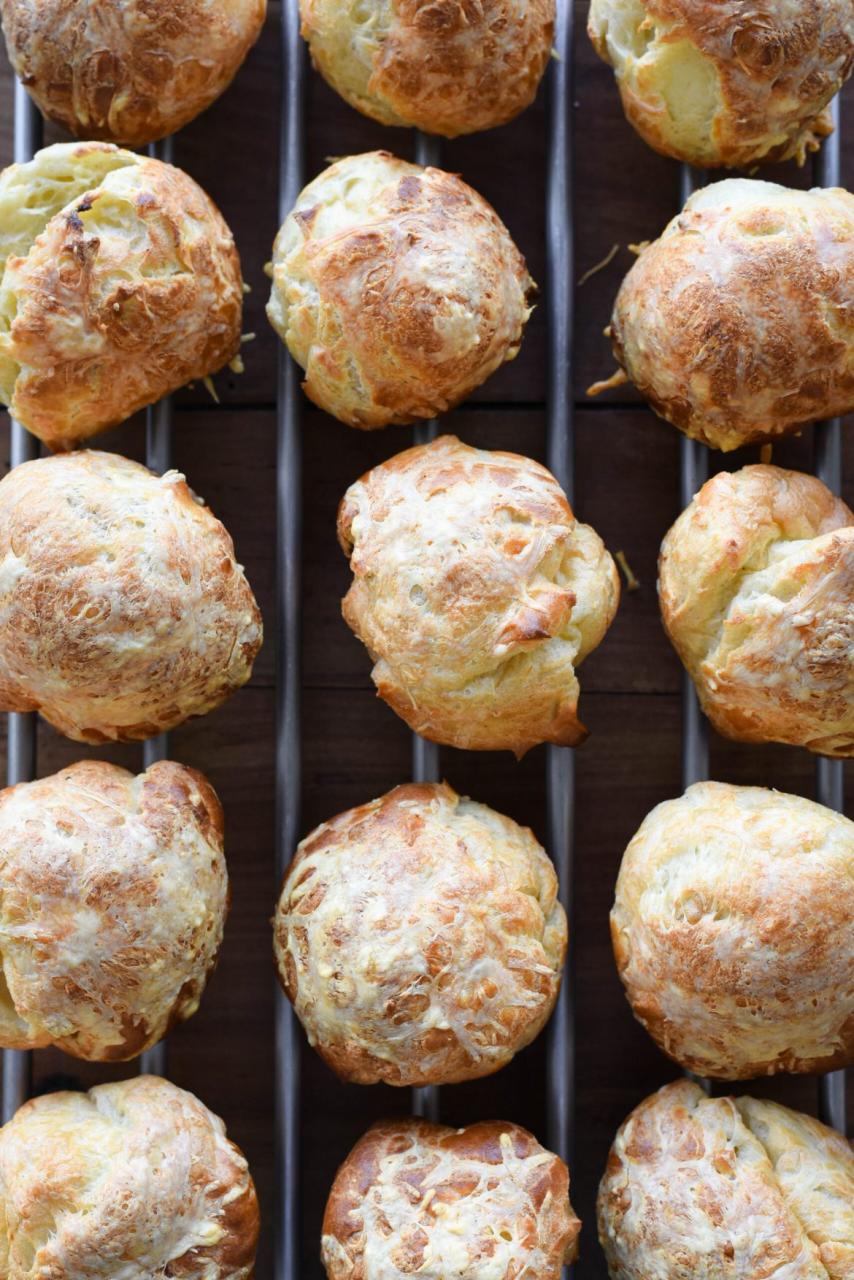 Cooking Tips for Perfect French Cheese Puffs
Temperature is Key: The oven temperature needs to be just right. Too hot, and your puffs may burn. Too cool, and they won't rise properly. Preheat your oven and use an oven thermometer if you have one.
Don't Rush the Dough: Patience is a virtue when making the dough. Add the eggs one at a time and fully incorporate each before adding the next. This ensures a smooth, well-mixed dough that will puff up beautifully in the oven.
Cheese Choices: While traditional Gougères are made with Gruyère, feel free to experiment with other hard cheeses. Comté or Emmental can add a delightful twist to your French Cheese Puffs.
Serving Suggestions
Now, let's talk about how to serve these little pieces of heaven.
Pair with Wine: French Cheese Puffs are perfect with a glass of white wine. Try a crisp Chardonnay or a light Sauvignon Blanc.
Accompany with Salad: These puffs make a great side dish for a fresh green salad. The creaminess of the cheese complements the crunchiness of the greens.
As an Appetizer: Serve them as appetizers at your next dinner party. Your guests will be impressed!
FAQs
Can I make the dough ahead of time? Absolutely! You can prepare the dough, shape the puffs, and then freeze them on a baking sheet. Once frozen, transfer them to a freezer bag for storage. When you're ready to bake, no need to thaw – just add a couple extra minutes to the baking time.
What if I don't have a piping bag? No problem! You can use a zip-top bag with a corner cut off to pipe the dough onto your baking sheet.
Can I use other types of cheese? Yes, feel free to experiment with different cheeses. Just keep in mind that hard, mature cheeses work best.
Why didn't my puffs puff up? This could be due to a few reasons: the oven wasn't hot enough, the dough was overmixed, or too many eggs were added. Remember to follow the recipe closely for the best results.
Are French Cheese Puffs served hot or cold? They are best served warm, but they're still delicious at room temperature.
There you have it, my dear foodies! I hope this post has inspired you to try making French Cheese Puffs at home. Remember, cooking is all about experimenting and having fun. So, don your apron, roll up your sleeves, and let's get cooking!