Hello, everyone! It's Julia here from Dinner with Julia. As the leaves start to change and the air gets crisp, I find myself craving all things pumpkin. Pumpkin pie, pumpkin bread, pumpkin lattes – if it's pumpkin-flavored, I'm all in!
One pumpkin dish that has been on my mind lately is Pumpkin Soup. This recipe is a classic, and it's perfect for those chilly fall evenings when you want something warm and comforting. Plus, it's served right in the pumpkin itself, which makes for a fun and unique presentation.
As someone who loves to cook and experiment in the kitchen, I enjoy trying out different recipes and putting my own spin on them. So when I decided to make Pumpkin Soup, I knew I wanted to do something a little different.
How to make Julia Child's Pumpkin Soup In a Pumpkin Recipe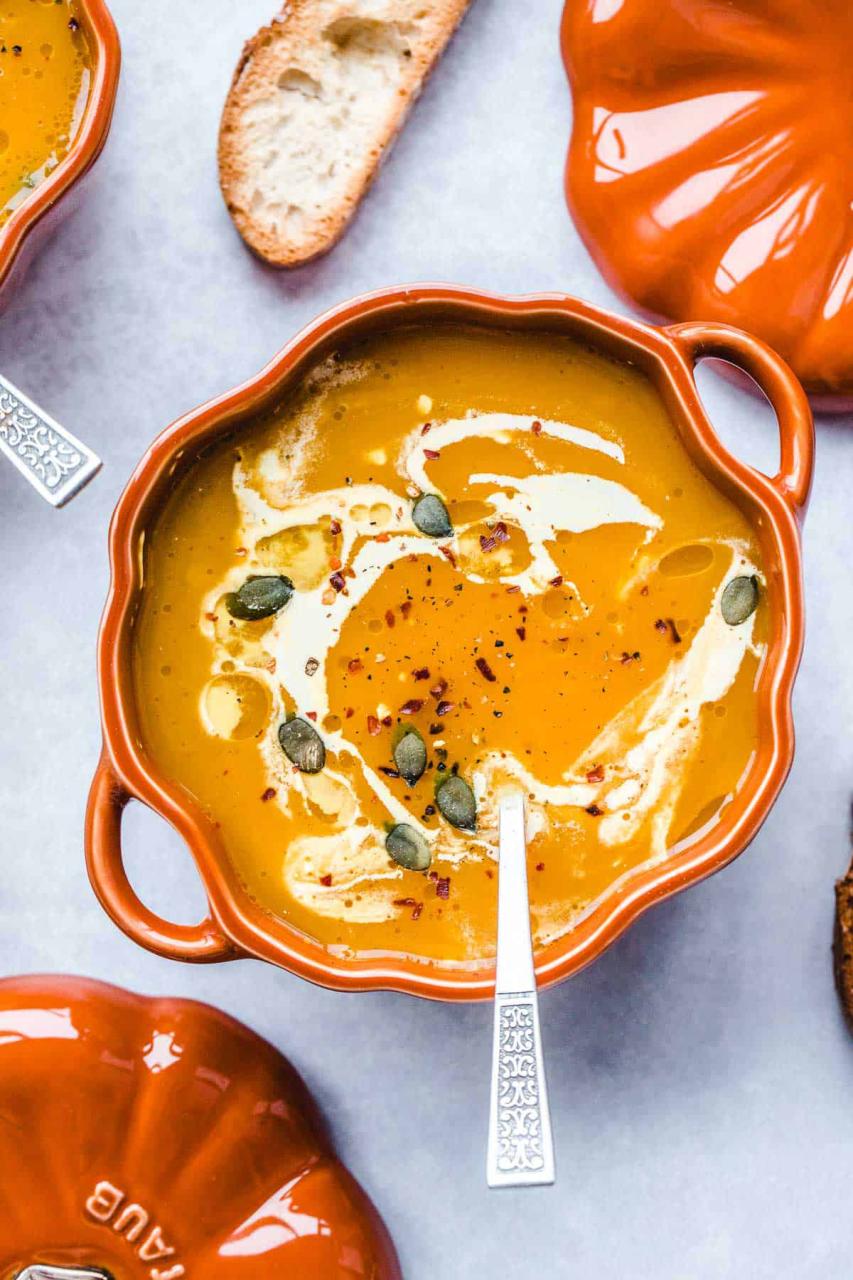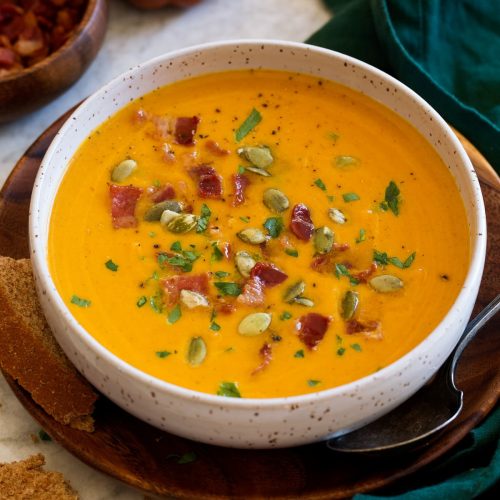 Pumpkin Soup
Equipment
1 oven

1 baking sheet

1 roasting pan
Ingredients
1

half of a baguette

plain or whole grain; cut into cubes

1

7-pound pie pumpkin, such as Sugar; washed and dried

1 ½

teaspoons

fine sea salt

2

cups

chicken or vegetable broth

1 8-

ounce

container crème fraîche

½

teaspoon

ground nutmeg

make sure it smells fresh

½

teaspoon

freshly ground black pepper

12

ounces

imported Gruyere cheese

try to get the real French stuff; shredded

1

bay leaf
Instructions
Heat your oven to 425 degrees.

Spread the bread cubes on a baking sheet and toast in the oven about 8 minutes.

Using a sharp, small knife, cut out a 3 or 4 –inch circle from around the pumpkin stem and set it aside. Scrape out the seeds and loose stringy bits using a large metal spoon or your hands.

Put the pumpkin in a roasting pan and sprinkle ½ teaspoon salt inside. Arrange a layer of the toasted bread on the bottom of the pumpkin.

Stir together the broth and crème fraîche. Add the remaining teaspoon salt, nutmeg and pepper to the mixture and stir again until dissolved.

Pour about a third of the broth over the bread, followed by a third of the cheese. Continue layering twice more and top with the bay leaf. Replace the pumpkin top and carefully place in the oven.

Bake for 1 hour. Turn the oven down to 375 degrees and bake for another 30 minutes.

At this point, take the pumpkin out of the oven and gently poke it with a skewer or the point of a knife – there should be very little resistance, but should still hold its shape. If it still feels a bit firm, put it back in the oven and test it at 15-minute intervals until if feels done – try not to over cook so that the pumpkin doesn't start to slump or cave in. There goes your tureen.

To serve, carefully spoon out some broth, bread and pieces of pumpkin (you have to scrape the sides a bit to break up the flesh). As you get toward the bottom of the pumpkin, some liquid might begin to leak out – keep the pumpkin in the pan or another large bowl just in case.
Cooking Tips for Julia Child's Pumpkin Soup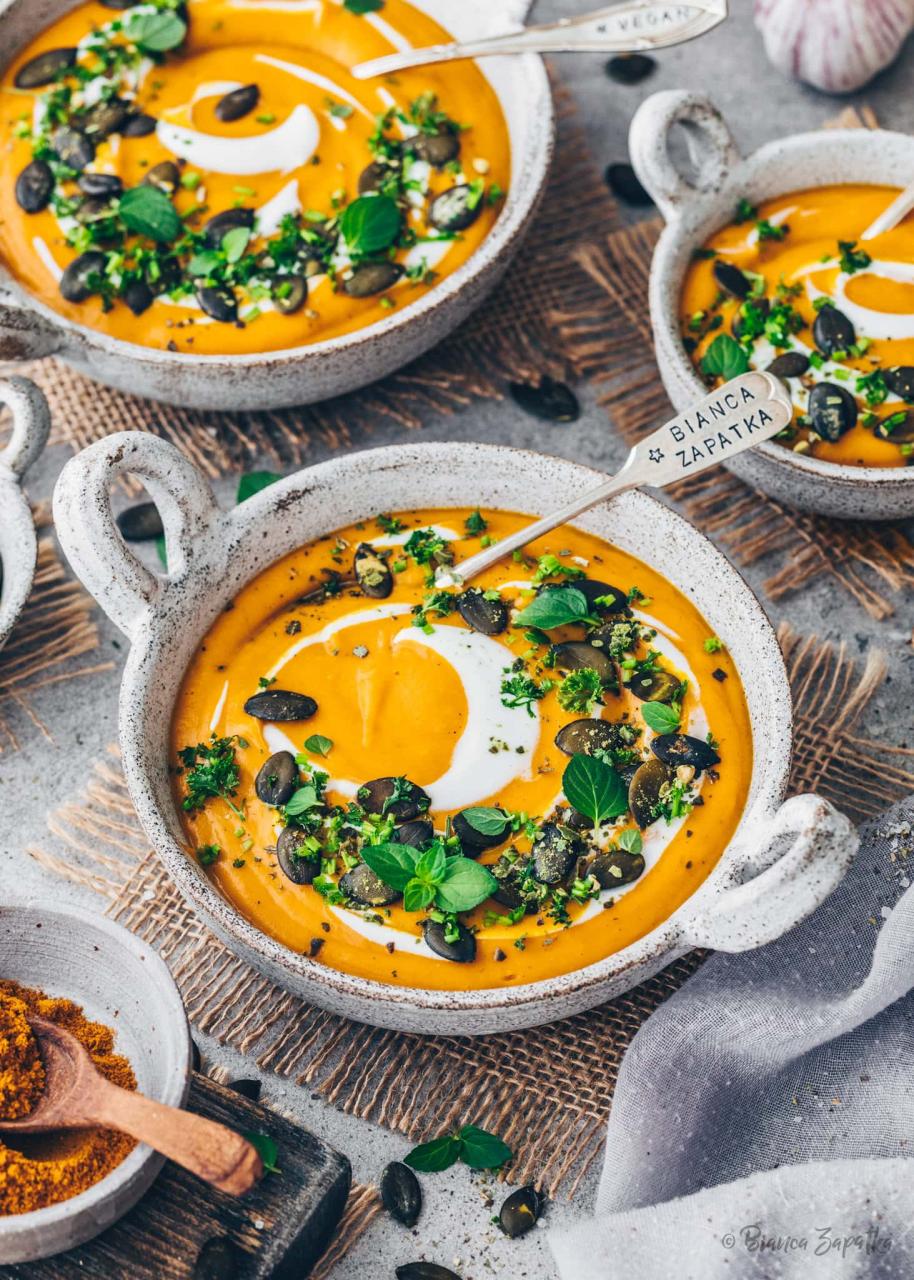 Before we get to the full recipe, here are some of my tips for making Julia Child's famous pumpkin soup based on my trial runs:
Pick the Right Pumpkin
Opt for a smaller sugar pumpkin or pie pumpkin, about 2 pounds. The skin should be thick and sturdy enough to withstand cooking.
Make sure your pumpkin sits flat and balanced. An uneven base won't cook evenly.
Look for a pumpkin with a stem to easily cut and replace the lid.
Prevent Pumpkin Collapse
Don't overcook the pumpkin or the bottom could fall out like Julia's allegedly did!
Check doneness by pressing the outer skin. It should feel soft but still have some structure, like a semi-firm basketball.
Let the roasted pumpkin rest before moving it to prevent splitting.
Boost Flavor
Use homemade chicken or vegetable broth instead of water for a flavor boost.
Add roasted pumpkin or butternut squash for more depth.
Finish with cream or half-and-half to enrich the soup.
Garnish with fresh sage, parsley, toasted pepitas for crunch.
FAQs About Making Julia Child's Pumpkin Soup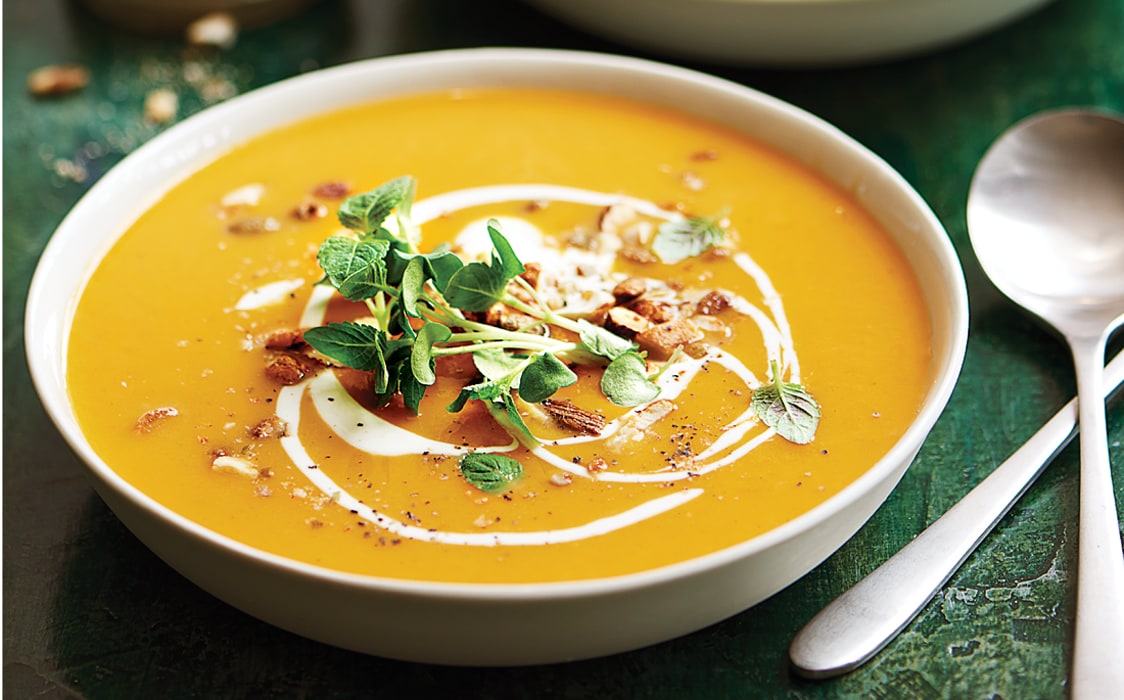 What kind of pumpkin works best? Look for a sugar pumpkin or pie pumpkin about 2 pounds in size. The smaller variety has thicker, sturdier skin perfect for baking whole and less stringy flesh than carving pumpkins.
Can I use a carving pumpkin? It's not ideal. Carving pumpkins have thinner walls that are more likely to collapse while baking. The flesh can also be stringier. Go for a sugar pumpkin if possible.
What if I can't find a small pumpkin? You can use a 3-4 pound pumpkin, just extend the baking time. Or consider halving a larger pumpkin and baking soup in each half.
What can I use instead of chicken broth? For a vegetarian soup, substitute vegetable broth or water. You can also use half water, half milk for a creamy base.
How do I prevent the pumpkin from caving in? Avoid overbaking. Test doneness by pressing the exterior. It should feel soft but still have structure. Also let it rest before moving it after baking.
Can I make the soup ahead of time? Yes! Make the soup up to 3 days ahead. Reheat gently before serving. Omit the cream until ready to serve.
Can I freeze any leftovers? You can freeze the soup without the pumpkin for up to 3 months. Thaw in the fridge overnight before reheating. Add extra broth as needed once thawed.
What sides go well with the soup? Bread, crackers, or croutons are great for dipping. You can also serve a salad, roasted veggies or potatoes on the side.
What dessert pairs well with pumpkin soup? The possibilities are endless! Apple crisp, pumpkin pie, pumpkin cheesecake, or pumpkin bread pudding are all excellent options.
Serving Suggestions for Julia Child's Pumpkin Soup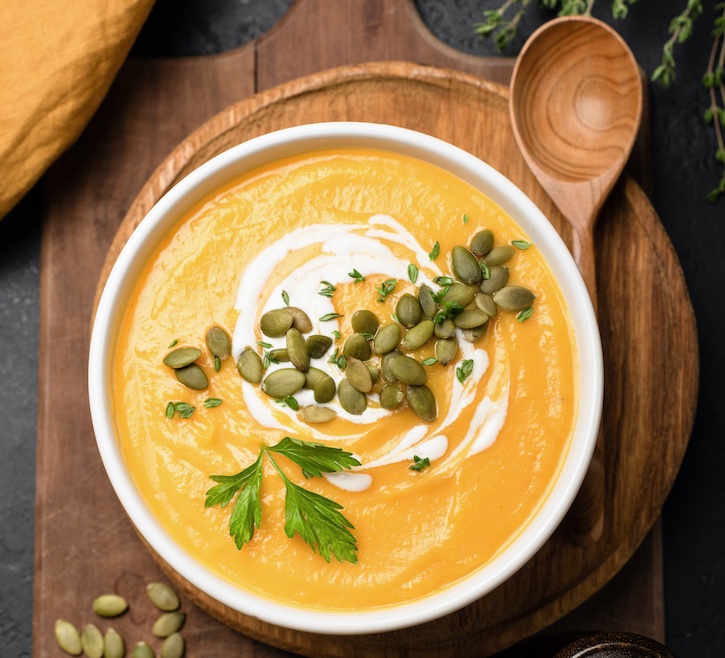 This soup makes for an elegant first course or a hearty entree. Here are some of my tips on serving Julia's masterpiece:
For presentation value, serve the soup in the pumpkin right at the table. Provide soup spoons for guests to scrape the tender pumpkin flesh from the sides as they eat.
Garnish with fresh sage leaves, parsley, toasted pepitas or pumpkin seeds, or a drizzle of cream.
Accompany with crusty bread, crackers, or croutons for dipping into that incredible broth.
For a sit-down dinner, follow the soup with a salad of bitter greens, like radicchio or endive, to balance the richness.
For a casual appetizer setting, serve the soup in mugs with pumpkin-shaped croutons.
For a soup bar, serve the pumpkin soup in a carved out mini pumpkin alongside butternut squash and roasted apple soups.
For kids, serve the soup tableside from a pumpkin carved with a fun face and provide pumpkin-themed dippers.
I hope this gives you some inspiration to think beyond baking the soup directly in the pumpkin itself. With just a few tweaks, you can create all kinds of delicious variations while still letting the pumpkin shine.