Hello there, dear reader! I'm Julia, your guide today on this culinary journey we're about to embark on. If you're a regular visitor to "Dinner with Julia", you know how much I love exploring and sharing new recipes. Today, we're diving into the heart of French cuisine with a recipe that's close to my heart – the French Beef Bourguignon Pie.
Now, don't worry, I've already got the recipe covered for you. But cooking is more than just following a set of instructions, isn't it? It's about feeling, intuition, and a sprinkle of tips and tricks that turn a good dish into an unforgettable one. That's what I'll be focusing on in this post. So, let's buckle up and get cooking!
French Beef Bourguignon Pie Recipe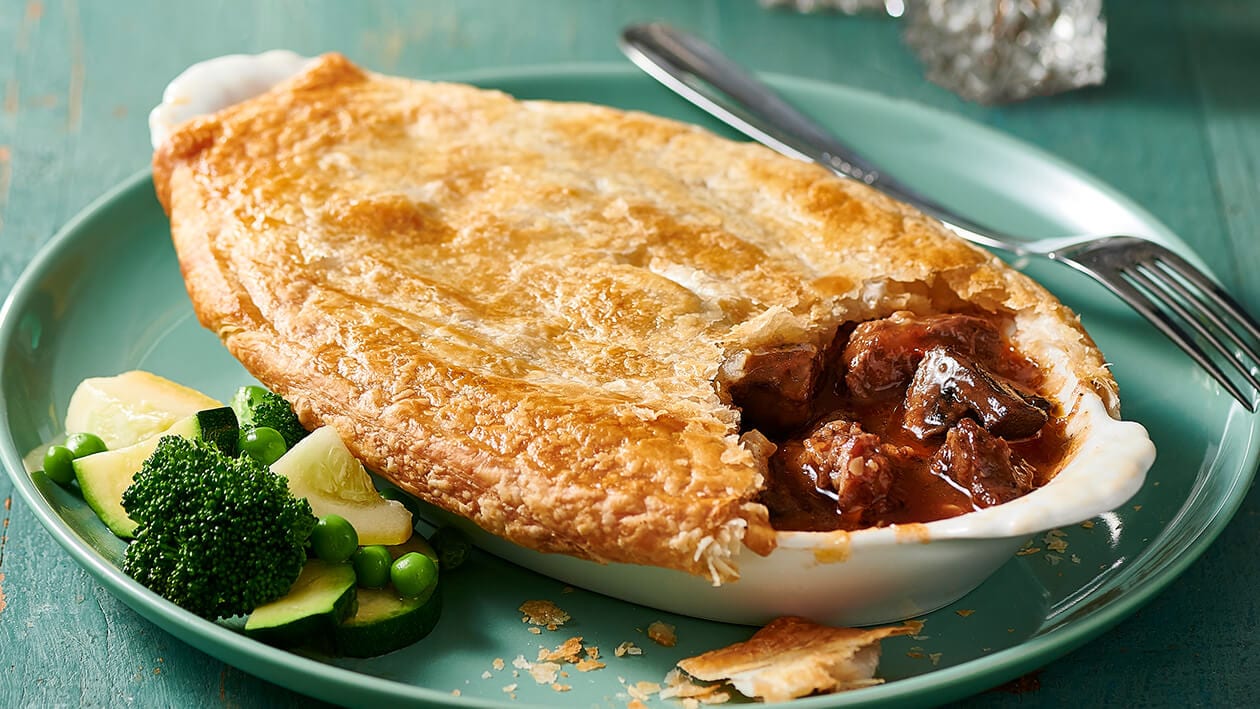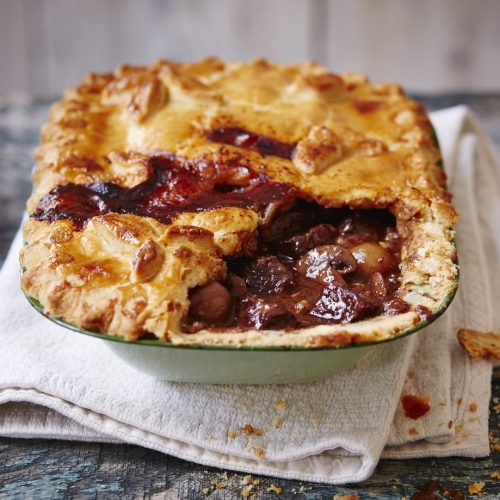 French Beef Bourguignon Pie Recipe
Equipment
1 large pan

1 greased baking dish
Ingredients
One cup of chopped bacon

Two tablespoon of olive oil

One cup of white chopped onions

One tablespoon of chopped garlic

Three tablespoons of all-purpose flour

Two cups of minced beef

Three cups of beef chunks

One beef bouillon cube

Three cups of red wine

One teaspoon of minced garlic

One pound of brown mushrooms

Three tablespoon of softened butter

One cup of mixed cheese

One sprig of fresh chopped rosemary

One sprig of fresh chopped thyme

One sprig of chopped fresh parsley

Two cups of beef stock

One pack of pie dough
Instructions
1.Take a large pan.

Add the butter and onions into the pan.

Add the spices, herbs and tomatoes into the pan.

Cook the mixture well.

Add the beef mince and beef pieces into the pan.

Add the beef stock and cover the pan so that the meat cooks

properly.

Add the rest of the ingredients when the beef mixture dries out.

Cook the mixture well.

Lay the pie dough in a greased baking dish.

Pour the bourguignon mixture and cover it with more dough.

Bake the dish for ten minutes.

Add the chopped parsley on top.

The dish is ready to be served.
French Beef Bourguignon Pie using slow-cooked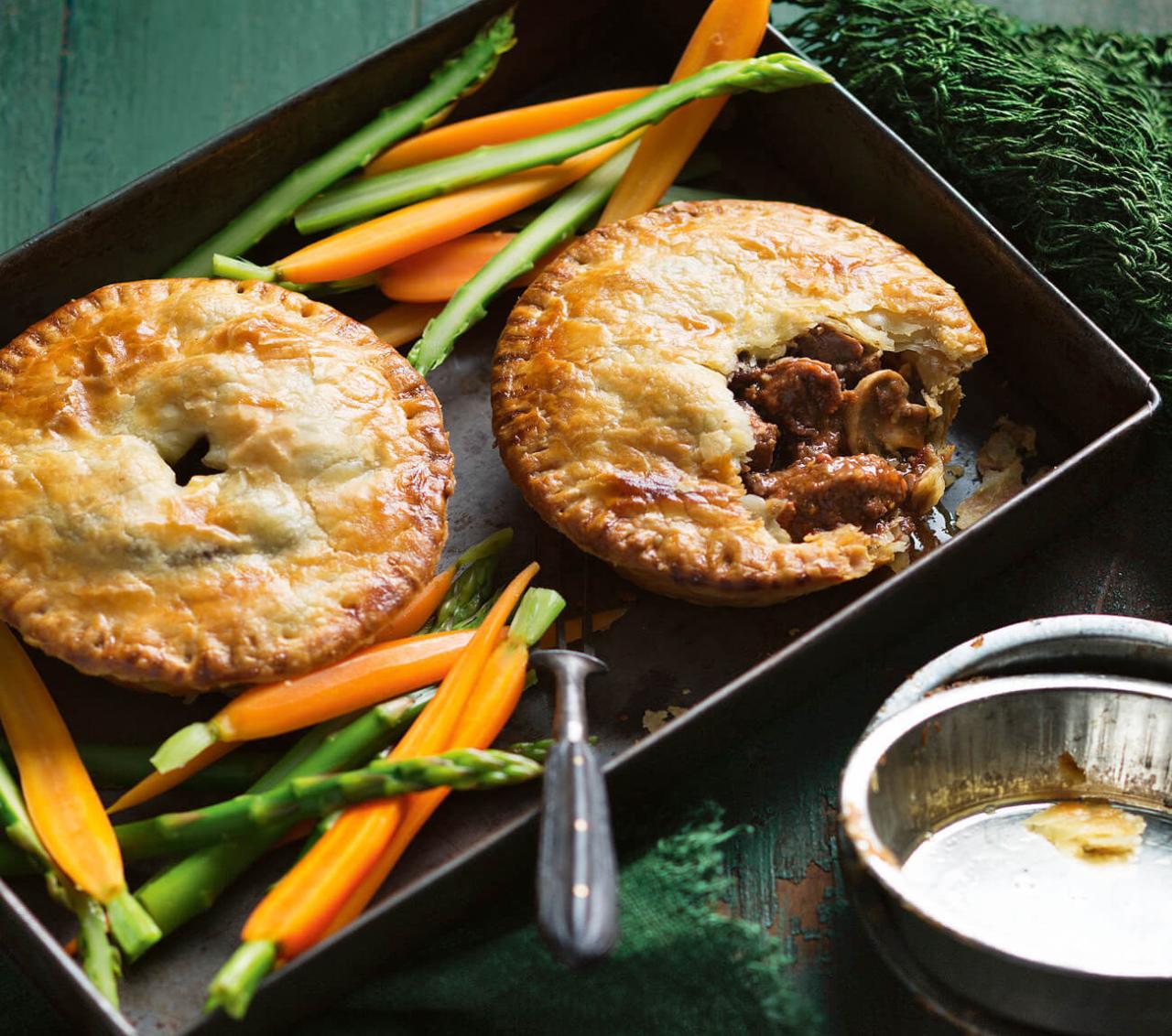 Season the beef chunks with salt and pepper, then dust them with flour. Heat some oil in a large pot over medium heat. Add the beef and cook until browned on all sides. Remove the beef from the pot and set aside.
In the same pot, add the bacon and cook until crisp. Remove and set aside with the beef.
Add the onions, garlic, and carrots to the pot. Cook until the vegetables are softened and lightly caramelized.
Pour in the red wine, scraping up any browned bits from the bottom of the pot. Allow the wine to simmer and reduce by half.
Return the beef and bacon to the pot, then add the beef broth, bay leaves, and thyme. Cover the pot and simmer for about 2 hours, or until the beef is tender. In the last 30 minutes of cooking, add in the mushrooms.
Meanwhile, preheat your oven to 375°F (190°C).
After the stew has finished cooking, remove the bay leaves and let the mixture cool slightly.
Roll out your puff pastry to fit the size of your pie dish. Pour the stew into your dish, then cover with the pastry. Trim any excess pastry and crimp the edges.
Brush the pastry with beaten egg to give it a golden color when baked. Make a few slits in the top of the pastry to allow steam to escape.
Bake for about 25-30 minutes, or until the pastry is puffed and golden.
Allow the pie to rest for a few minutes before serving.
Tips for making French Beef Bourguignon Pie
Cooking Tips for French Beef Bourguignon Pie
Choose the Right Cut of Beef: For a truly tender and flavorful French Beef Bourguignon Pie, opt for chuck roast. This cut of beef has a balance of fat and lean meat, which melts down beautifully as it cooks.
Slow and Steady Wins the Race: The secret to unlocking the complex flavors of this dish is to cook it slowly. A low temperature over a long period allows the beef to absorb all the lovely flavors from the wine and herbs.
Don't Skip the Marinating Step: Marinating the beef overnight will help tenderize it and infuse it with flavor. It's worth the extra time, I promise!
Serving Suggestions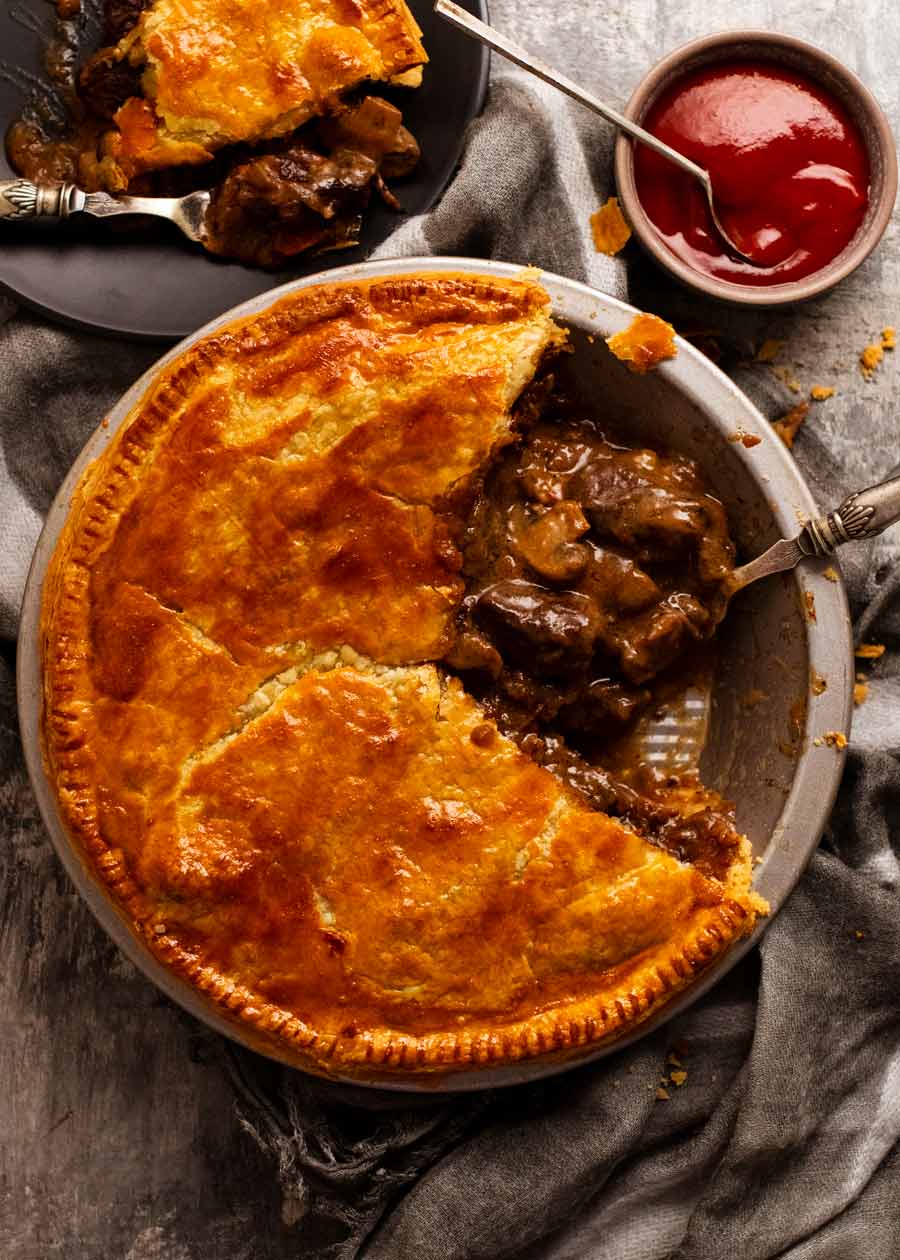 Now, let's talk about serving this French Beef Bourguignon Pie. Here are some suggestions to make your dish truly shine:
Pair With a Robust Red Wine: A robust red wine such as a Cabernet Sauvignon or a Burgundy (if you want to keep it all French) pairs perfectly with this hearty dish.
Add a Green Salad: A fresh, crisp salad can balance out the richness of the pie. Try a simple green salad with a vinaigrette dressing.
Fresh Bread: Is there anything better than mopping up that delicious, rich sauce with a piece of fresh bread? I didn't think so!
FAQs about French Beef Bourguignon Pie
I often get questions about cooking French Beef Bourguignon Pie. Here are the answers to some of the most common ones:
Can I make this dish ahead of time? Yes! In fact, it tastes even better the next day as the flavors have more time to meld together.
What if I don't have a Dutch oven? No worries. You can also use a large heavy-bottomed pot with a tight-fitting lid.
Can I freeze the leftovers? Absolutely. This dish freezes well for up to 3 months. Just make sure to cool it completely before freezing.
Can I substitute the red wine? If you prefer not to use wine, you can substitute it with beef broth. However, the wine does add a distinctive flavor that's hard to match.
Can I add other vegetables? Certainly! Feel free to add mushrooms, potatoes, or any other veggies you love.
Every time I cook this French Beef Bourguignon Pie, I'm reminded of the magic of cooking. How simple ingredients, when treated with love and patience, can transform into a dish that warms the soul. I hope this post has inspired you to try this recipe and add your own little twist to it. Remember, the kitchen is your playground – have fun with it!