Hello, my fellow food lovers! It's Julia from Dinner with Julia. Today, we're going to delve into a dessert that has won hearts worldwide – the fluffy and sweet French Beignets.
As a self-proclaimed dessert lover, French Beignets have always been a favorite of mine. The first time I tasted these light, airy pastries dusted with powdered sugar, I was smitten. Since then, I've been perfecting my recipe and experimenting with different fillings and toppings.
I've shared my go-to recipe with you all (if you haven't tried it yet, you're missing out!), but today, we're going to dive deeper. We'll discuss some essential cooking tips, serving suggestions, and answer some frequently asked questions about making French Beignets.
French Beignets Recipe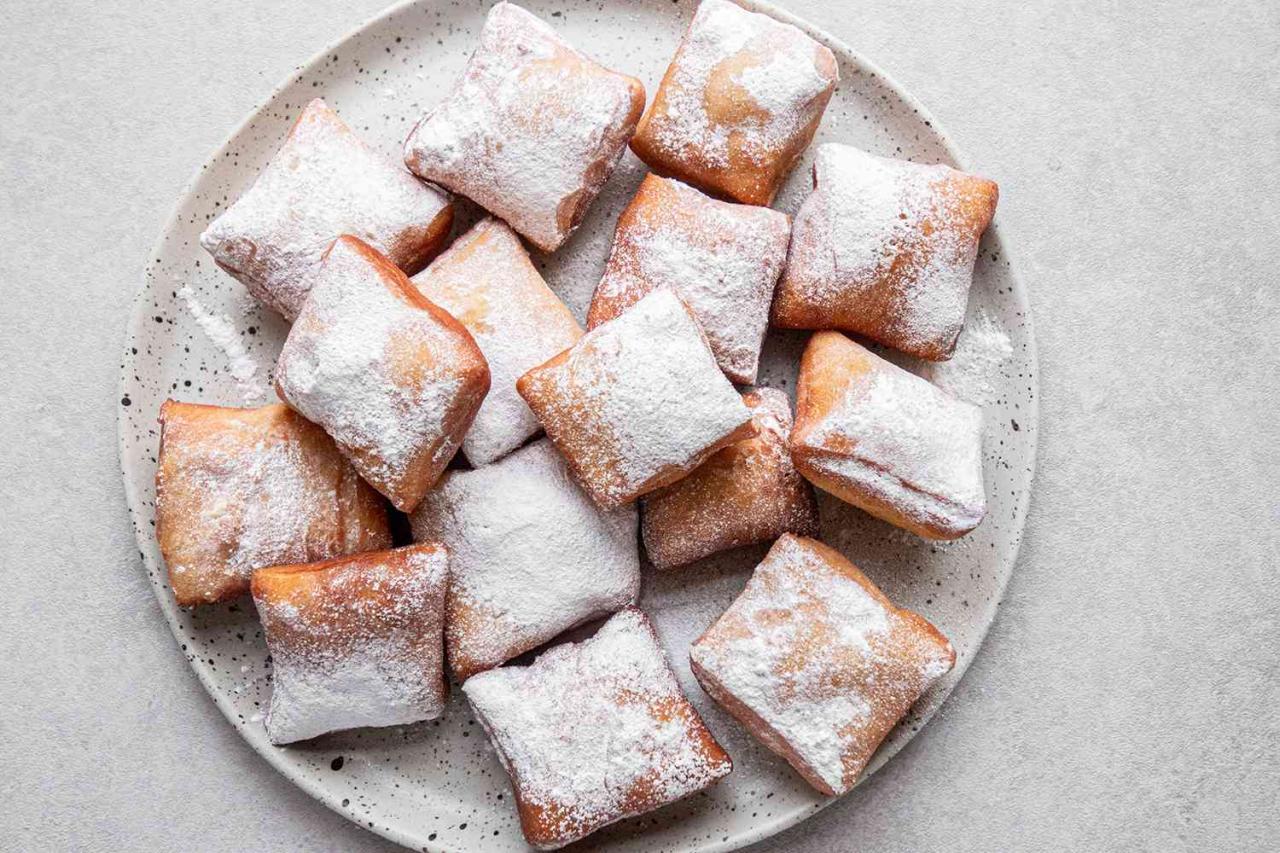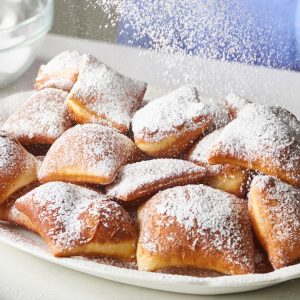 French Beignets Recipe
Ingredients
Half cup of butter

Four eggs

Two cups of flour

One cup of milk

One tablespoon of baking powder

Icing sugar

one cup
Instructions
1.Take a large bowl.

Mix all the ingredients except the icing sugar in a large bowl.

Form semi-thick dough from the mixture.

Heat a pan full of oil.

Add spoonful size of the batter into the oil.

Fry the beignets.

Dish out the beignets when they turn golden brown.

Cool down the beignets.

Add the icing sugar all over the beignets.

Your dish is ready to be served.
Baking French Beignets in an Oven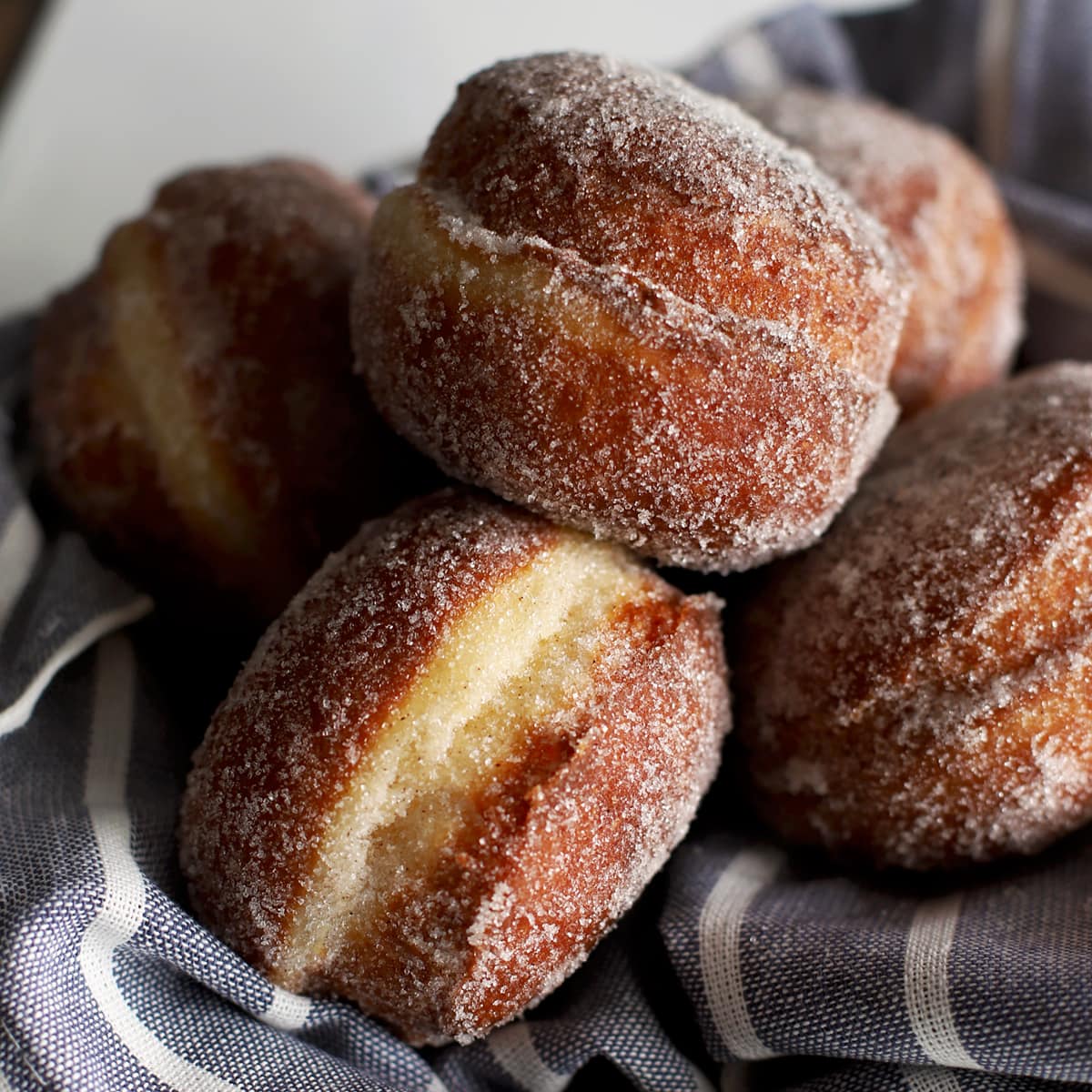 Let's explore another fun way to prepare our beloved French Beignets – using an oven. This method is perfect when you're looking for a healthier alternative to frying.
Preheat the Oven: Start by preheating your oven to 375°F (190°C). This ensures that your beignets will bake evenly.
Prepare the Beignets: Once your dough is cut into squares, place them on a baking sheet lined with parchment paper.
Bake: Bake for about 10-15 minutes, or until the beignets are golden brown and puffed up.
Cool and Dust: After removing the beignets from the oven, let them cool before dusting with powdered sugar. Then, serve and enjoy!
Remember, every oven is different, so you might need to adjust the baking time slightly. The key is to look for that beautiful golden-brown color – that's when you know your French Beignets are perfectly baked.
Tips for making French Beignets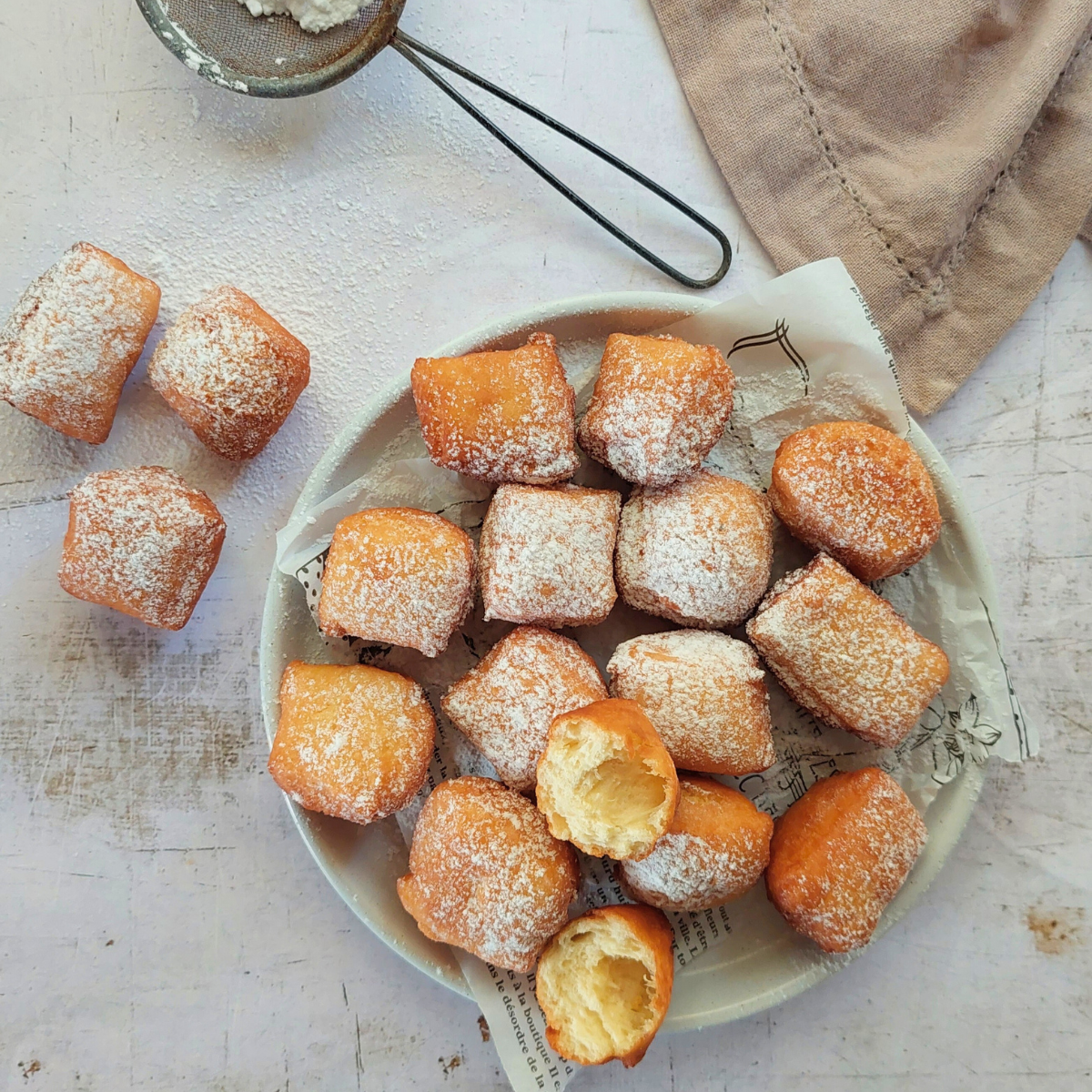 Cooking Tips for French Beignets
The Right Dough: The key to light and airy beignets is yeast dough. It might seem intimidating, but with a little practice, you'll master it in no time.
Frying Temperature: Maintain the oil temperature at around 375°F (190°C) for perfectly golden beignets.
Dust Generously: Don't skimp on the powdered sugar. It adds the perfect sweetness to the beignets.
Serving Suggestions for French Beignets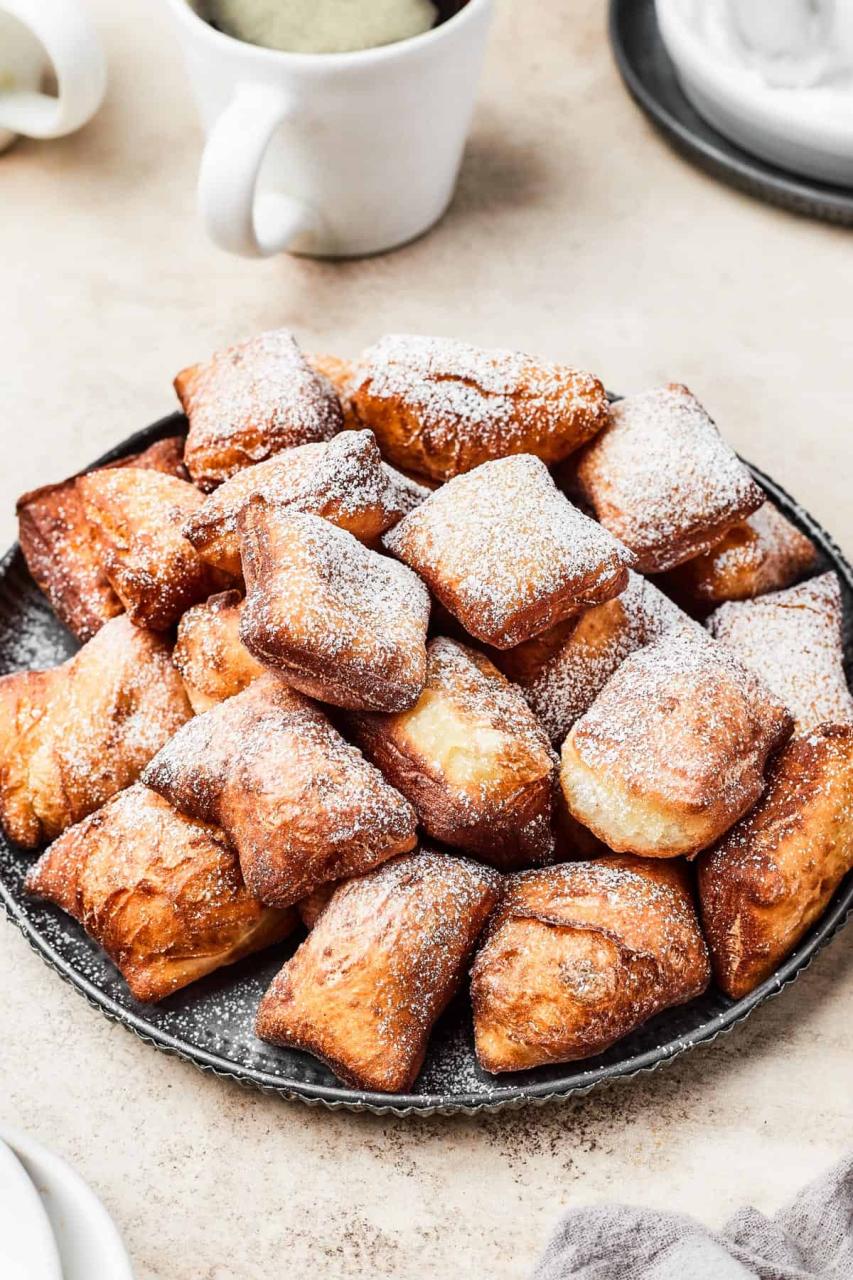 Serving these delightful pastries is where you can let your creativity shine. Here are some of my favorite ways:
Classic Breakfast: Serve them fresh with a hot cup of coffee.
Dessert Time: Pair them with a scoop of ice cream for a decadent dessert.
Tea Party Delight: Serve them as an elegant tea party snack.
Frequently Asked Questions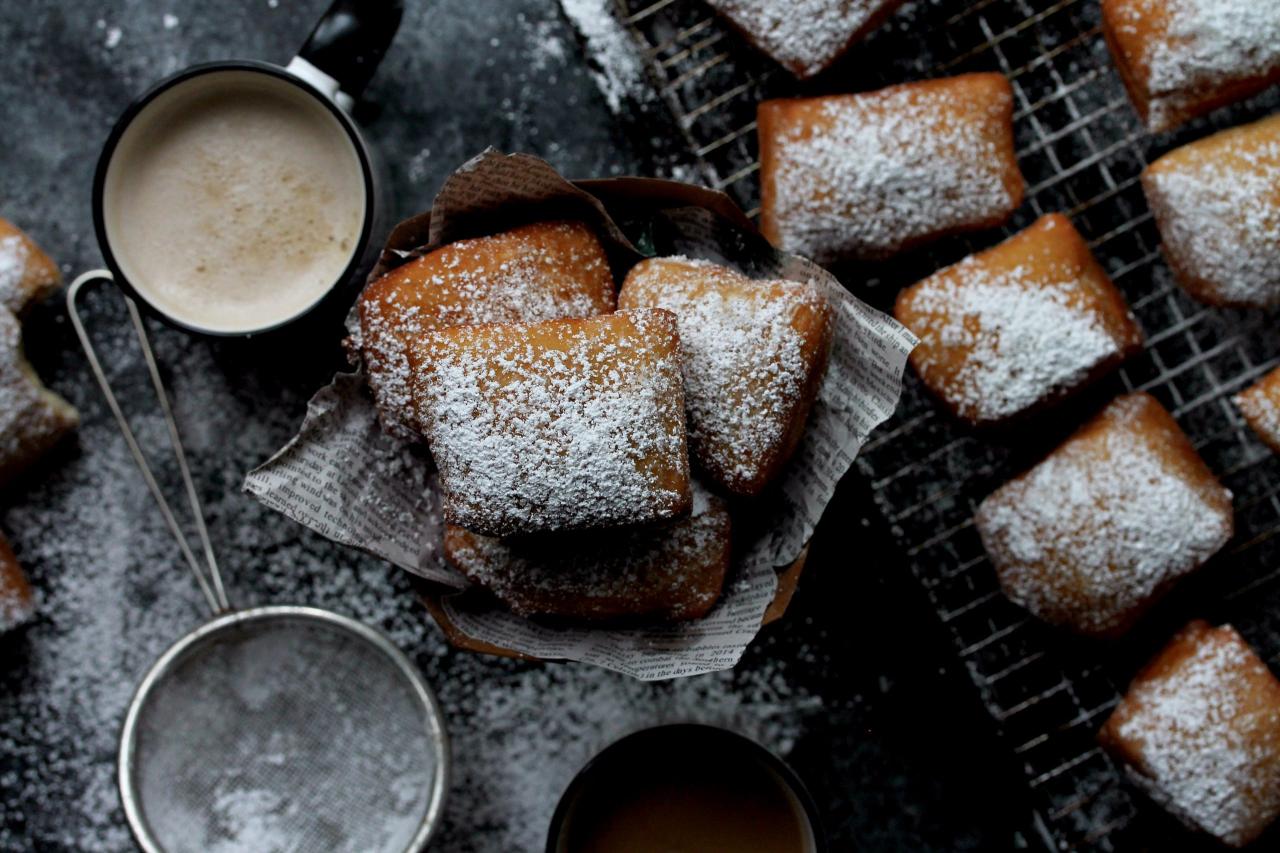 I often receive questions about this recipe, so let's address some of the most common ones.
Can I bake these instead of frying? Yes, you can! They won't have the same texture as fried ones, but they'll still be delicious.
Can I make these vegan? Absolutely! There are vegan alternatives available for eggs and butter that work wonderfully.
Why are my beignets not airy? This could be due to over-mixing the dough or not frying at the correct temperature.
Can I add fillings? Definitely! Try filling them with whipped cream or custard for a delightful surprise.
Can I make these in advance? French Beignets are best served fresh, but you can keep them in an airtight container for up to two days.
So there you have it – a comprehensive guide to making French Beignets. Remember, practice makes perfect, and don't be afraid to get creative with your fillings and toppings!
Until next time, happy cooking!
-Julia