Greetings, fellow gastronomes! I'm Julia, and welcome back to the magical world of Dinner with Julia. Today, we're going to delve into a recipe that's very dear to my heart – the classic French Cherry Clafoutis. This delightful dessert has been a personal favorite of mine ever since I tasted it in a quaint little bakery in Paris. The tartness of the cherries perfectly balancing the sweetness of the custard left an impression on my taste buds that I still reminisce about.
French Cherry Clafoutis Recipe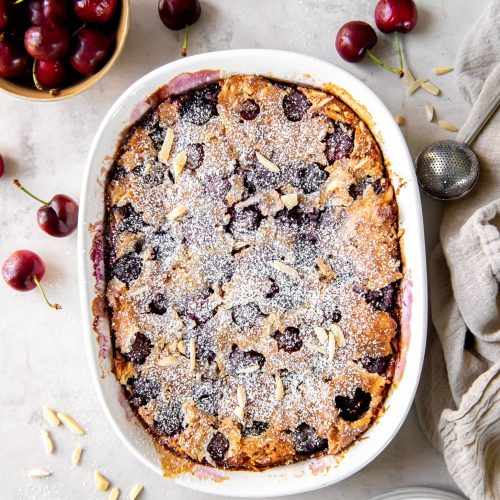 French Cherry Clafoutis Recipe
Ingredients
Two cups of milk

AA teaspoon of cinnamon

Half cup of heavy cream

Half cup of white sugar

A teaspoon of salt

Two eggs

A teaspoon of lemon extract

A teaspoon of almond extract

Two cups of all-purpose flour

A cup of butter

A cup of pitted cherries
Instructions
Take a medium bowl.

Add the melted butter in it.

Add the heavy cream and cinnamon into it.

Add flour and mix well.

Add the milk and salt as required.

Add the sugar and salt as needed.

Mix them well.

Add the eggs, cherries, lemon extract and almond extract together.

Stir it for few minutes.

Add the material on baking sheet.

Bake the material for twenty minutes until they become slightly brown.

Your dish is ready to be served.
Making French Cherry Clafoutis in an Air Fryer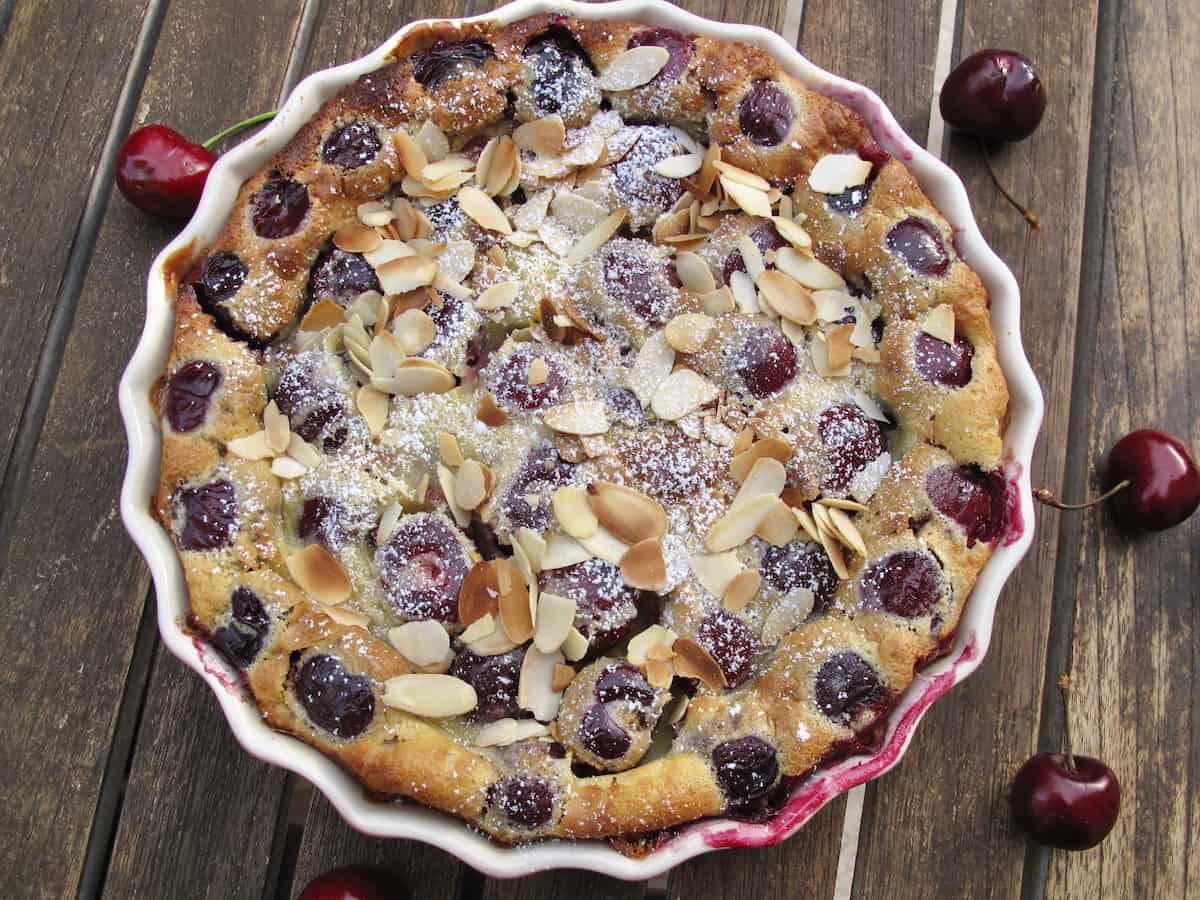 Preheat your air fryer: Start by preheating your air fryer to 350°F (175°C). This ensures that your Clafoutis starts cooking immediately once it goes in and helps achieve that beautiful golden-brown color.
Prepare your dish: Choose a baking dish that fits comfortably in your air fryer. Arrange your cherries at the bottom of the dish.
Pour the batter: Pour your prepared batter over the cherries. Make sure it's evenly distributed.
Air fry: Place the dish in the air fryer basket. Cook for about 20-25 minutes. Keep an eye on it, as cooking times can vary depending on your specific air fryer model.
Check for doneness: Your Clafoutis is done when it's puffed up, golden brown, and a knife inserted in the center comes out clean.
Serve: Allow it to cool slightly before dusting with powdered sugar and serving.
Tips for making French Cherry Clafoutis
The French Cherry Clafoutis recipe is so much more than just a dessert; it's a celebration. A celebration of the sweet and the tangy, the old and the new, the simple and the sophisticated. To me, it embodies the spirit of French cuisine – elegant, yet approachable. Every time I recreate this dish in my kitchen, I feel a sense of nostalgia and connection to that beautiful city.
Before we move forward, let's set the stage for those unfamiliar with the dish. A Clafoutis (pronounced kla-foo-TEE) is essentially a French baked dessert that originated from the Limousin region. It's typically made by arranging ripe cherries in a baking dish, pouring over a custard-like batter, and then baking until it's golden and puffed.
But remember, I've already got the recipe down pat. So today, we're focusing on the other aspects – the cooking tips, serving suggestions, and answering some frequently asked questions. I'll also throw in a bonus section where I'll share how to prepare this using different kitchen tools.
Unveiling My Top Cooking Tips for the Perfect French Cherry Clafoutis
Creating the perfect French Cherry Clafoutis requires a little more than just following the recipe. Here are my top tips to make your Clafoutis stand out:
Quality of Cherries: The star ingredient of this dish is cherries. Always source fresh, ripe cherries for the best result. If they're not in season, frozen ones can be a good substitute.
To Pit or Not to Pit: In traditional French Cherry Clafoutis recipes, the cherries are not pitted. The pits actually release a subtle almond flavor as they bake. However, if you're concerned about biting into a pit, feel free to remove them.
The Right Dish: A shallow, wide dish is perfect for baking Clafoutis. It ensures even cooking and gives that desirable custardy texture.
Don't Overmix: The batter should be mixed just until smooth. Overmixing can lead to a tough Clafoutis.
Serving Suggestion – Elevating the Classic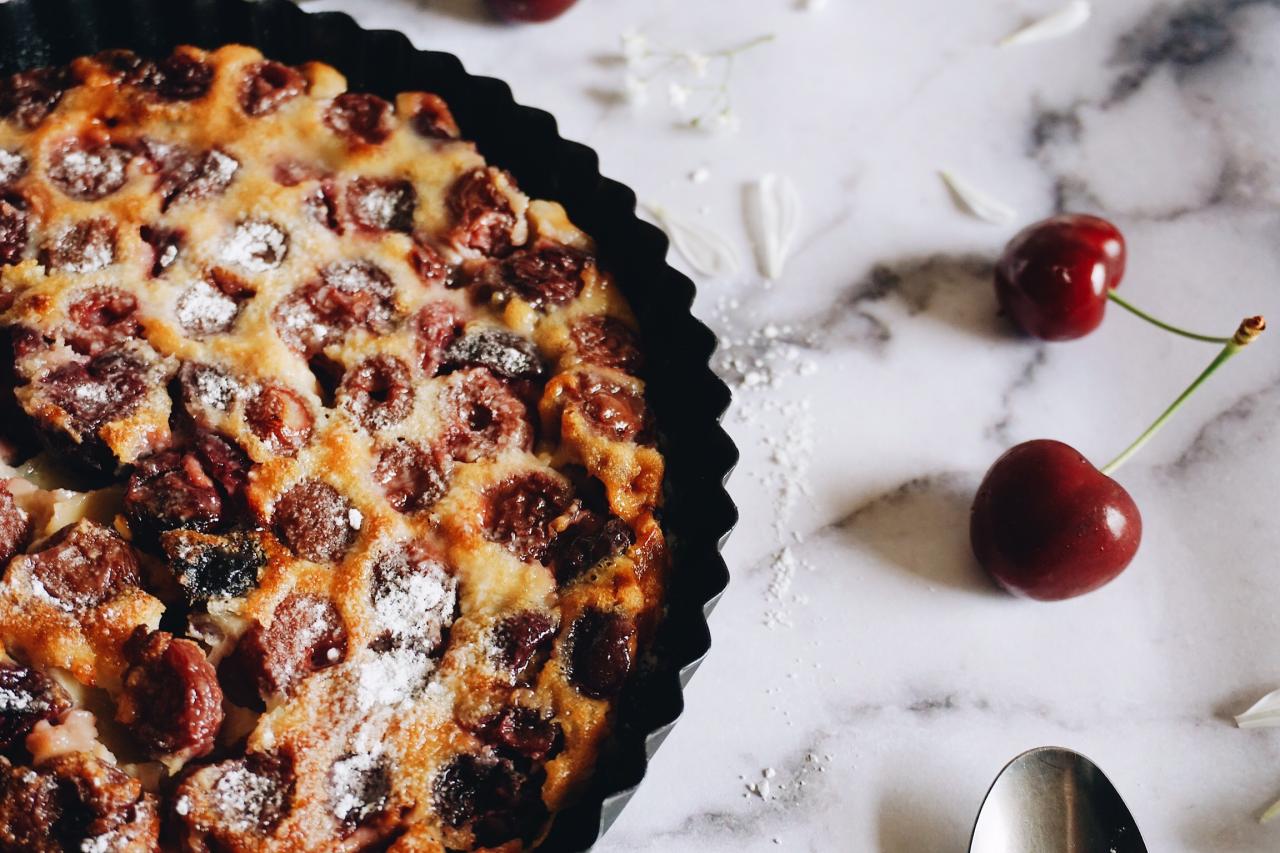 When it comes to serving your French Cherry Clafoutis, you want to strike a balance between retaining its classic appeal and adding your own twist. I love dusting my Clafoutis with powdered sugar and serving it warm, right out of the oven. For an extra layer of decadence, a scoop of vanilla ice cream or a dollop of whipped cream does wonders. And let's not forget a sprig of mint for that pop of color!
FAQs: Your Queries Answered
Over the years, I've received quite a few questions about the French Cherry Clafoutis recipe. Here are answers to some of the most frequently asked ones:
Can I use other fruits in place of cherries? Absolutely! Other berries, plums, or even pears work wonderfully.
How do I know when my Clafoutis is done? It's ready when it's puffed, golden brown, and a knife inserted in the center comes out clean.
Can I make Clafoutis ahead of time? Yes, you can prepare the batter ahead and bake it just before serving.
How can I prevent my Clafoutis from becoming rubbery? Don't overbake it. It should still have a slight jiggle in the middle when it's done.
Can I reheat my Clafoutis? Yes, but it's best served fresh. If you do need to reheat, do so gently in the oven.
So, there you have it – my personal journey with the beloved French Cherry Clafoutis recipe. Making it always brings back fond memories