Hello, dear friends! It's Julia again, your culinary guide at Dinner with Julia. Today, I'm excited to share with you my passion for a classic French dish – the French Coq Au Vin. My love affair with the French Coq Au Vin began during a winter trip to Burgundy. The first bite was a revelation – the tender chicken, the rich wine sauce, and the hearty vegetables created a symphony of flavors that warmed my soul.
Since then, the French Coq Au Vin has become a regular feature in my kitchen, especially during the colder months. It's my go-to comfort food that never fails to warm me up from the inside out. But enough about my savory cravings. Let's delve into the art of making this comforting dish.
French Coq Au Vin Recipe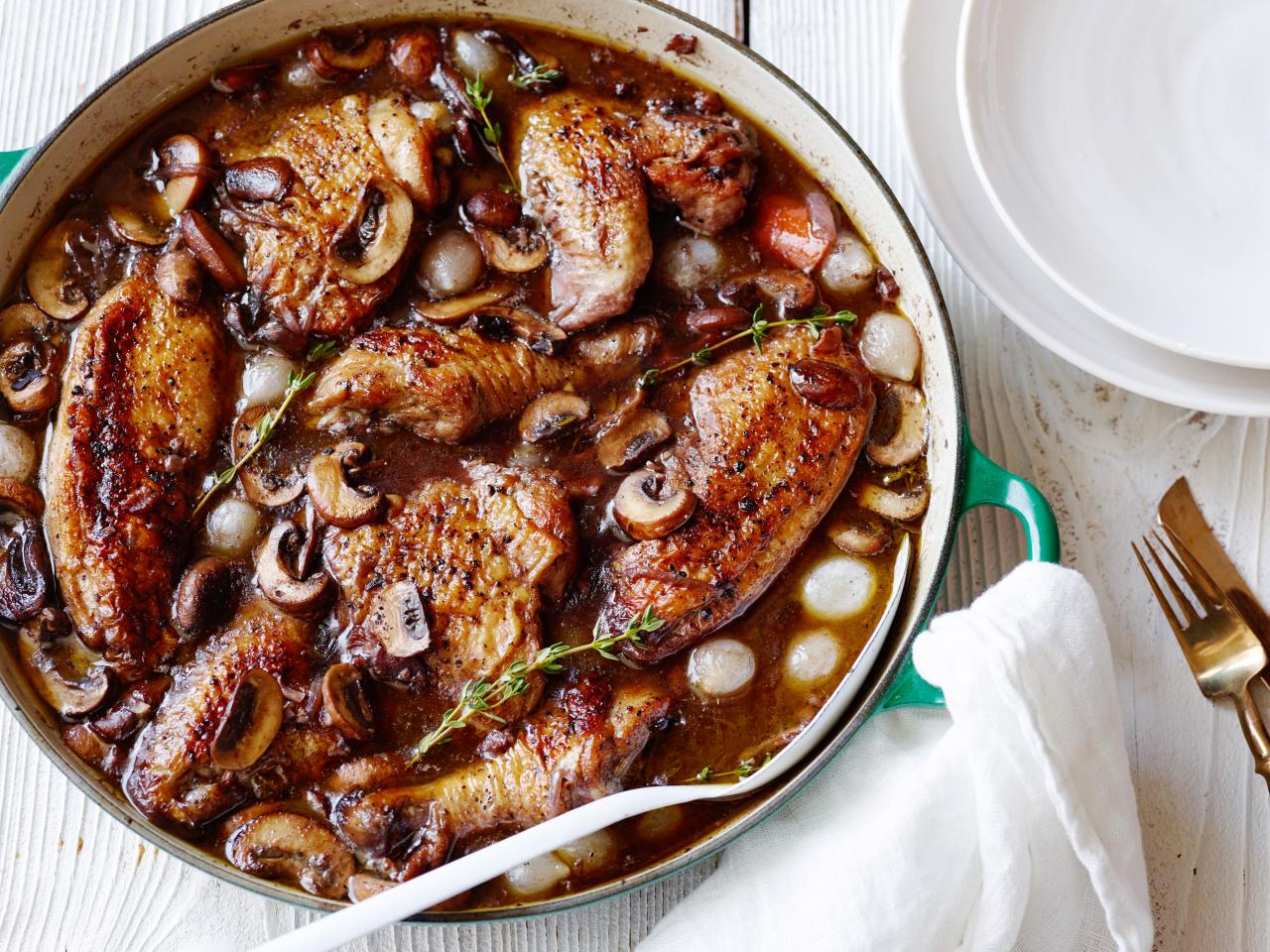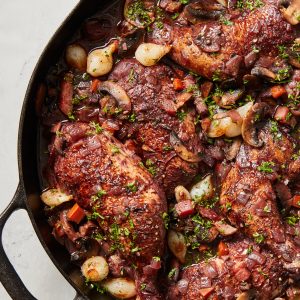 French Coq Au Vin Recipe
Ingredients
One cup of chicken pieces

One tablespoon of kosher salt

One tablespoon of black pepper

Two cups of red wine

One bay leaf

One teaspoon of sugar

Two thyme sprigs

Half cup of diced bacon

One cup of carrots

One onions

One teaspoon of chopped garlic

Half cup of tomato paste

Parsley
Instructions
Take a large bowl.

Add the chicken pieces into it.

Season the chicken with pepper and salt.

Combine the chicken with red wine, bay leaf and thyme.

Cover it and marinate for thirty minutes.

Cook the bacons until they become crispy.

Add the marinated chicken into it.

Cook it until the chicken becomes golden brown.

Add the onions, carrots, and all the vegetables.

Add the garlic, tomato paste and cook for one minute.

Add the rest of the ingredients into the mixture.

Cook the ingredients for ten to fifteen minutes.

Your dish is ready to be served.
French Coq Au Vin for a slow cooker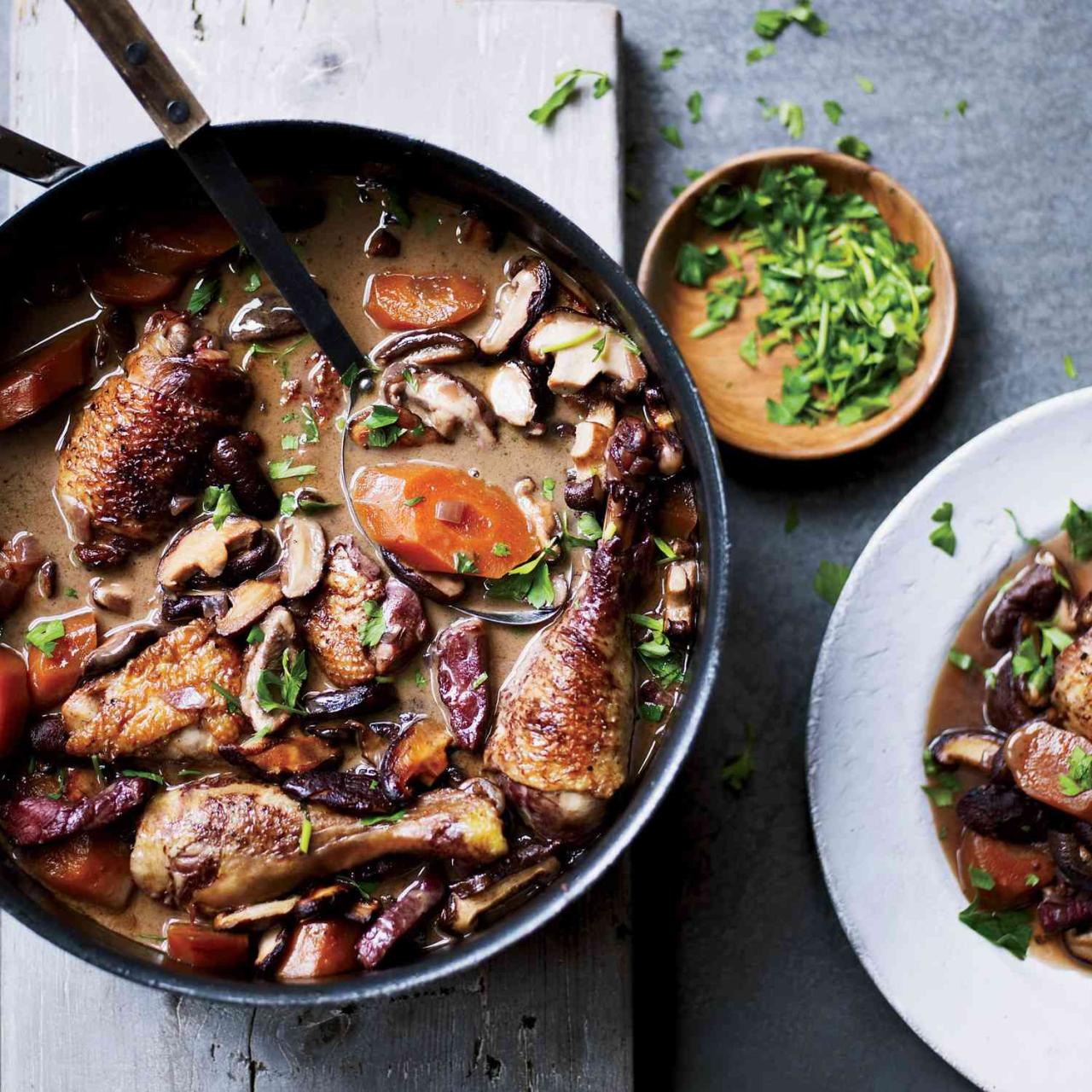 Ingredients Preparation: Gather all your ingredients. You'll need a whole chicken cut into pieces (or bone-in, skin-on chicken thighs if you prefer), 2 cups of good quality red wine, 2 cups of chicken stock, 2 cloves of garlic minced, 2 medium onions sliced, a bouquet garni (a bundle of thyme, bay leaves, and parsley tied together), a couple of sliced carrots, a few stalks of celery chopped, about 200 grams of lardons or chopped bacon, and about 250 grams of button mushrooms.
Browning the Chicken: In a large pan over medium heat, brown the chicken pieces in a little oil until they're golden on all sides. This step is important to seal in the juices and gives the final dish more flavor. Once browned, transfer the chicken to the slow cooker.
Cooking the Lardons and Vegetables: Using the same pan, cook the lardons until they are crispy. Add the onions, carrots, celery, and garlic, and sauté them until they start to soften and take on some color. Lastly, add the mushrooms and cook just until they begin to brown.
Deglazing the Pan: Pour in the red wine, scraping the bottom of the pan with a wooden spoon to loosen any bits stuck to it. Let it simmer for a few minutes to reduce slightly, then pour in the chicken stock.
Slow Cooking: Transfer all the contents of the pan to the slow cooker, ensuring that the chicken is well immersed in the liquid. Add the bouquet garni, then cover and set the slow cooker to low. Allow it to cook for about 6-8 hours.
Serving: Once the chicken is tender and the flavors well melded, the Coq Au Vin is ready to serve. It's traditional to serve it with either mashed potatoes or steamed rice.
Tips for making French Coq Au Vin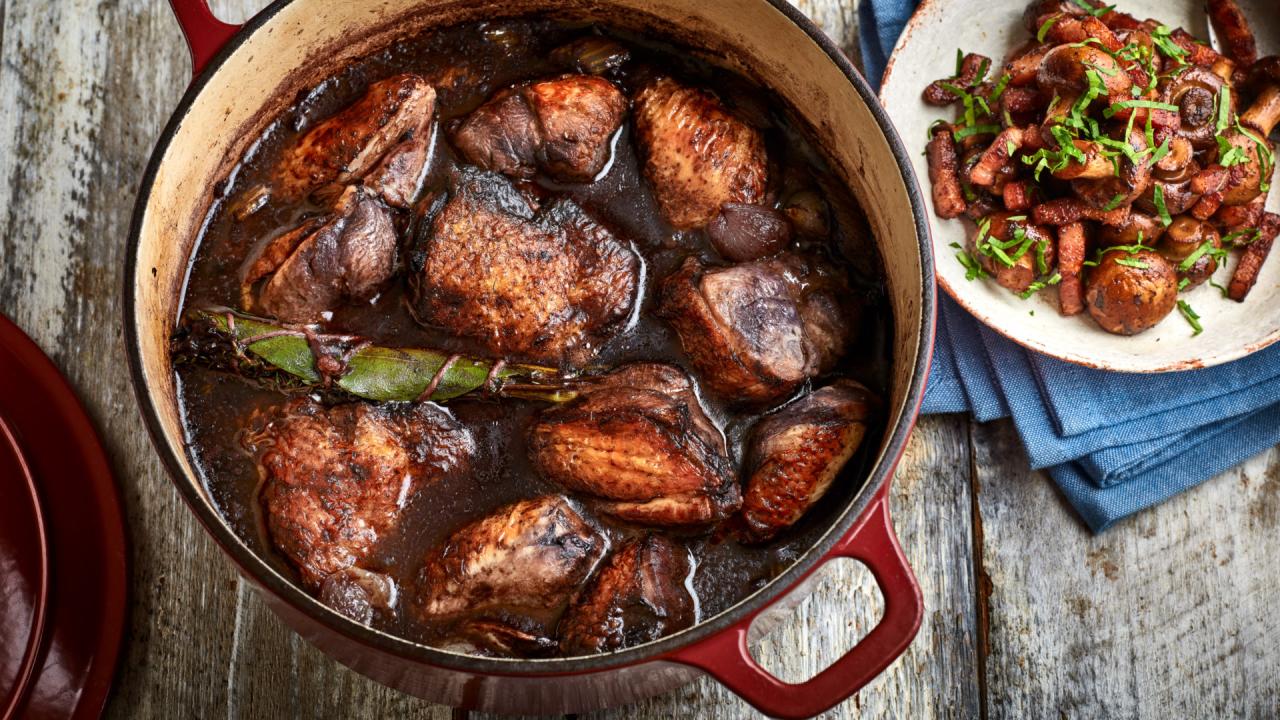 Cooking Tips
Cooking a French Coq Au Vin might seem daunting, but trust me, it's easier than you think. Here are some tips I've learned over the years:
Choose the Right Chicken: For the most flavorful stew, opt for a whole chicken cut into pieces. This gives you a mix of white and dark meat, which adds depth to the dish.
Brown Your Chicken: Don't skip this step. Browning the chicken caramelizes the surface, which enhances the flavor of the stew.
Use Good Quality Wine: The wine is a key ingredient in this dish. Choose a good quality red wine that you would enjoy drinking.
Low and Slow is the Way to Go: Cook your stew on low heat for a long time. This allows the flavors to meld together and the chicken to become fall-apart tender.
Add Your Vegetables Later: To prevent your vegetables from becoming mushy, add them in the last hour of cooking.
Serving Suggestions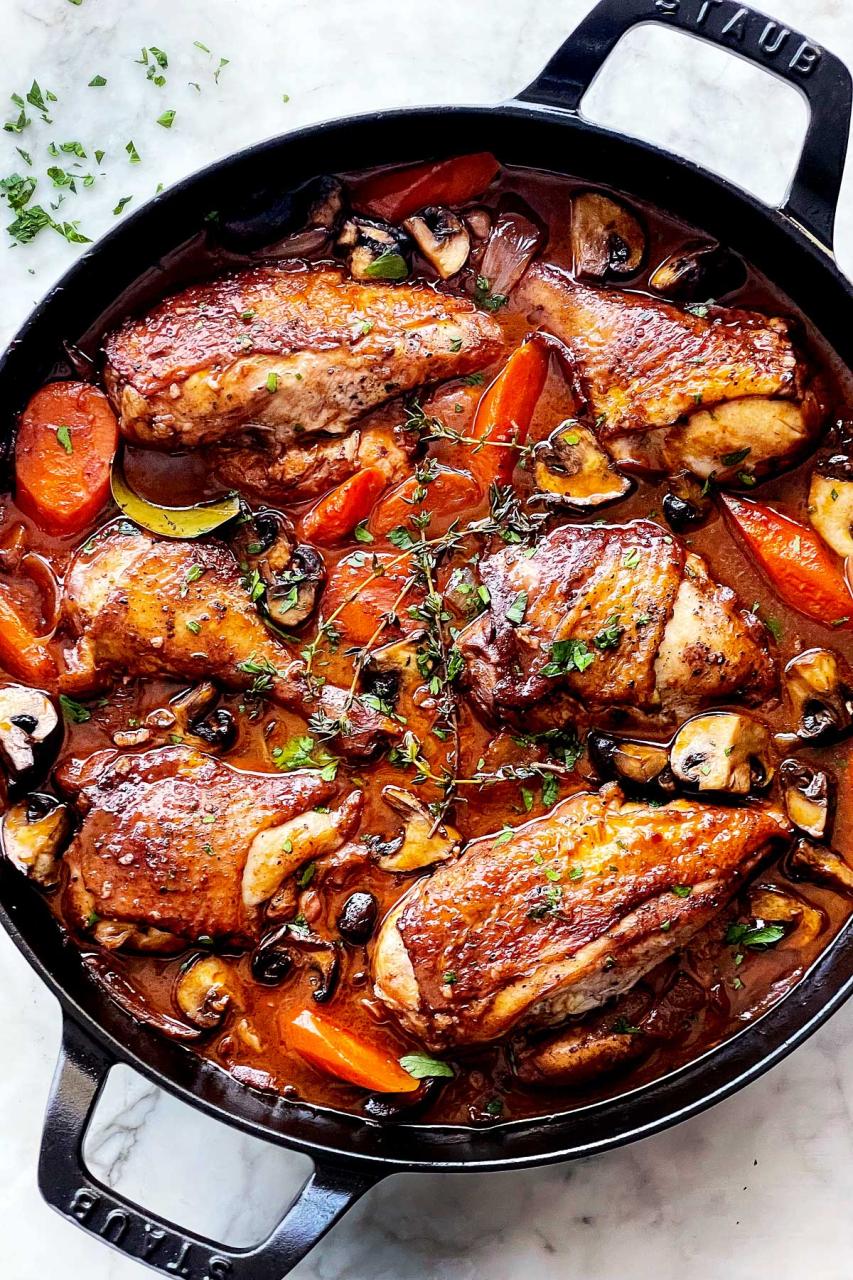 A French Coq Au Vin is a meal in itself. However, here are some serving suggestions to elevate your dining experience:
Crusty Bread: There's nothing like a piece of fresh, crusty bread to mop up the delicious sauce.
Mashed Potatoes: Serve your stew over a bed of creamy mashed potatoes for a hearty meal.
Fresh Parsley: A sprinkle of fresh parsley adds a pop of color and freshness to the dish.
Red Wine: Pair your stew with a glass of red wine that matches the one used in the stew.
FAQS
Over the years, I've received numerous questions about the French Coq Au Vin. Here are my answers to some of the most frequently asked questions:
Can I use chicken breasts instead of a whole chicken? Yes, you can. However, keep in mind that chicken breasts might dry out faster than other parts. So adjust your cooking time accordingly.
Can I substitute the red wine with something else? While red wine gives the best flavor, you can substitute it with chicken broth if you prefer a non-alcoholic version.
Can I make the stew ahead of time? Yes, you can prepare the stew a day in advance. In fact, it tastes even better the next day as the flavors have more time to meld together.
How do I store leftover stew? Store any leftover stew in an airtight container in the refrigerator. It should last for up to 3 days.
Can I freeze the stew? Yes, you can freeze the stew in a freezer-safe container. It should last for up to 3 months.
And there you have it! My personal journey and tips on making the perfect French Coq Au Vin. Happy cooking!