Hello, my fellow food lovers! It's Julia, your culinary guide. Today, we're journeying to the rustic countryside of France, right from our own kitchens. Our destination? The hearty, soul-warming French White Bean Stew.
I can almost hear your thoughts. "Julia, isn't a stew a bit too heavy for a weeknight dinner?" Well, let me tell you, this French White Bean Stew is as light and nutritious as it is flavorful. Plus, it's a great way to sneak in those veggies for the little ones!
French White Bean Stew Recipe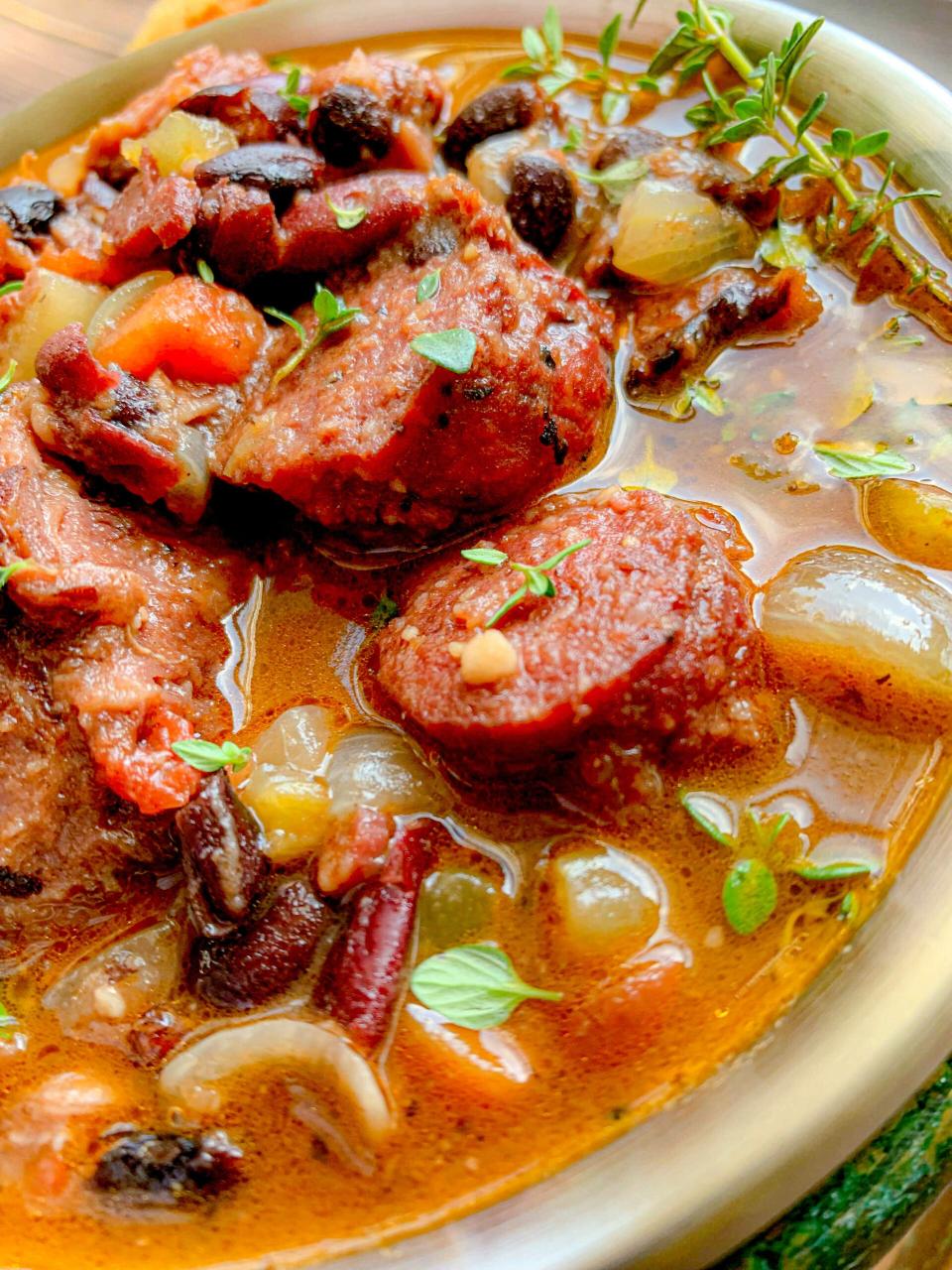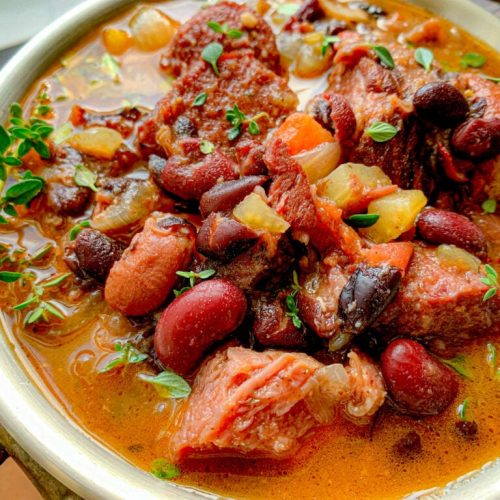 French White Bean Stew Recipe
Equipment
1 large bowl

1 hand blender

1 stew

1 large pan
Ingredients
Two tablespoon of olive oil

One pound of white beans

half boiled

Half cup of chopped cloves

Two cups of chopped shallots

One cup of chopped onions

One cup of chopped parsley

One cup of vegetable stock

One tablespoon of Herbs de

Provence

Half cup of chopped fresh thyme

Half cup of chopped fresh rosemary

Half cup of chopped fresh chives

One teaspoon of mix spice powder

Half teaspoon of smoked paprika

One bay leaf

Salt to taste

Black pepper to taste
Instructions
Take a large bowl.

Add all the chopped ingredients into the bowl.

Mix all the ingredients well.

Add a little water into it.

Blend the mixture with a hand blender.

Make sure the ingredients turn smooth.

Add the beans into the mixture.

Marinate the half boiled beans in the mixture for fifteen minutes.

Take a large pan.

Add all the ingredients and olive oil into the pan.

Mix the stew well.

Cook the stew for ten to fifteen minutes.

Your dish is ready to be served.
Cooking French White Bean Stew in a Dutch Oven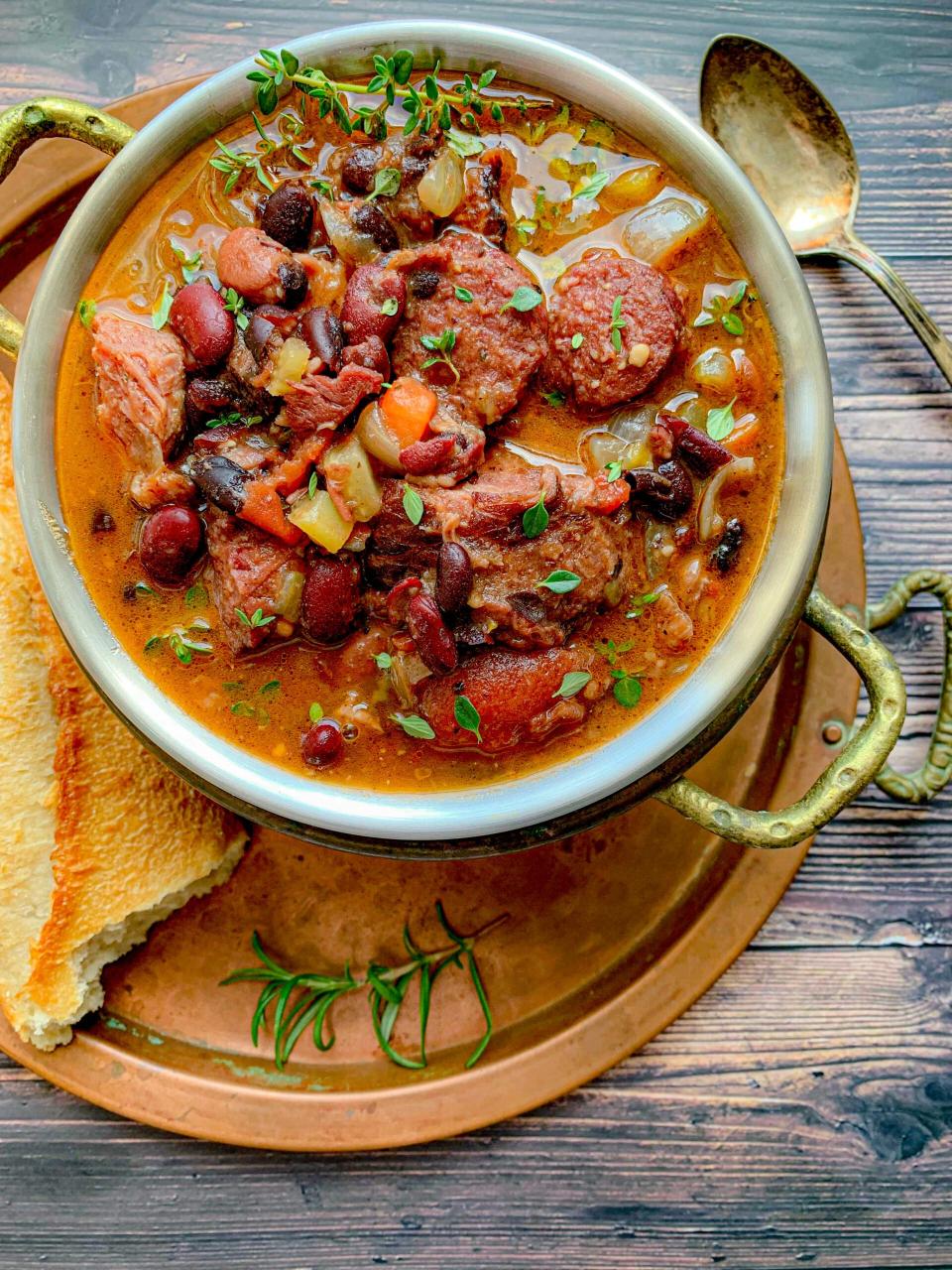 Preparation: Follow the same steps as the traditional method for preparing your vegetables and beans. Preheat your Dutch oven on the stovetop over medium heat.
Sautéing: Add your oil, vegetables, and herbs to the Dutch oven and sauté until they start to soften. Then add your beans and broth.
Simmering: Cover the Dutch oven with its lid and reduce the heat to low. Allow the stew to simmer gently for about 1-2 hours, or until the beans are tender and the flavors are well combined.
Serving: Give the stew a good stir, adjust the seasoning if needed, and serve hot straight from the Dutch oven.
Cooking French White Bean Stew in a Dutch oven not only adds a touch of nostalgia to your meal but also allows the flavors to develop beautifully over time. Plus, it's a great way to keep the stew warm throughout your meal!
Tips for making French White Bean Stew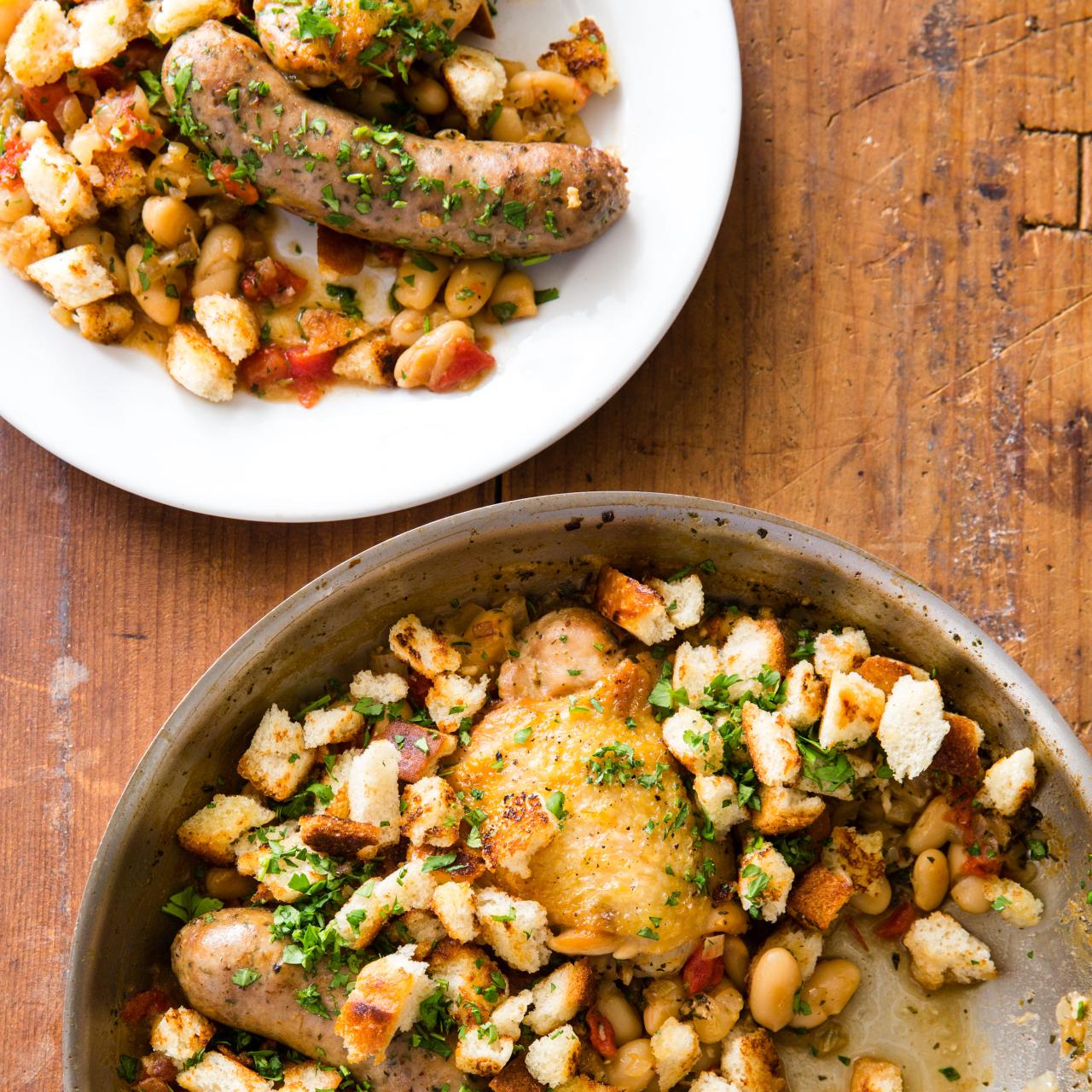 In my countless cooking escapades, I've discovered that few dishes can match the warmth and comfort of a well-made French Vegetable Au Gratin. This dish has held a special place in my heart since my first bite at a quaint Parisian bistro many moons ago. Since then, I've made it my mission to perfect this classic at home.
Cooking Tips for French White Bean Stew
Bean Selection: Cannellini beans are my go-to for this stew. They hold their shape well and have a creamy texture. But feel free to use any white beans you have on hand.
Vegetable Chopping: Chop your vegetables into bite-sized pieces. This ensures they cook evenly and are easy to eat.
Herb Choices: Thyme and rosemary lend a wonderful aroma and flavor to the stew. However, don't be afraid to experiment with your favorite herbs.
Cooking Time: Patience is key when cooking a stew. Allow it to simmer gently until the flavors meld together beautifully.
Taste As You Go: This is crucial. Adjust the seasoning as needed to suit your palate.
How to Serve French White Bean Stew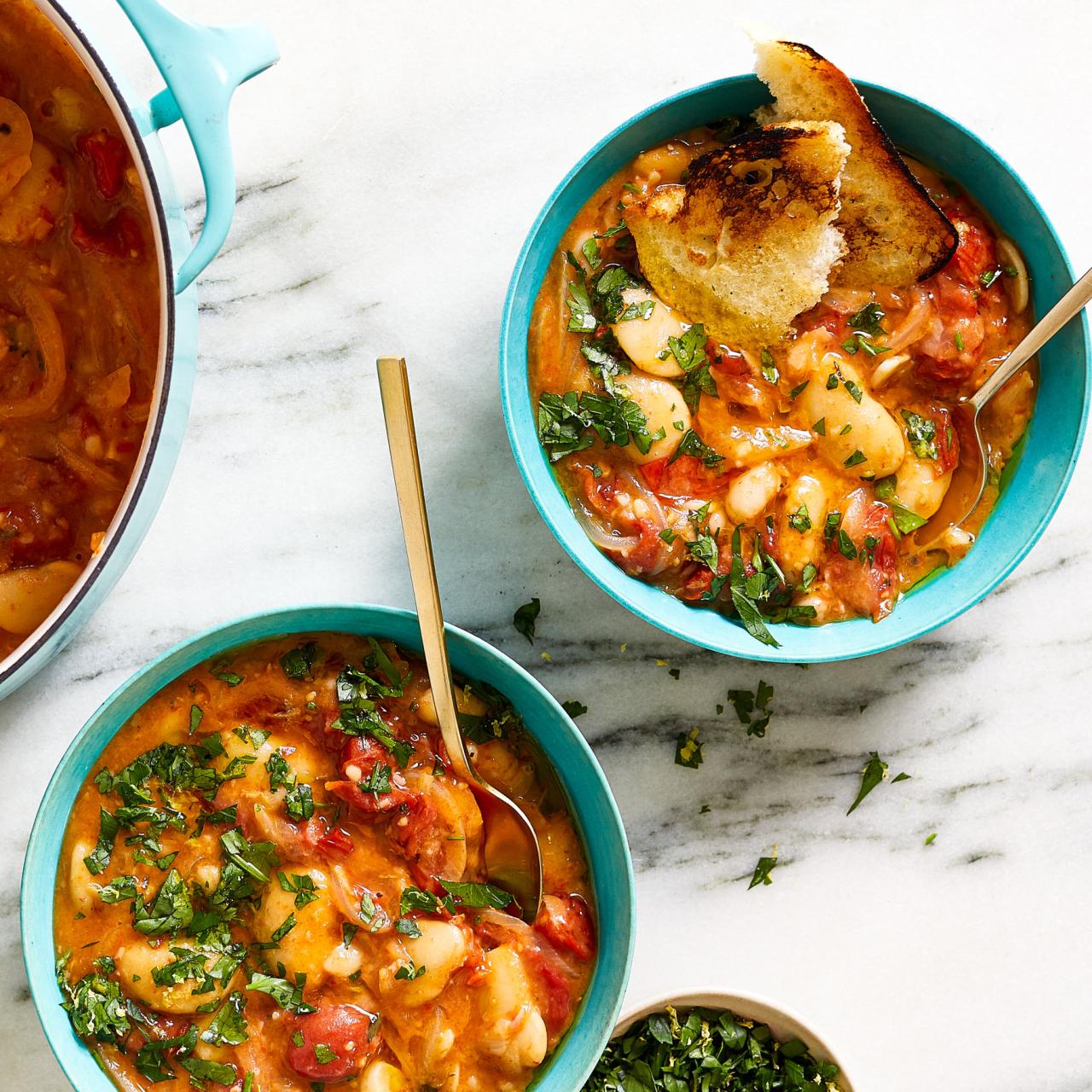 Crusty Bread: There's nothing like a piece of crusty bread to mop up the delicious broth.
Green Salad: A fresh green salad on the side adds a nice crunch and freshness to the meal.
Red Wine: A glass of robust red wine pairs wonderfully with the hearty stew.
FAQs about French White Bean Stew
Over time, I've received numerous questions about preparing this dish. Here are answers to the five most frequently asked ones:
Can I use canned beans? Absolutely! Just remember to rinse them well before adding to the stew.
What other vegetables can I add? Feel free to add any veggies you like. Root vegetables work particularly well in this stew.
Can I make the stew in advance? Yes, the flavors actually develop better overnight. Just reheat gently before serving.
My stew is too thin, what should I do? You can mash some of the beans to thicken the stew or let it simmer uncovered for a while.
Can I freeze the stew? Yes, it freezes well. Just defrost and reheat gently when ready to serve.
I hope you enjoy making and devouring this French White Bean Stew as much as I do. Remember, cooking is all about creativity and love. So, put on your aprons, and let's bring France into our kitchens!