Hello, my fellow foodies! It's Julia, your culinary companion. Today, we're taking a delicious detour to the charming region of Lorraine in France, right from our own kitchens. Our dish of the day? The classic, indulgent, and oh-so-satisfying French Quiche Lorraine.
I can almost hear your thoughts. "Julia, isn't Quiche Lorraine a bit too gourmet for a weeknight dinner?" Well, let me tell you, this French Quiche Lorraine is as straightforward as it is scrumptious. Plus, it's a fantastic way to impress your loved ones with your culinary prowess!
French Quiche Lorraine Recipe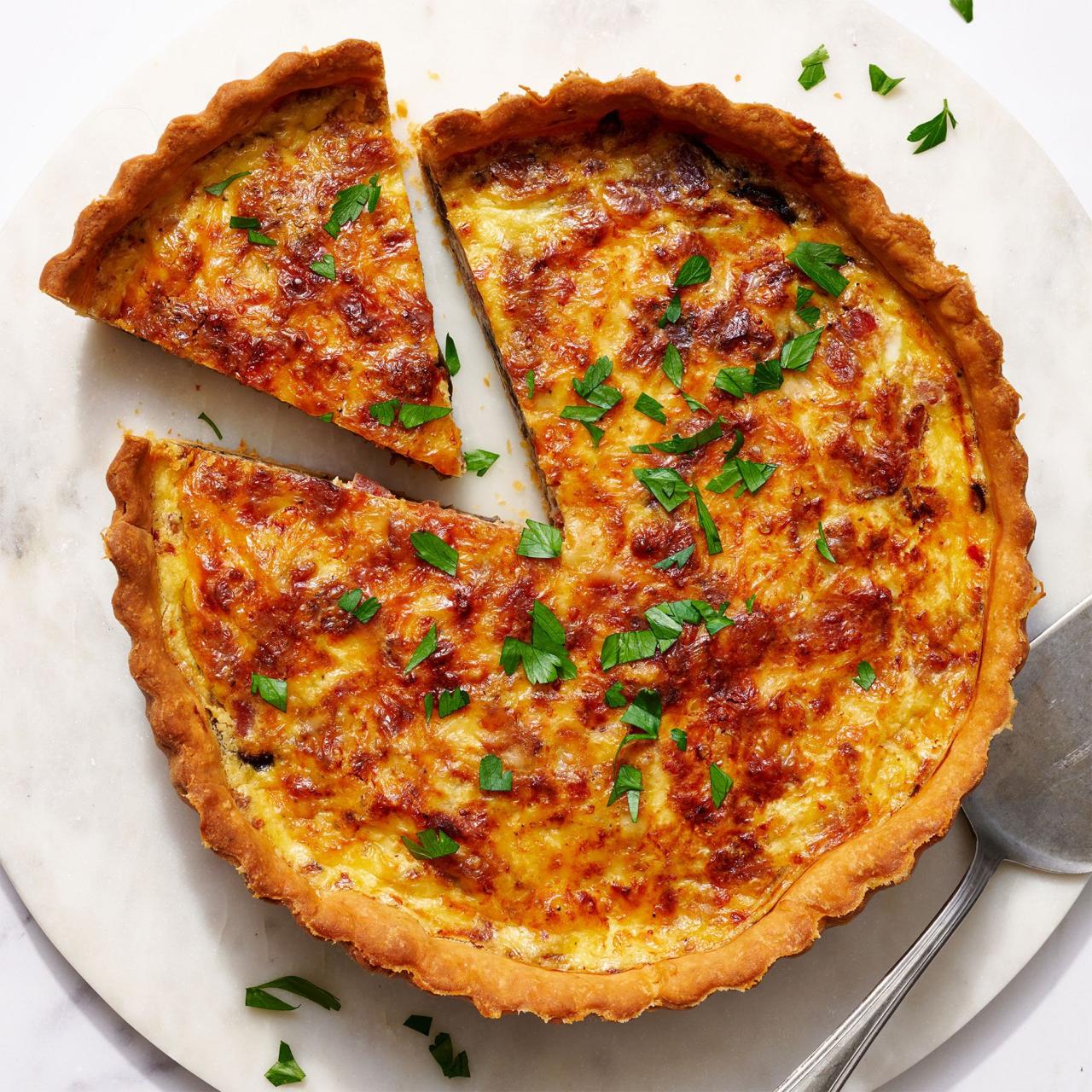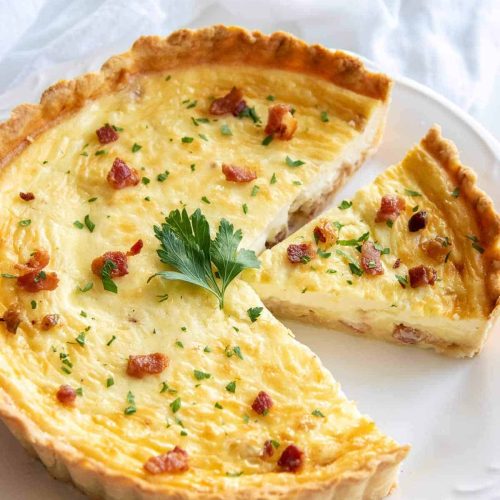 French Quiche Lorraine Recipe
Equipment
1 large bowl

1 baking dish

1 oven
Ingredients
One tablespoon of olive oil

A quarter cup of goat cheese

One tablespoon of pumpkin seeds

Half cup of fresh chopped pumpkins

Crushed black pepper to taste

Four tablespoon of cream

Two eggs

Half teaspoon of freshly grated nutmeg

Half teaspoon of salt

For dough:

Two cups of all-purpose flour

Two teaspoon of fine sea salt

Half cup of unsalted soft butter

Two whole eggs

A quarter cup of ice water
Instructions
Take a large bowl.

Add the flour and sea salt into the bowl.

Mix the ingredients well and add the eggs, water and softened butter into the bowl.

Mix all the ingredients well to form a dough.

Take a large pan.

Add the olive oil into the pan.

Add the chopped pumpkin when the olive oil heats well.

Mix the onions and add the pumpkin seeds into the pan.

Cook the ingredients and then add the cream.

Switch off the heat.

Add the rest of the ingredients into the pan when it cools down.

Cook the ingredients for about five minutes.

Switch off the stove and let the mixture cool down.

Roll out the dough and lay half of it in a baking dish.

Add the cooked mixture on the dough.

Bake the quiche for about twenty to twenty five minutes.

Dish out the quiche when it is done.

Your dish is ready to be served.
Cooking French Quiche Lorraine in a Dutch Oven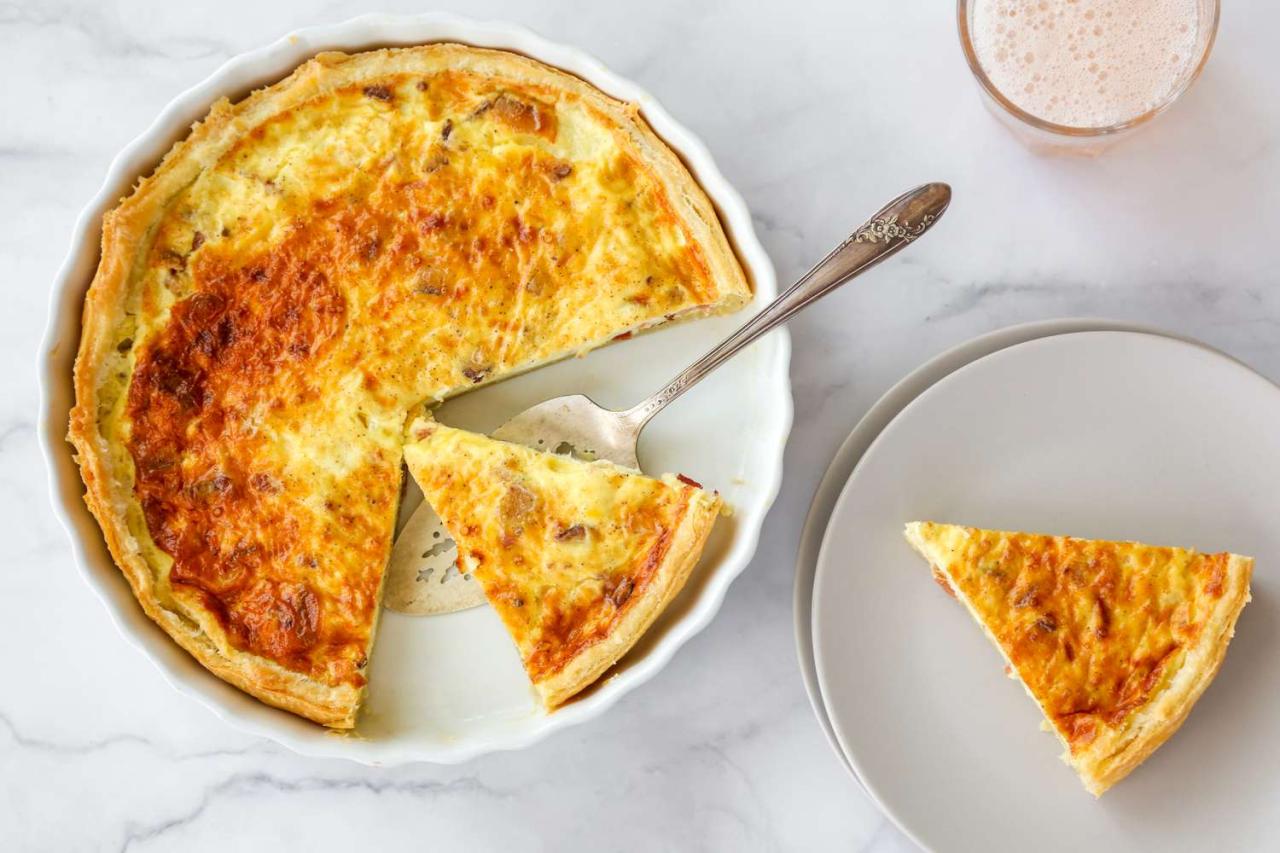 Preparation: Follow the same steps as the traditional method for preparing your pastry and filling. Preheat your Dutch oven by placing it in the oven at 375°F (190°C) for about 10 minutes.
Baking: Carefully remove the heated Dutch oven (don't forget your oven mitts!). Place your prepared pastry in the Dutch oven, add the filling, and cover with the lid.
Baking Time: Bake for about 30-35 minutes, or until the filling is set but still slightly wobbly in the center.
Cooling Time: Allow your quiche to cool for a few minutes before slicing. This ensures clean, neat slices.
Serving: Serve your French Quiche Lorraine straight from the Dutch oven for a rustic and charming presentation.
Tips for making French Quiche Lorraine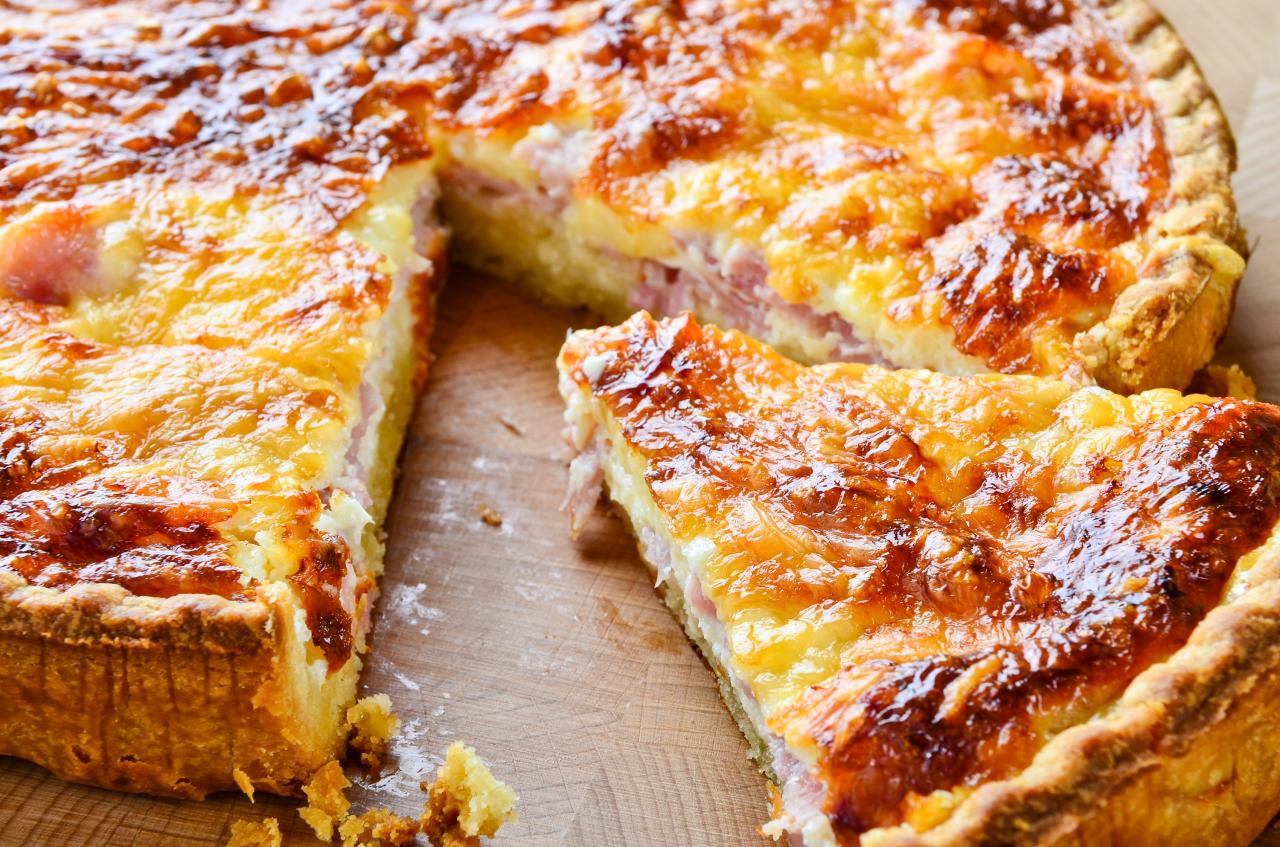 My fascination with the French Quiche Lorraine began on a sunny afternoon in a rustic French café. The flaky crust, the creamy filling, the delicate balance of flavors, it was love at first bite. Since then, I've been recreating that love in my kitchen, and now, I'm thrilled to share it with you.
Cooking Tips for French Quiche Lorraine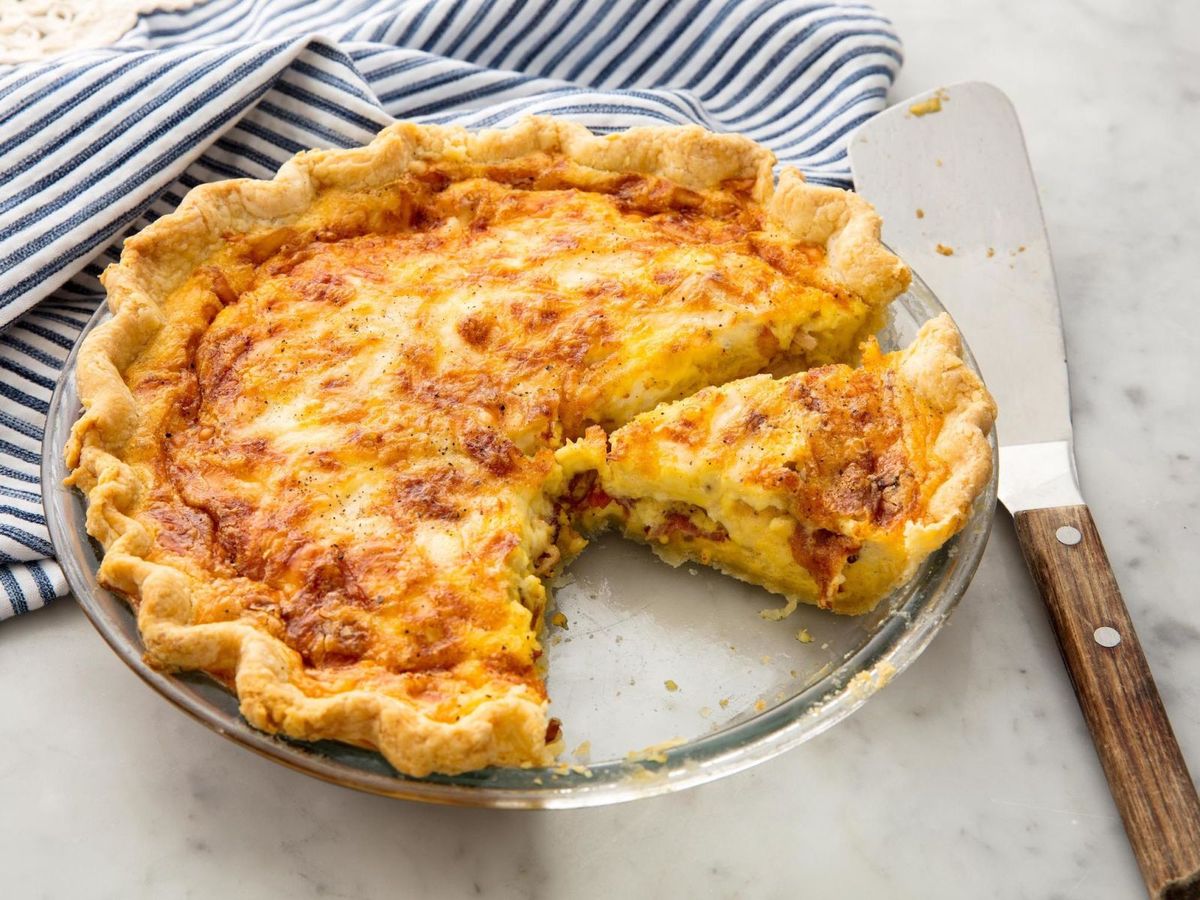 Before we get started, here are some tips to ensure your French Quiche Lorraine is a success:
Pastry Dough: For a flaky crust, keep your pastry dough cold and handle it as little as possible.
Blind Baking: This is crucial to prevent a soggy bottom. Line your pastry with parchment paper and fill it with baking beans or rice before baking.
Filling Choices: Traditional Quiche Lorraine calls for lardons and Gruyère cheese. However, feel free to experiment with your favorite ingredients.
Baking Time: Don't rush the baking process. Your quiche is done when the filling is set but still slightly wobbly in the center.
Cooling Time: Allow your quiche to cool for a few minutes before slicing. This ensures clean, neat slices.
How to Serve French Quiche Lorraine
Now, let's talk about serving this delightful quiche. Here are my suggestions:
Green Salad: A simple green salad with a light vinaigrette is a perfect accompaniment to the rich quiche.
White Wine: A crisp white wine, like a Chardonnay, pairs wonderfully with the creamy Quiche Lorraine.
Fresh Fruit: For a brunch option, serve the quiche with a side of fresh fruit for a refreshing contrast.
FAQs about French Quiche Lorraine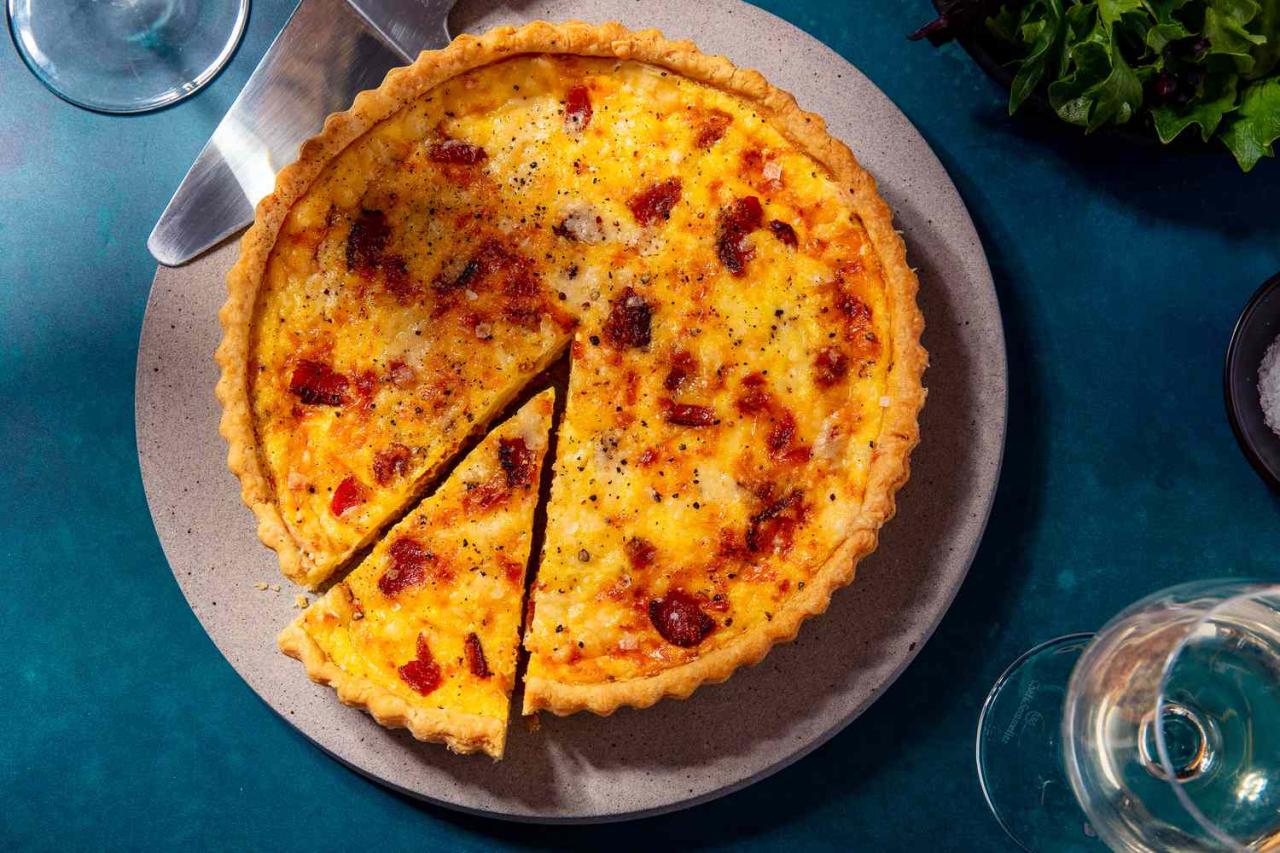 Over the years, I've received many questions about this dish. Here are answers to the five most common ones:
Can I use a store-bought crust? Absolutely! Just make sure to still blind bake it before adding the filling.
What other cheeses can I use? Feel free to use any cheese that melts well. Comté, Emmental, or even Cheddar can work.
Can I add vegetables? Traditional Quiche Lorraine doesn't include vegetables, but feel free to add some if you'd like. Just make sure to sauté them first to remove excess moisture.
Can I make the quiche in advance? Yes, you can bake it a day ahead and reheat gently before serving.
Can I freeze the quiche? Yes, it freezes well. Just defrost and reheat gently when ready to serve.
I hope you enjoy making and savoring this French Quiche Lorraine as much as I do. Remember, cooking is an art, so feel free to get creative and make this dish your own.