Hello everyone, it's Julia again from Dinner with Julia! Today, I'm going to take you on a culinary journey to France without leaving your kitchen. The star of our gastronomic adventure? None other than the classic French Eggs En Cocotte!
Before we dive into the tips and tricks that I've gathered through my numerous attempts at perfecting this dish, let's spend a moment appreciating its history. You see, Eggs En Cocotte is a traditional French recipe, with 'cocotte' referring to a small, heatproof dish in which individual portions of food are cooked and served. When translated, 'en cocotte' means 'in the pot,' which perfectly describes the simplicity yet richness of this dish.
French Eggs En Cocotte Recipe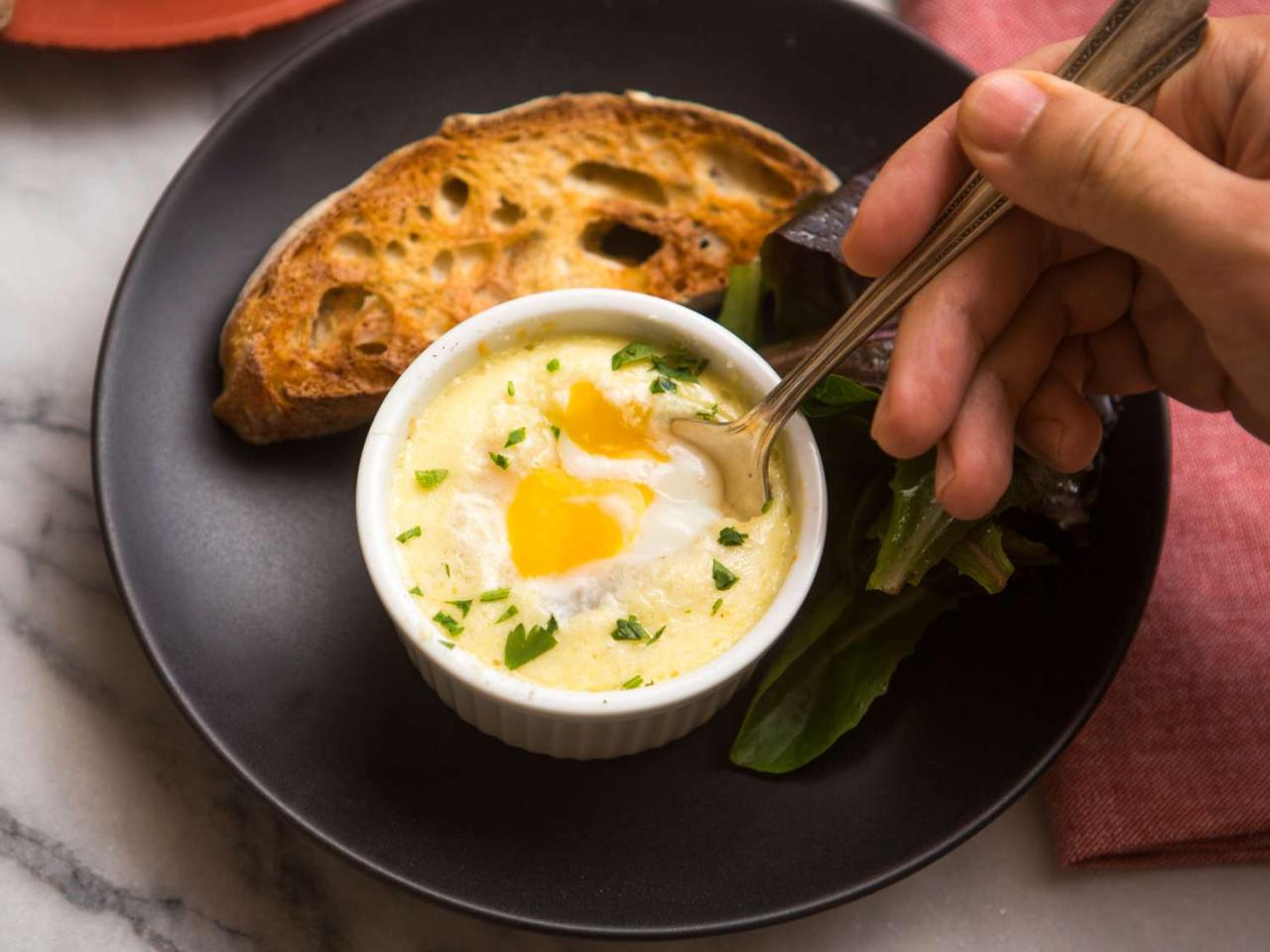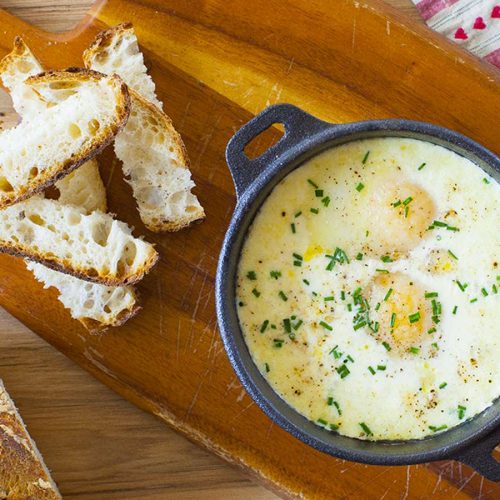 French Eggs En Cocotte Recipe
Equipment
1 large bowl

1 Bake

1 water bath
Ingredients
Two tablespoon of butter

Half cup of heavy cream

A pinch of salt

A pinch of black pepper

Two tablespoons of chopped fresh chives

Four eggs

One teaspoon of Herbs de Provence

French bread slices
Instructions
1.Take a large bowl.

Add all the ingredients except the chives in it.

Mix everything well.

Pour the mixture into a baking dish.

Place the dish in a water bath.

Bake the eggs for ten to fifteen minutes.

Dish out when done.

Add the fresh chopped chives on top.

Your dish is ready to be served.
Cooking French Eggs En Cocotte in an Air Fryer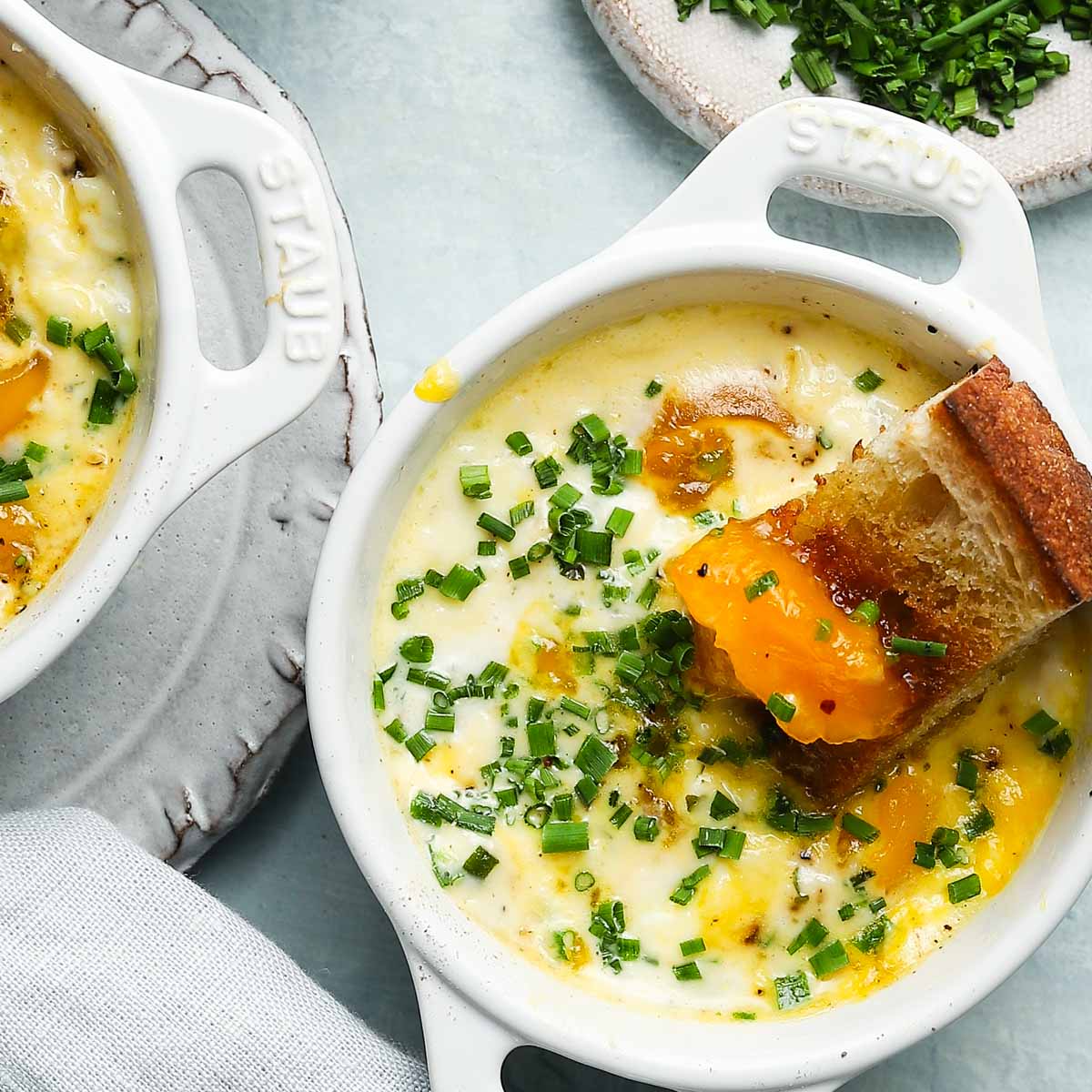 Now, let's take a detour from the traditional route and explore a modern twist to our beloved Eggs En Cocotte – cooking it in an air fryer! Yes, you heard it right. This versatile kitchen gadget isn't just for frying; it can also create a beautifully cooked Eggs En Cocotte.
Here are some tips to guide you through this process:
Temperature Control: Set your air fryer to a lower temperature than you would in a conventional oven. I recommend around 160°C (320°F) to ensure the eggs cook evenly without becoming rubbery.
Cooking Time: Air fryers tend to cook faster, so keep a close eye on your dish. Start checking at around 8 minutes to avoid overcooking.
The Right Dish: Make sure to use a small, heatproof dish that fits into your air fryer. A ramekin or a small ceramic bowl works perfectly.
Remember, the key to a successful Eggs En Cocotte in an air fryer is to monitor the cooking process closely. The eggs should be just set, with the yolks still slightly runny. Once you've mastered this technique, you'll have yet another delicious and easy way to enjoy this classic French dish.
Tips for making French Eggs En Cocotte Recipe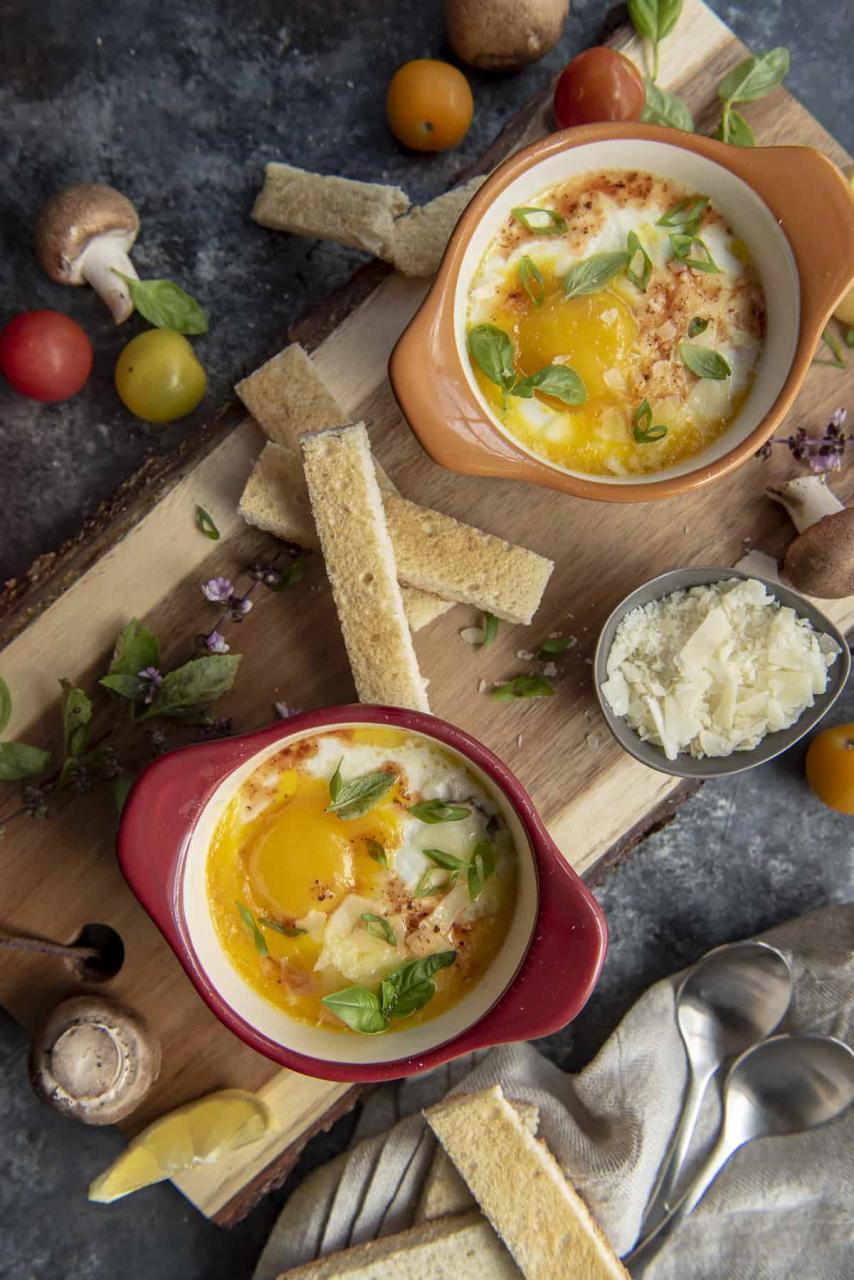 Julia's Cooking Tips for Eggs En Cocotte
Now, cooking Eggs En Cocotte might seem intimidating at first, given its French origin, but trust me, it's easier than you think! I am here to guide you through some helpful cooking tips that will make your experience a breeze.
The Right Equipment: Using a shallow oven-safe dish helps in even cooking of the eggs.
Freshness Matters: Always use fresh eggs as they hold their shape better when being cooked.
Cheese Choice: Feel free to experiment with different types of cheese. My personal favorite is Gruyere, but Cheddar or Brie can work just as well.
Serving Suggestions for Your Masterpiece
Once you've successfully cooked your Eggs En Cocotte, the next question is – how do you serve it? Here are some suggestions:
Bread: A simple baguette, lightly toasted, complements the creamy eggs beautifully.
Salad: A light, green salad on the side can balance out the richness of the eggs.
Wine: A glass of crisp, white wine such as Chardonnay pairs wonderfully with this dish.
FAQS About Julia's French Eggs En Cocotte Recipe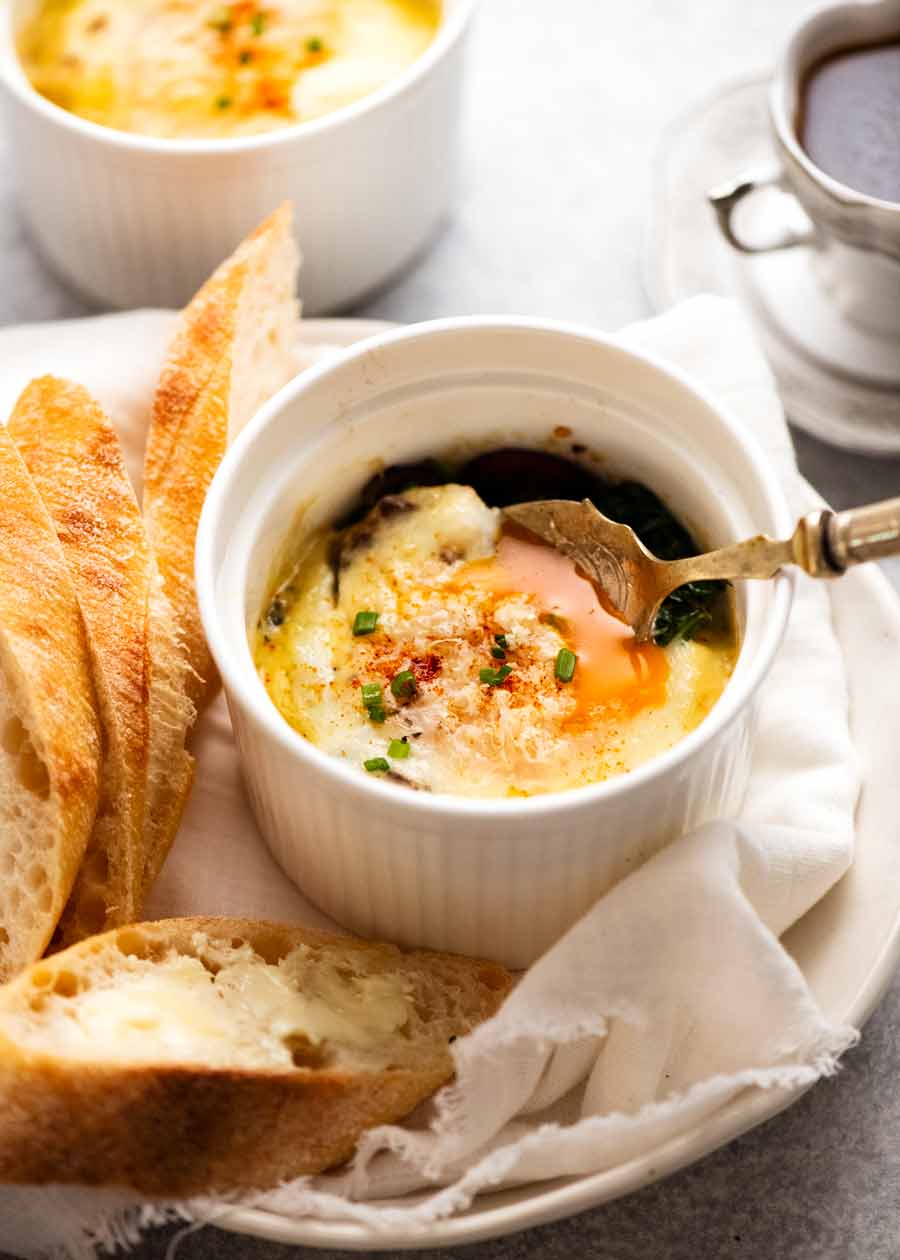 Now let's answer some frequently asked questions about Eggs En Cocotte:
Can I prepare Eggs En Cocotte in advance? Yes, you can prepare the dish up to the point of baking. Just keep it in the refrigerator and bake when ready to serve.
Can I add other ingredients to my Eggs En Cocotte? Absolutely! Feel free to experiment with different herbs, spices, or even vegetables.
What if I don't have a cocotte? Don't worry! You can use any small, oven-safe dish like a ramekin.
How do I know when my Eggs En Cocotte are done? The eggs should be just set, with the yolks still a bit runny. The cooking time may vary depending on your oven and the size of your dish.
Can I make a vegan version of Eggs En Cocotte? Yes, you can substitute the eggs with tofu and use plant-based cream and cheese.
In the end, Eggs En Cocotte is more than just a recipe; it's a culinary adventure that embraces simplicity, versatility, and most importantly, deliciousness. So, put on your apron, preheat your oven, and let's bring a little bit of France into our kitchens today!