Hello, dear friends! It's Julia from Dinner with Julia. Today, we're going to explore a classic French dish that has warmed my heart and soul time and time again – the French Onion Soup.
My first encounter with French Onion Soup was during a winter trip to Lyon. The rich, savory broth, the sweet caramelized onions, and the gooey, melted cheese – it was love at first spoonful. Since then, this dish has become a comfort food staple in my kitchen, and I'm thrilled to share my passion for it with you.
French Onion Soup Recipe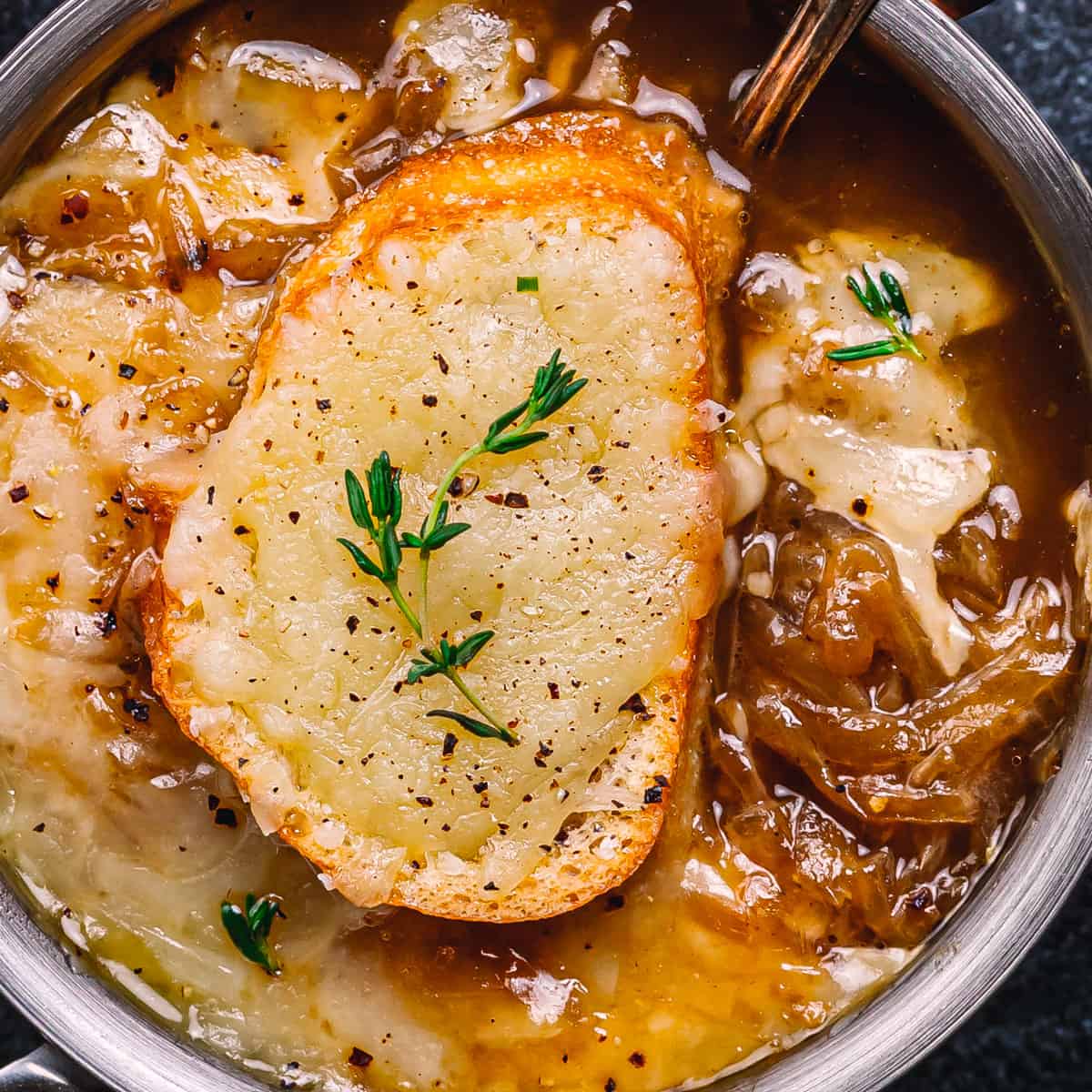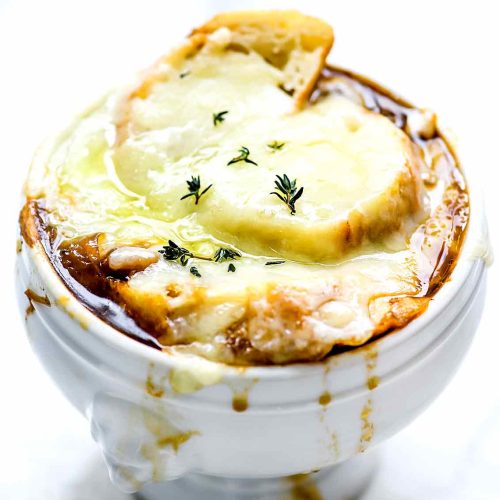 French Onion Soup Recipe
Ingredients
Two cups of beef stock

Two crushed garlic

A pinch of salt

A pinch of black pepper

Two tablespoon of olive oil

One cup of dried white wine

One cup of onion

Three tablespoon of all-purpose flour

Two tablespoon of Worcestershire sauce

Three tablespoon of softened butter

One bay leaf

Two tablespoon of fresh thyme

One cup of grated or sliced cheese

French bread slices

One cup of chopped dill
Instructions
Take a large saucepan.

Add the oil and onions into the pan.

Cook the onions until they turn golden brown.

Add the crushed garlic into the pan.

Add the spices into the mixture.

Add the all-purpose flour, Worcestershire sauce and dried white wine.

Add the butter and then add the beef stock.

Cover the pan with a lid for five minutes.

Let the soup cook properly.

Dish out the soup into soup bowls.

Add the grated or sliced cheese on top.

Bake the soup for ten minutes.

Switch off the oven when the cheese melts.

Add the chopped fresh dill on top.

Serve the soup with toasted bread slices.

The dish is ready to be served.
A New Spin on French Onion Soup: Using a Slow Cooker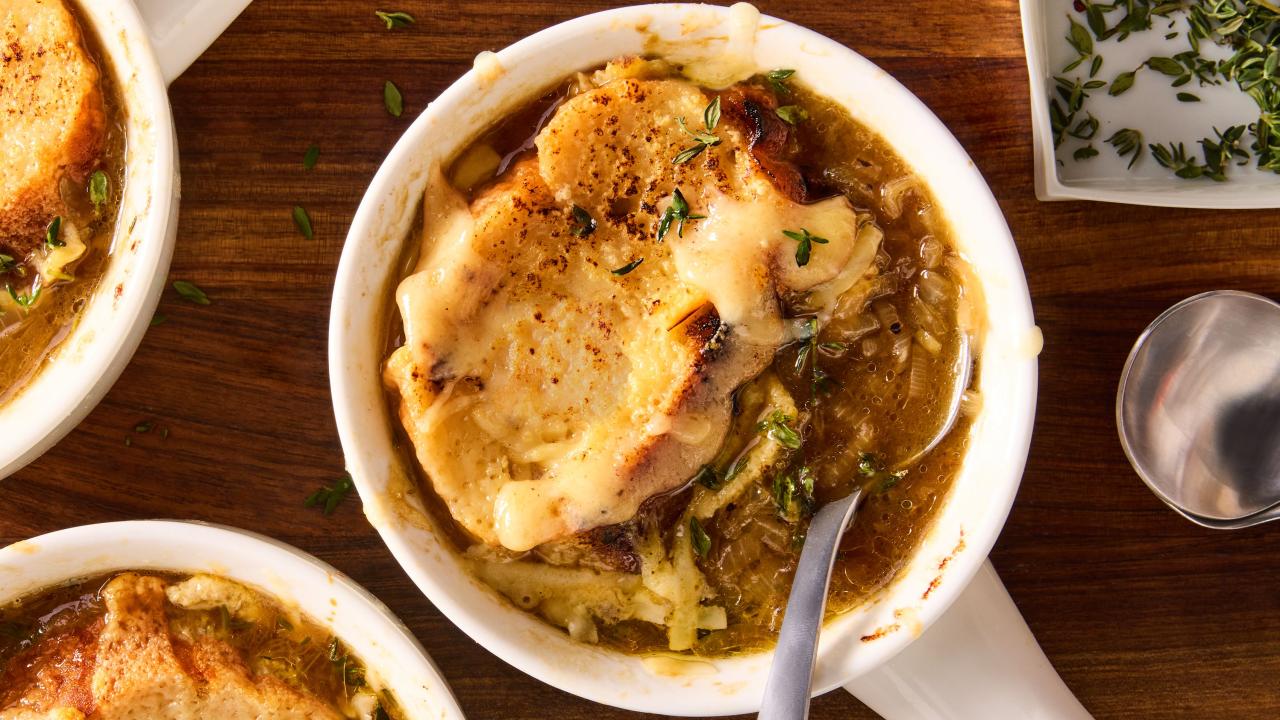 Caramelize the onions: Start by caramelizing the onions on the stovetop as usual. This step is crucial for developing that deep, sweet flavor that's characteristic of French Onion Soup.
Transfer to the best slow cooker: Once the onions are caramelized, transfer them to your slow cooker. Add your broth, seasonings, and any other ingredients your recipe calls for.
Cook on low: Cover the slow cooker and cook on low for about 6-8 hours. This slow, gentle cooking process allows the flavors to meld together beautifully.
Serve with cheese-topped bread: Just before serving, toast some bread, top it with cheese, and broil until the cheese is bubbly and golden. Ladle the soup into bowls, top with the cheesy bread, and serve hot.
Tips for making French Onion Soup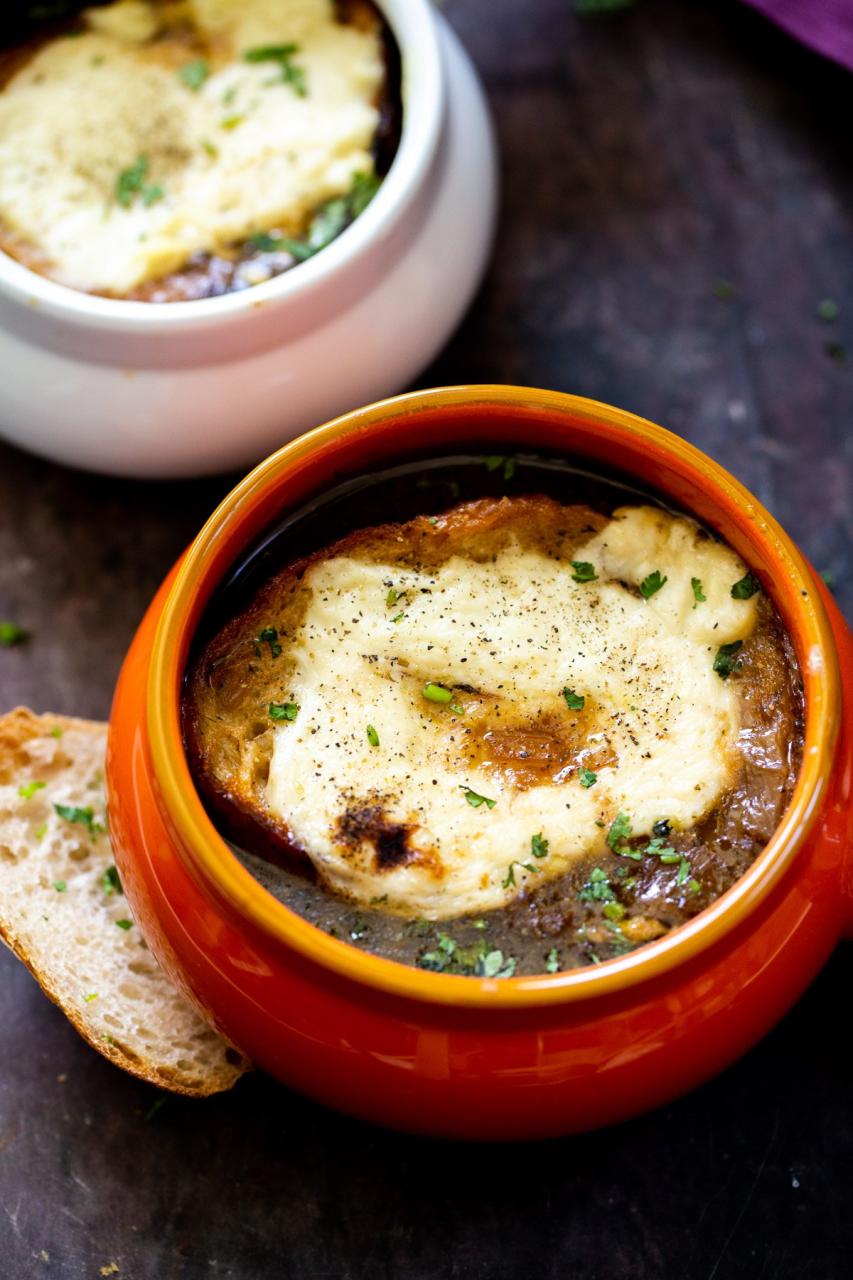 French Onion Soup is a testament to the beauty of simplicity. It's all about letting the ingredients shine. The onions are slowly caramelized until they reach a deep golden brown, then simmered in a flavorful broth, and finally topped with a slice of crusty bread and a generous helping of melted cheese. The result? A dish that's hearty, comforting, and oh-so-delicious.
Cooking Tips for French Onion Soup
Now, let's dive into some tips to help you master this dish at home.
Tip 1: Take Your Time with the Onions
The key to a great French Onion Soup lies in properly caramelizing the onions. This process takes time, but trust me, it's worth it. The onions should be cooked slowly over low heat until they're deeply golden and sweet.
Tip 2: Choose Your Broth Wisely
The broth forms the base of the soup, so it's important to use a high-quality one. I recommend using a homemade beef or vegetable broth for the best flavor.
Tip 3: Don't Skimp on the Cheese
The melted cheese topping is one of the best parts of French Onion Soup. Use a good melting cheese like Gruyere or Swiss, and don't be shy with it!
Serving Suggestions for French Onion Soup
Wondering how to serve your French Onion Soup? Here are my top suggestions:
Pair with a Salad: A light, fresh salad is a great accompaniment to the soup. It provides a refreshing contrast to the rich, savory flavors.
Serve with Wine: A glass of red or white wine pairs beautifully with French Onion Soup.
Add a Side of Bread: For an extra hearty meal, serve the soup with a side of crusty bread.
FAQs About French Onion Soup
Before we wrap up, let's address some common questions about this dish:
Can I use another type of onion? Yes, you can use any type of onion, but yellow onions are traditionally used in French Onion Soup.
Can I make the soup ahead of time? Yes, the soup can be made ahead of time and reheated before serving. Just add the bread and cheese topping right before serving.
What can I use instead of beef broth? If you're vegetarian, you can use vegetable broth instead.
Can I add other ingredients to the soup? Absolutely! Feel free to experiment with additions like garlic, thyme, or bay leaves.
How do I store leftover soup? Leftover soup can be stored in the refrigerator for up to 3 days.
Remember, cooking is all about creativity and personal preference. Don't be afraid to experiment with different tools and techniques. You might just discover your new favorite way to enjoy French Onion Soup.