Hello there, fellow culinary enthusiasts! I'm Julia, your go-to guide for all things tasty and nourishing. Today we're going to delve into the world of hearty, comforting food with a classic that's close to my heart – the French Vegetable Stew.
There's something special about the French Vegetable Stew that simply speaks to my soul. Perhaps it's the beautifully mingled flavors of fresh vegetables simmering together, or the undeniable charm of French cuisine that makes my heart flutter. Whatever it may be, one thing is certain – this stew is an absolute joy to prepare and even more so to devour.
French Vegetable Stew Recipe
French Vegetable Stew Recipe
Ingredients
Two tablespoon of olive oil

One pound of mixed vegetables

Two tablespoon of chopped garlic

Two cups of chopped shallots

One cup of chopped onions

One cup of chopped parsley

One cup of vegetable stock

One tablespoon of Herbs de

Provence

Half cup of chopped fresh thyme

Half cup of chopped fresh

rosemary

Half cup of chopped fresh chives

One teaspoon of mix spice powder

Half teaspoon of smoked paprika

One bay leaf

Half teaspoon of salt

One teaspoon of black pepper
Instructions
Take a large pan.

Add all the ingredients and olive oil into the pan.

Mix the stew well.

Cook the stew for ten to fifteen minutes.

Your dish is ready to be served.
A New Twist with the Dutch Oven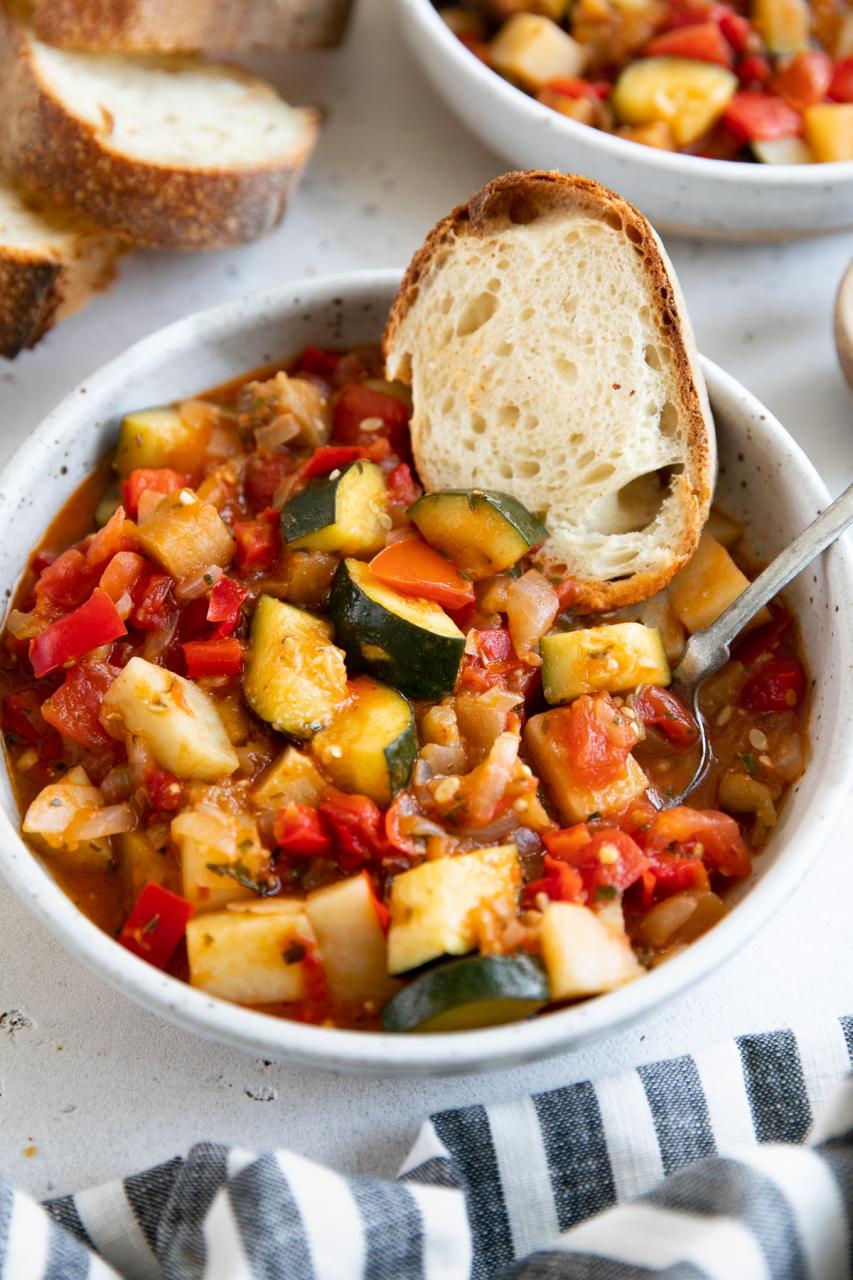 Preheat: Start by preheating your Dutch oven on the stove over medium heat. This ensures even cooking throughout the process.
Sauté: Add a bit of oil and start sautéing your vegetables. The Dutch oven retains heat well, so your vegetables will cook evenly and develop a beautiful caramelization that's hard to achieve in other pots.
Simmer: After adding all your ingredients, cover the Dutch oven and let it simmer. The heavy lid traps in heat and moisture, allowing the stew to cook slowly and the flavors to meld together beautifully.
Serve: One of the best things about a Dutch oven is that it goes from the stove (or oven) straight to the table. Just be careful – it stays hot for a while!
Tips for making French Vegetable Stew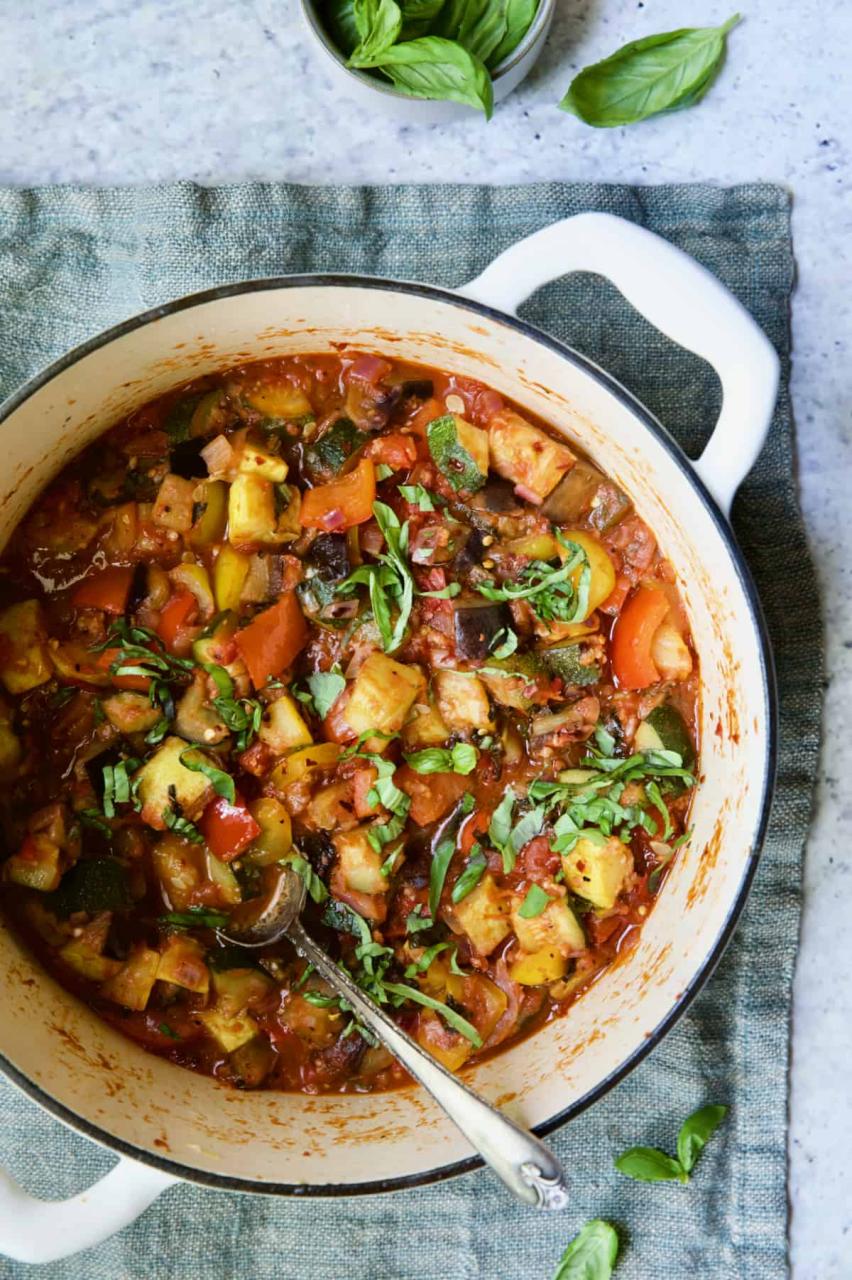 Now, as I promised, we'll skip the step-by-step recipe today because I've already shared that with you. Instead, let's talk about some essential cooking tips to help you master this French classic.
Cooking Tips
Quality Matters: Make sure you choose the freshest ingredients. It makes all the difference in the world!
Slow and Steady: Patience is key when making French Vegetable Stew. Allow the flavors to develop slowly over low heat.
Seasoning Secrets: Don't forget to season at every stage. It will enhance the overall taste and give your stew a depth of flavor.
Serving Suggestion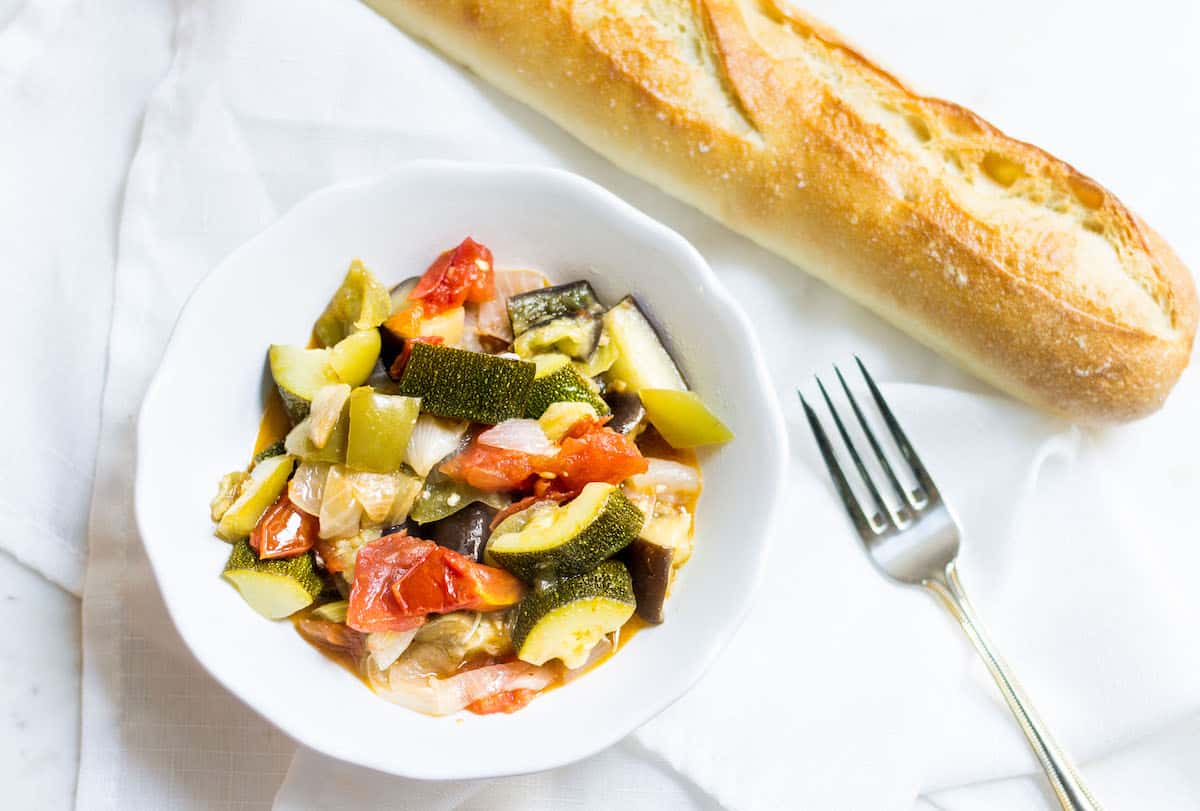 When it comes to serving French Vegetable Stew, simplicity is key. A slice of crusty bread on the side is all you need to complete this homely meal. Trust me, there's nothing more satisfying than dipping a piece of bread into the stew and enjoying all the flavors soaked up!
FAQs
Can I add meat to my French Vegetable Stew? Absolutely! Feel free to customize your stew. Adding protein like chicken or beef can make it even heartier.
What if I don't have all the vegetables listed in the recipe? No worries! The beauty of this stew is its flexibility. You can substitute with whatever vegetables you have on hand.
How long can I store the stew? You can store it in the refrigerator for up to four days. Just make sure it's stored in an airtight container.
Can I freeze the stew? Yes, you can. It freezes well for up to three months.
Is this stew vegan? As long as you're not adding any meat or dairy products, yes, it is!
I hope that by sharing my tips and love for this French Vegetable Stew, I've inspired you to try it out in your own kitchen. Remember, cooking is about experimenting, so feel free to tweak the recipe to suit your taste. Bon Appétit!