Hello, everyone! It's Julia here from Dinner with Julia. Today, I'm excited to share with you one of my favorite dishes – Roasted Vegetable Ratatouille. This dish is a vibrant celebration of summer vegetables, bursting with flavors that will transport you straight to the sunny south of France.
Ratatouille hails from Provence, a region in the south of France near the Mediterranean Sea. It's a chunky stew made with eggplant, zucchini, bell peppers, and tomatoes, all richly flavored with olive oil, garlic, and fresh herbs. The dish has become so widespread that there are many variations, but they all have one thing in common: ratatouille is considered very healthy due to its high vegetable content, and it's also easy to digest.
Roasted Vegetable Ratatouille Recipe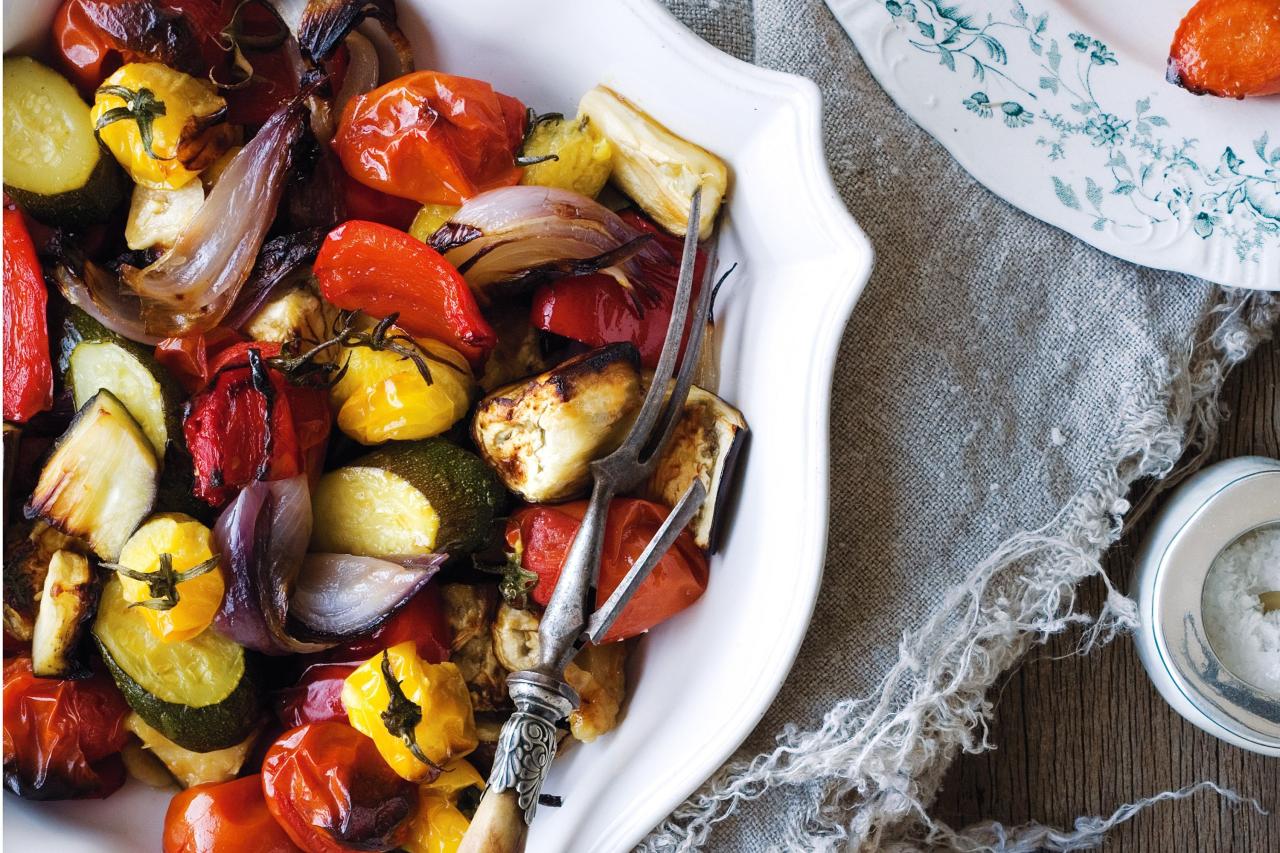 Roasted Vegetable Ratatouille
In the spirit of re-mastery - not to mention simplicity - I roasted the eggplant and zucchini instead, and finished them in a pan with sauteed onion, garlic, zucchini and thinly sliced fennel. Each of the vegetables retains their shape, which, as Julia points out is an important element in a ratatouille. But they still get to mingle together for their "brief communal simmer" to bring all the flavors together.
Equipment
1 oven

1 sheet pan

1 large sauté pan
Ingredients
1

eggplant

peeled and sliced into 2-inch pieces

1

pound

ripe Roma or cherry tomatoes

halved

1

red bell pepper

seeded and chopped

Rosemary and/or thyme sprigs

Extra virgin olive oil

1

teaspoon

salt

1

thinly sliced onion

2

or 4 garlic cloves

finely chopped

1

fennel bulb

stalks trimmed, thinly sliced

1/2

teaspoon

red chile flakes

or to taste

3

or 4 very small zucchini

1-inch diameter, halved lengthwise and sliced into chunks

Fresh ground black pepper

Heat the oven to 400 degrees.
Instructions
Heat the oven to 400 degrees.

Arrange the eggplant, tomatoes and peppers on a sheet pan and toss with about 3 tablespoons of the olive oil - use more or less as needed to coat the vegetables evenly. Sprinkle the salt and herb sprigs over the vegetables and roast for 25 minutes, or until the eggplant is tender and golden.

In a large sauté pan, heat a tablespoon or two of olive oil over medium heat. Add the onion and a pinch of salt and cook gently until the onion is soft and wilted. I like to cover the pan slightly to keep moisture in and prevent the onion from browning.

Add the garlic and fennel to the pan, cover and cook until the fennel is softened. Turn up the heat to medium-high and add the zucchini and chili flakes, stirring frequently, until the zucchini are just tender. I don't like mushy, overcooked zucchini so I tend to cook it very briefly.

Scrape the eggplant and tomatoes into the pan along with all their accumulated juices. Add a little water or broth to the pan if it looks dry and simmer for 10 minutes. Taste and season liberally with more salt and freshly ground pepper.
Notes
You can't argue with the versatility of a vegetable dish like this, as it could be a main course along with some cheese and crusty bread; a cool or room temperature salad for potluck or picnic, or - as I served it - a topping for grilled chicken seasoned with lemon and oregano.
Cooking Tips for Roasted Vegetable Ratatouille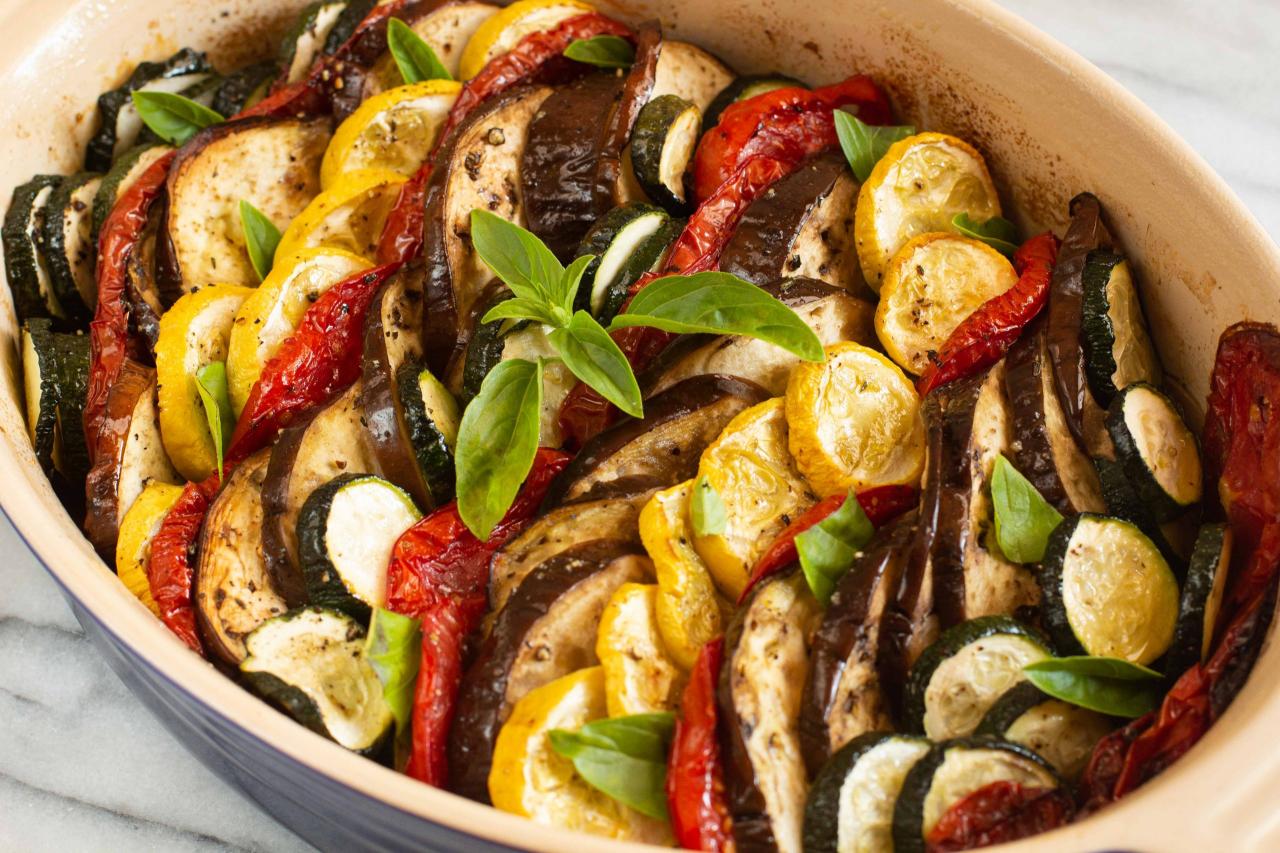 When making ratatouille, the freshness of your vegetables is key. Don't settle for those tomatoes that look like they're past their prime. Take the time to choose fresh vegetables, and your ratatouille will taste vibrant and delicious!
The most traditional recipes call for cooking each vegetable separately in a pot on the stove until well browned, then layering everything back into the pot with a generous amount of olive oil and some tomatoes, and letting it all slowly stew. However, I prefer roasting the vegetables. Not only does this method bring out the fantastic flavors of the vegetables, but it's also a hands-off technique, allowing you to work on other parts of your meal while the vegetables are in the oven.
Serving Suggestions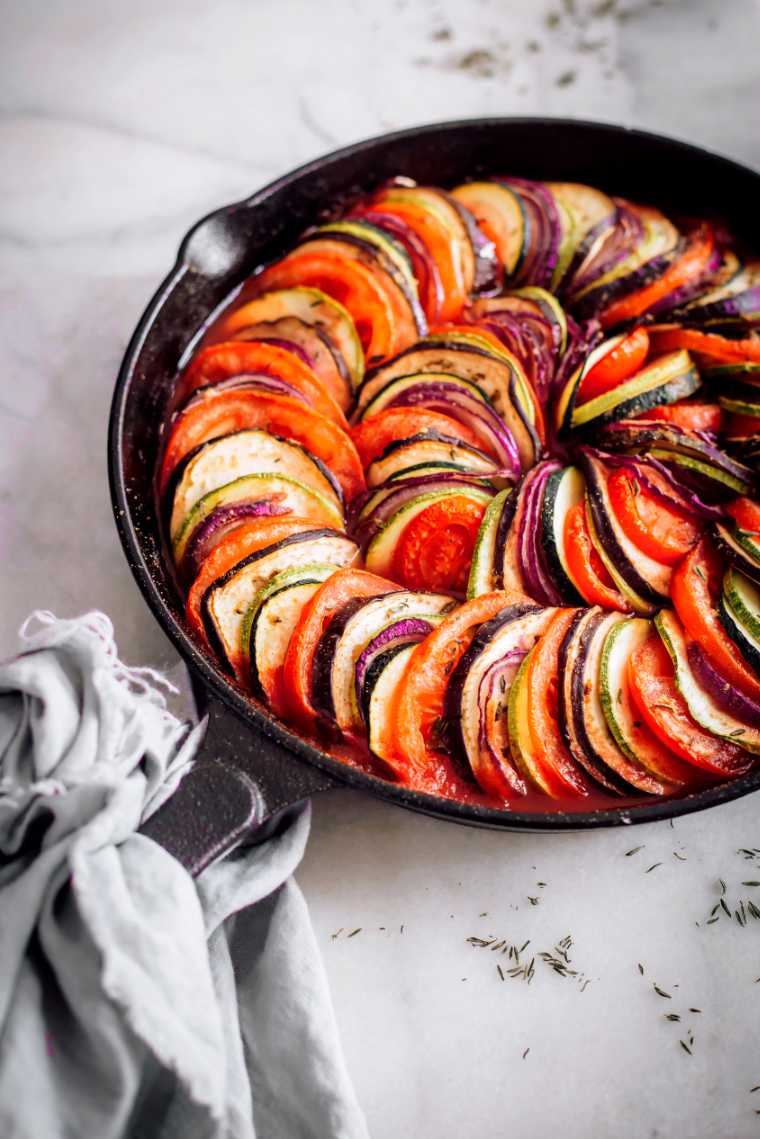 Ratatouille is incredibly versatile. It can be the main dish with a side of crusty bread or a salad, but it's also good served over polenta, pasta, mashed potatoes, quinoa, and rice. You can use it as a filling for omelets and tarts or as a side for grilled or roasted meats. Enjoy the dish warm or at room temperature.
FAQs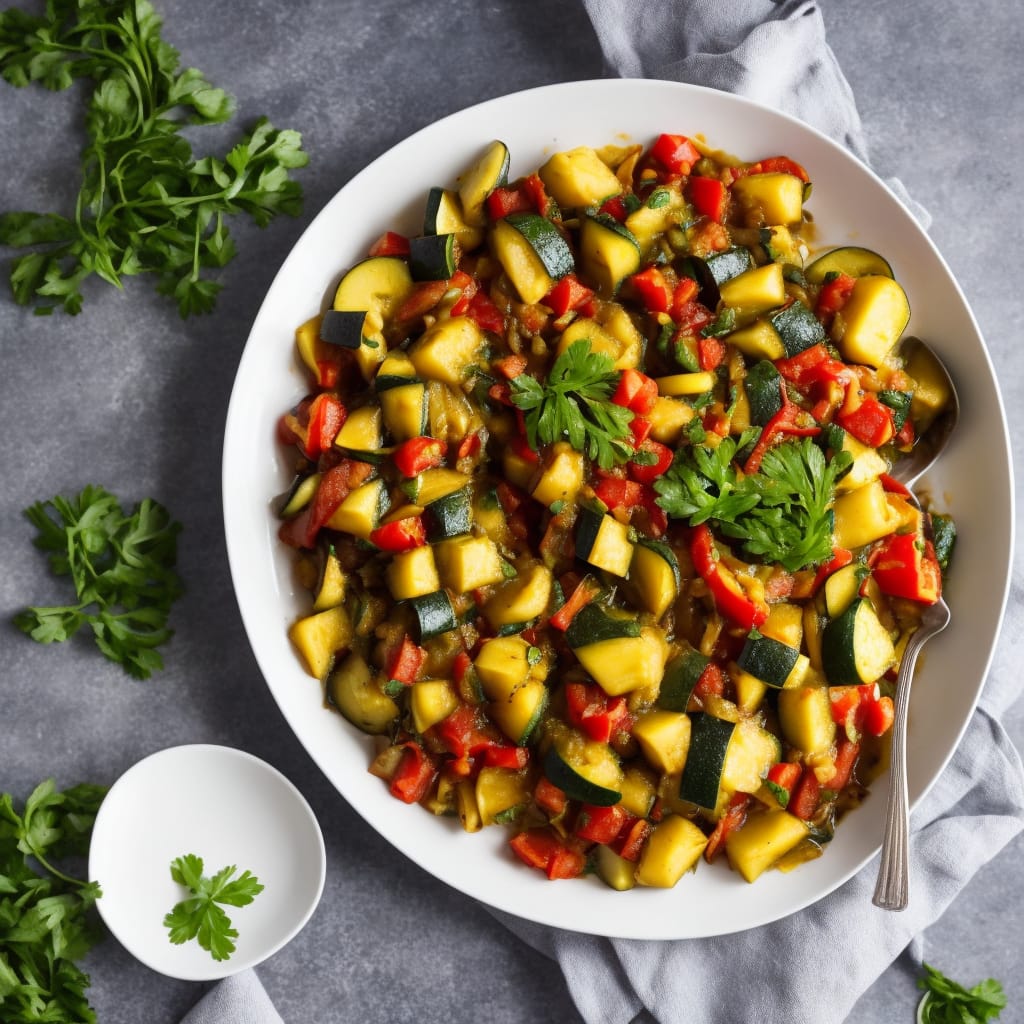 What is the origin of Ratatouille? The recipe for Ratatouille is said to be from France originally, though some historians wonder if it actually originated from the Basque region of Spain. The modern recipe for Ratatouille originated in the Nice and Provencal regions of France.
Can I freeze Ratatouille? Yes, you can! Allow the ratatouille to cool completely, transfer to food bags or containers and freeze for up to 3 months. Defrost in the fridge overnight and eat cold, reheat to piping hot before serving.
What are the nutritional values of Ratatouille? Ratatouille is a low-calorie dish that's high in fiber. It contains about 133 calories per serving, with 6.5g of fat (1g saturated), 3.7g of protein, 11.5g of carbohydrates (10g sugars), 6.8g of fiber, and 0.1g of salt.
Can I add meat to my Ratatouille? Traditional Ratatouille is a vegetarian dish, but feel free to experiment! Some people like to add bacon for extra crunch.
How long does Ratatouille last in the fridge? Once cooked and cooled, Ratatouille can be stored in an airtight container in the fridge for up to 2 days.
I hope you've enjoyed this journey into the world of Roasted Vegetable Ratatouille. It's a dish that truly celebrates the bounty of summer, and I can't wait for you to try it. Happy cooking!